Ever since the technology evolved enough to introduce music into a digital age, we have seen a rise of various devices that were aimed at making the life of an average musician easier.
Most obvious examples of this are various processors which are in wide use today, digital keyboards and similar.
However, there are some byproducts of this technological evolution which are not so well known, but which definitely have an impact on one's ability to perform their music.
MIDI controllers come in all kids of shapes and forms. The most popular ones are keyboard type controllers with pads that can be hooked up to a computer or other devices.
[su_highlight background="#fcfa8a"]KMI Softstep on Amazon[/su_highlight]
There are also some odd MIDI controllers like KMI Softstep. This is a foot controller that you use by stepping on the large switches that come on the controller. As you are about to find out, these devices can be quite useful to any performing artist.
Overview
Imagine this, you are a guitar player who bases most of their performance on their instrument. However, since you are a solo act, you don't have any backing drummers or anyone else there to fill in the empty space in your songs. Since you can only play one instrument at a time, you need another solution.
A foot controller allows you to set up a series of effects, sequences or simply instrument tracks, which you can then activate using this controller. This in turn gives you a lot of creative freedom, and increases your ability to produce great music on your own.
KMI Softstep is a perfect example of a great foot controller that brings a lot of versatility into the equation.

Features
When you first look at this controller, one thing that comes to mind is some sort of futuristic pedalboard. It's a strip made of composite materials which sports a number of large stomp switches. Unlike its the case on a pedalbard, these switches have more than just one function.
KMI Softstep comes with 10 pressure a direction sensitive pads that can be programmed in various ways. The whole controller is USB powered, so there is no need for dedicated power supplies or anything similar.
Since it's essentially a USB device, you can plug it into any kind of computer or smart device. Anything that runs on Mac OS, Windows or iOS is compatible. Speaking of compatibility, KMI Softstep was designed to be used with an any type of DAW or other music software.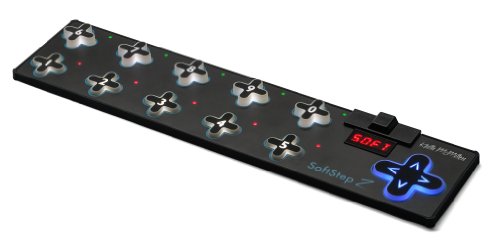 This foot controller comes with its own editor software which allows you to program every control pad on the strip in any way you want to. You can assign six different functions per pad, and these include notes, CCs (which stand for Continuous Controller message), pitch bend, MMC and similar.

Performance
One of the main worries people have about these controllers is their durability and reliability. Since we are talking about composite components that are designed to be stepped on, build quality is one of the most important aspects of any foot controller. KMI Softstep offers a pretty good performance in this regard.
The pads are durable, and can take just about any kind of abuse that is within reason. The controller is simple to use, and everything is market in an intuitive way. The board is illuminated, so you won't have issues finding the right pads in low light conditions either.

What we like
Simple yet effective is one way to describe this foot controller. There are more complex designs on the market, but the layout on KMI Softstep seems to be just what you would want from a device of this type.

What we don't like
There were some instances of sub par quality control. Some users reported faulty components, but those cases are very rare.
All things considered
If you are a performing solo artist looking to add more layers to your music, a foot controller such as KMI Softstep could really bring you closer to your goal.
[su_highlight background="#fcfa8a"]KMI Softstep on Amazon[/su_highlight]
This thing is very user friendly, and offers a pretty decent performance across the board. The price is just right, and the amount of versatility you get for it is well balanced. If you are looking for a foot controller, you should definitely check out KMI Softstep.