MIDI controllers are becoming an irreplaceable part of any decent live performance setup. They are just too valuable, and offer the kind of control you will otherwise have trouble finding.
Those who have some piano background will need something more than a regular MIDI controller can offer. They already have the experience and knowledge that can be applied to their music through a keyboard. There are different types of MIDI controllers out there, and full 61 key controller do exist for this very purpose.
These devices offer the full benefits of MIDI controllers with the addition of a full sized keyboard. We did a sweep of the market in order to find the best 61 key MIDI controller you can buy at this moment.
We are looking at models priced up to $1000, so anything over that price point won't be mentioned in this article.
Check out these models !
EDITOR'S CHOICE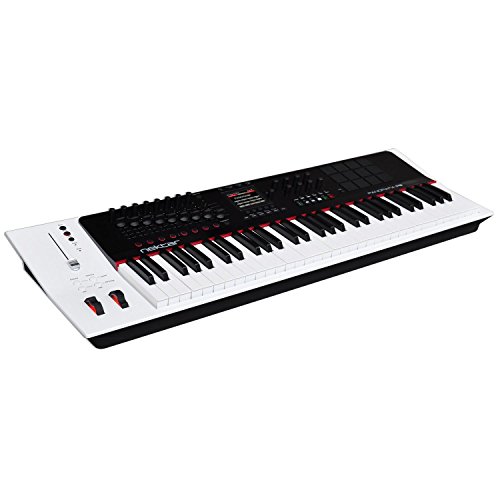 Nektar offers one of the most versatile MIDI controllers with full 61 key keyboards. It's packed full with features and is currently one of the best value for the money models you can find on the market.
It sports a simple design, with a very intuitive layout that you will get accustomed to with ease. The build quality is great making this controller perfect for both live and studio use.

  Features
In terms of features we can start the overview with the keys that are found on this controller. You get a weighted keyboard that is velocity sensitive with after touch.
Above you will find 12 pads that are also velocity and pressure sensitive.
There are 10 faders and 16 knobs that control the EQ and other features on this controller.
On the far left side you will find two standard jog wheels.

  Performance
Nektar Panorama P6 is compatible with all of the major DAWs on the market. This includes Logic Pro X, Cubase, Reason and Nuendo. The keys are very responsive and precise.
They feel good when you play them, and give you full tactile control over the notes you are playing. The presets this controller comes from are easy to select and shape thanks to a simple LCD display that is controlled by a very intuitive set of buttons.
Akai is no stranger when it comes to great controllers and keyboards. Their MPK 261 has a lot to offer, and it comes in a sleek, compact package. The build quality is pretty decent, and the overall design tells you that Akai wanted to avoid having surfaces that aren't populated by controls or keys. This controller is by far among the more aesthetically pleasing ones on the market.

  Features
In terms of features you get the pretty standard layout. The keys are semi weighted and are pressure sensitive. There are 16 RGB pads that can be assigned with 64 different presets divided into four separate banks.
[su_youtube url="https://www.youtube.com/watch?v=PEEWRVK8ZnA"]
To the right you will find a series of eight faders, knobs and switches that are all programmable, and each set of these controls can be assigned three different banks of presets.
On the far left there are two jog wheels. The LCD screen that is located around the middle part of the unit is small but sufficient for fast access to different controls and settings.

  Performance
Everything on this keyboard has that feeling of quality. All the keys, knobs and faders are accurate and allow you to quickly dial in adjustments with precision. The keyboard is pretty decent in terms of playability, and there is no noticeable latency.
It's a decent MIDI controller for live performance although it's probably more suitable for studio recording or home recording setup.

Roland's A-800 Pro series MIDI controller is one of their more affordable model that still packs a big punch. This unit brings all the core features along with a bunch of additional controls that you rarely find in MIDI controllers in this price range. It's a decent choice for those who want to stay on a budget but still need all the knobs and faders.

  Features
This controller sports velocity sensitive keys with channel after touch. The layout is somewhat different from what you would usually expect to find. There's a separate cluster on the left side of the unit while the space above the keyboard is only populated on one side. Why they chose this layout is unknown, but it's definitely not the most logical way one can think of.[su_youtube url="https://www.youtube.com/watch?v=X4QMsP10EgU"]
Anyways, there are no pad on this controller like the ones we are used to. There are 8 small dynamic pads that are used for MIDI triggering and finger drumming. You also have 45 different assignable controls that you can program to your liking. This unit is USB powered, meaning that you pretty much need to use it with a computer.

  Performance
Overall this Roland works pretty well all things considered. The pads are not as big as we would want them to be, but you can still use them with some accuracy. The keys are decent and feel very tactile. For the amount of money you are expected to pay for this unit, it offers a good performance. We wouldn't necessarily take this on a stage, but for home use it's just a blast.
Conclusion
MIDI controllers with 61 keys are catered to a very niche group of users. They usually cut down on certain features in order to implement the full keyboard in a meaningful way. The ones we presented you with today are what we considered to be the best 61 key MIDI controller on the market.
Each one belongs to a different price range, and represents a good choice for that price bracket. We definitely thing that Nektar Panorama P6 offers the best value for the money considering it doesn't cost too much compared to the Akai, yet it brings a noticeable improvement in certain aspects.
Ultimately the choice is yours, and will depend on your requirements and your budget.