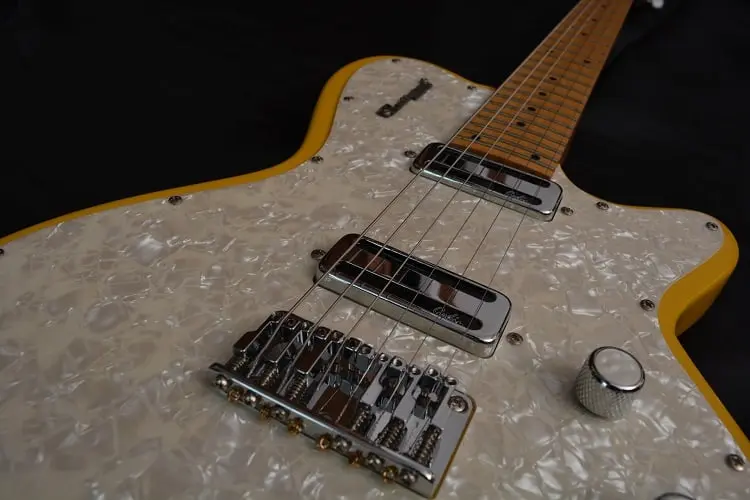 Godin is a very unusual guitar manufacturer. That is something most guitar aficionados can agree upon. For starters, they are actually the parent company which owns brands like Seagull.
The main thing that got Godin and their daughter companies famous was the quality of their product delivered at very attractive prices. We are talking North American made instruments, built by some of the best luthiers in the business, using premium materials.
>> Check Out Current Price & Customer Reviews On Amazon <<
Finding a North American made guitar under a $1000 is borderline impossible, let a lone less than that.But that's the situation regarding their acoustic guitars.
What about Godin's electric guitars?
Well, Godin Radiator is a perfect example of what this company is capable of doing. Today we're going to take a closer look and see what makes the Radiator so different.
What makes the Radiator so different ?
By all means, Radiator is anything but an average guitar. It's appearance, shape, and finally design are all a bit on the odd side. However, that is not a surprise since we are talking about Godin here.
[su_youtube url="https://www.youtube.com/watch?v=0tQnIgP6ub8″][su_youtube][/su_youtube]
This company is known for pushing the boundaries of what is canon in the industry. Radiator just follows that policy. As you are about to find out, Godin chose some pretty interesting solutions for this model.

Features
The overall shape of the guitar is a modified Les Paul design with some significant differences. The wood of choice for the body is solid Silver Leaf Maple, while the neck is Rock Maple.
Fretboards can be either maple or rosewood, depending on what suits you more. Bridge is odd to say the least. When you first look at the saddles, you will probably think something is not right with the guitar. Unlike it's the case with other reputable brands, Godin's bridge on the Radiator looks chaotic and bent out of shape.
Saddles are all over the place, giving an appearance that there is something wrong with the guitar, even though the isn't.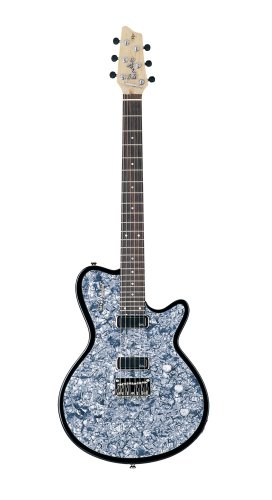 Covering the maple body is a plate that comes in various pearl finishes. Now come the interesting and unusual part. All of the electronics in this case two in house built single coils, come off with that plate.
Underneath you will find a routed cavity, which sorta makes this thing a semi hollow of some kind. The idea is that you can just replace the whole face plate and completely change the appearance of the guitar.
Speaking of pickups, these single coils are impressive in more ways than one. Godin definitely managed to design a low noise pickup that is very flexible.

Performance
Performance is usually the most questioned thing about this guitar. Not necessarily because Godin makes it, but more because of that routed cavity underneath the faceplate.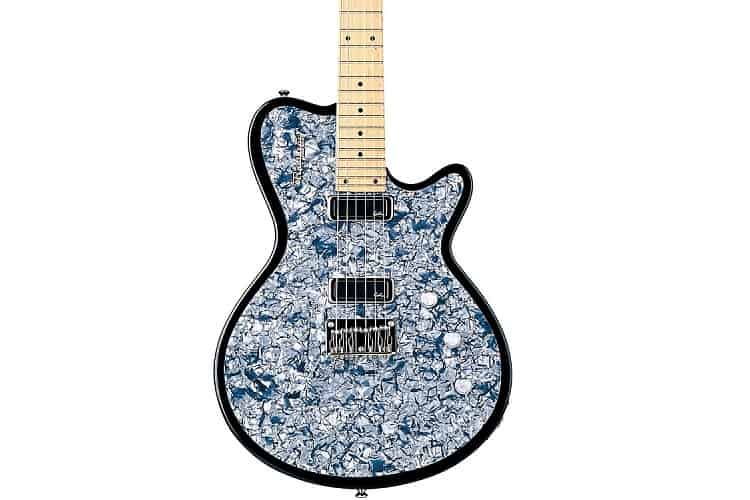 You would think that the guitar would lose a lot of its sonic properties since there isn't as much wood underneath as we are used to. However, the guitar managed to overcome all those fears and deliver a very balanced tone.
Seriously, you can play anything from jazz and blues to light metal on this thing. The single coils developed by Godin have quite a bit of meat and range. You could almost go ahead and say they behave as less powerful humbuckers. Almost.

What we like
Godin Radiator features a very unique style and appearance. Their design solutions are unorthodox, but we definitely see why they made this guitar the way they made it. It offers a whole lot of sound for not a lot of money.

What we don't like
The only real thing we didn't like was the profile of the neck. For a 24 and 3/4 inch scale, it's a bit thick. It suits this particular guitar well, but thicker necks profiles are not everyone's cup of tea.
Overall, it may be said
Godin rarely fails to impress when they sit down and commit to deliver a good instrument. Godin Radiator may not be your regular blues guitar, or a rock guitar for that matter, but that is exactly where it draws its appeal.
>> Check Out Current Price & Customer Reviews On Amazon <<
The most shocking thing, or least shocking depending on who you ask, is the price. This feels decently under priced, although that is a running trend with Godin and its subsidiaries.
Whether this is a good guitar for you depends on what you play, but if you have an open mind and want something completely new, Radiator could be a good choice.