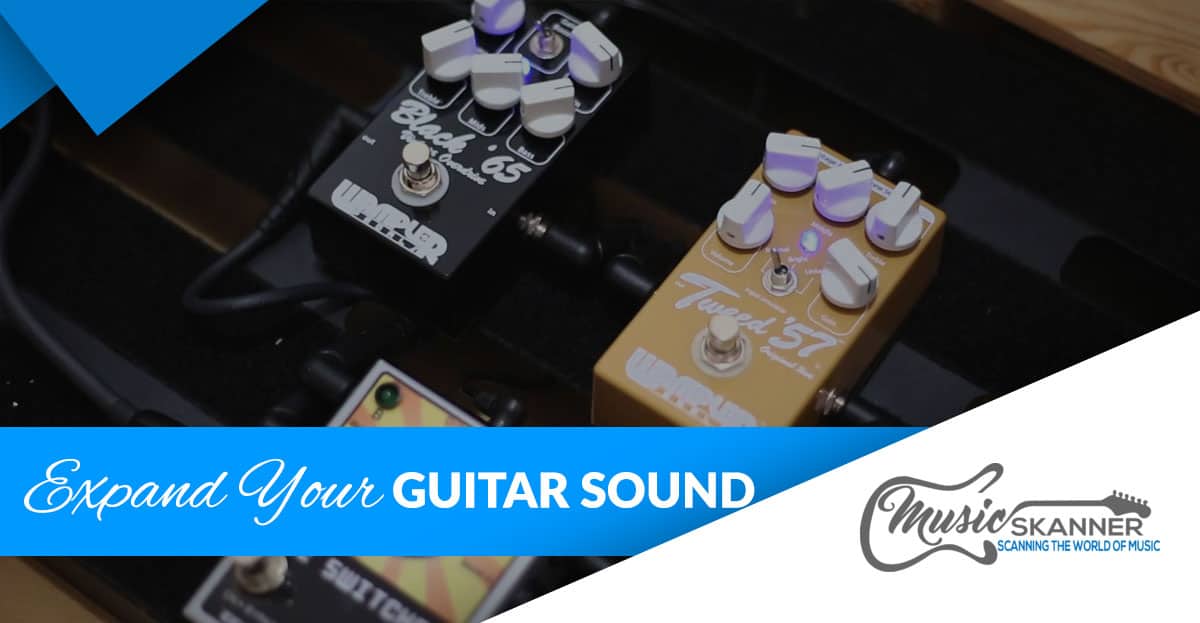 Harmonizer pedals are one of those obscure guitar effects that are used from time to time by some guitarists. They are definitely not as wide spread as other effects of the same type, but their use can definitely add that finishing touch to an already great song.
What a harmonizer pedal does is allow you to play octaves or other positions relative to your guitar's tuning. With some models you can layer one or more of these pitch shifted signals over each other, achieving some pretty interesting results in the process.
If this guitar effects pedal is peaking your interest, and you are looking to get one, you are in the right place. What we have for you today are our three picks for the best harmonizer pedal on the market.
Remember, there aren't many of these out there in general, but the ones we chose are absolutely some of the finest you can get for your money.
EDITOR'S CHOICE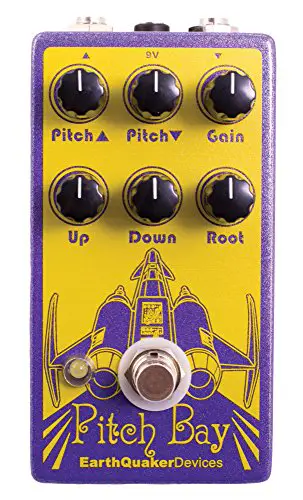 Simplicity is often the superior design path and this EarthQuaker harmonizer pedal proves that. This company doesn't get a lot of exposure, but when they build something the guitar world becomes aware very fast.
Some will look at this pedal and wonder why it's in the first place when there are other pedals of this type which offer more features. A simple answer to that is reliability and just plain ease of use. This thing is built like a tank and doesn't let you down no matter what.

  Features
The case of EarthQuaker Devices Pitch Bay Dirty Polyphonic Harmonizer is stylish and features a somewhat retro paint job. The quality is there in all aspects that matter.
In terms of controls, you have a cluster of six knobs to work with. The Pitch Up knob allows you to select the upper harmony. The lowest setting is one semitone above the root, and the highest is a full octave.
Pitch Down knob has the same features only for a full octave lower than the root tone. Next is gain, which is self explanatory, followed by Up, Down and Root knobs. Each of these three is used to set the level for their respective harmonies. The pedal comes with an 1/4 inch in/out pair along with an XLR input for use with microphones.

  Performance
One of the biggest issues people have with harmonizer pedals is their somewhat artificial sound. That is definitely not the case with EarthQuaker Devices Pitch Bay Dirty Polyphonic Harmonizer.
[su_youtube url="https://www.youtube.com/watch?v=trMGE3MWI50″][su_youtube][/su_youtube]
Both the upper and lower harmonies can be adjusted in a way that gives you a very organic feel. You will get the effect of several guitars playing the same melody in different pitches. The pedal is super easy to use, and can be mastered in no time.
Electro-Harmonix is one of the big names in the business, but it feels like they pay a lot more attention to obscure guitar effects pedals than other manufacturers of their caliber.
Their Electro-Harmonix Pitch Fork Guitar Pitch Effect Pedal is a an interesting little stompbox full of potential, which comes at a reasonable price. What you can expect from this pedal is aligned with their company policy. Quality, reliability and overall satisfaction.

  Features
Pitch Fork comes in a somewhat typical Electro-Harmonix case. The gray/black theme with a hint of red dominates the appearance, just like we are used to. In terms of controls, things are pretty well laid out.
There are two knobs, one switch and one button. First knob is your Blend knob. This feature allows you to control how much the raw signal is being mixed with the effects of the pedal. The next knob is the pitch knob. There are 11 transpositions available, starting with a detune, Minor 2nd, Major 2nd and so on. The ending position is Octave 3. Yes, there are three whole octaves available on this pedal.
The switch found in the middle of the top panel allows you to select whether the added harmony will be higher than the source pitch, lower, or both. This means that whatever settings you dialed in on the pitch knob will be applied to both the upper and lower harmony.
Latch button gives you some versatility in terms of when this guitar effect will be activated. Latch position is the default. When you press the switch, you activate the effect. Press it again, and you're on bypass. Momentary mode activates the effects as long as you're pressing the switch.

  Performance
This pedal is definitely easy to use. Compared to the EarthQuaker we mentioned above, it actually comes with less controls. Objectively, Pitch Fork lacks some sonic quality compared to the EarthQuaker harmonizer.
[su_youtube url="https://www.youtube.com/watch?v=R00JzxXEMGs"][su_youtube][/su_youtube]
That is mostly due to a lack of level controls for each individual harmony. With that said, it's still a workhorse pedal that will get the job done.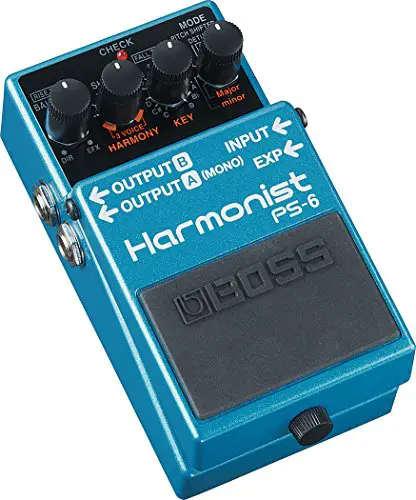 No guitar effects list would be complete without at least one Boss product. Boss PS-6 Harmonist Pedal is their harmonizer pedal that comes packing some serious potential.
The quality is standard Boss, meaning that you will definitely get numerous hours of great use out of this thing. It's not as versatile as our other two picks, but it comes with its own perks.

  Features
From a purely aesthetic point of view, Boss PS-6 looks like any other boss pedal. The all too familiar design hasn't changed. Controls come in form of four knobs.
The first one is balance, which allows you to mix the signal with the raw one coming in from your guitar. Second knob is the shift knob you use to set the number of harmonies. Next is the key select knob with a 12 semitones available, and finally the mode select knob.
This last control feature allows you to select whether you want a pitch shifter effect, detune or s-bend. Additionally, once you set the pitch you want, the mode knob allows you to chose whether that pitch is going to be a major or a minor.

  Performance
The performance of Boss PS-6 is outstanding by all standards. The pedal performs flawlessly. It takes some time to get used to all the settings, but once you do it gets easy.
[su_youtube url="https://www.youtube.com/watch?v=s53q-hZb_bc"][su_youtube][/su_youtube]
Aside from giving you the harmonizer effect, you can achieve a whole bunch of awesome results with detune and s-bend.
The only drawback to so many modes being crammed into one pedal is a somewhat artificial sound. However, that can reduced if you set everything up with some care.
All things considered..
These three models are definitely among the best harmonizer pedal on the market.
Both Electro-Harmonix and Boss can be used with an expression pedal, further expanding their functionality. We still believe that EarthQuaker is the best overall design as it offers the core performance with extended controls.
Anyway, if you're planing on expanding your collection, each of these three will be a great addition.