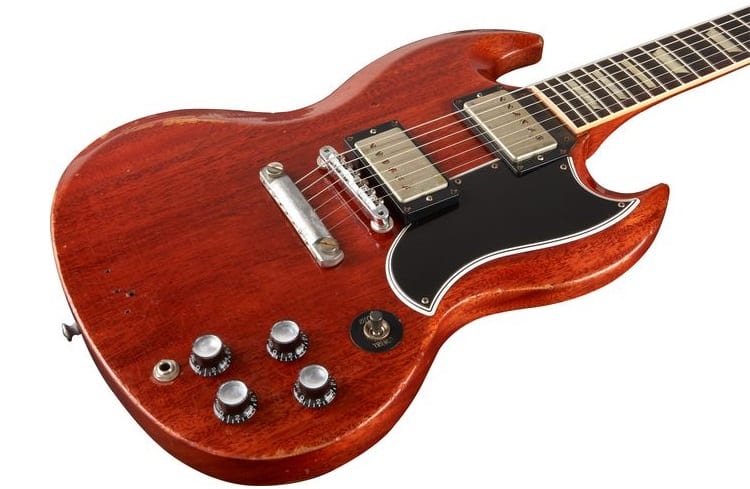 In the world guitars and music that involves these incredible instruments, there will be those who become globally famous due to their skill and creativity.
Chances are you have heard of the Allman Brothers Band. If so you probably know who Dickey Betts is. This great guitar player has given us some of the best tunes of the late '60s an early '70s. His style was full of energy, and was in many ways different from what you could hear elsewhere at the time.
When it comes to guitars, Dickey Betts was a Gibson man thru and thru. His love for Gibson guitars and his respect to his fellow band members has spawned on of the greatest stories in history of modern music.
Dickey Betts SG, a model from the early '60s, was his main choice at the time. Since Duane Allman rocked a Les Paul, he had an issue when using a slider. The whole problem was that he needed to retune the guitar every time he wanted to get some slide action going.
Betts saw that and decided to gift his SG to Duane. Ever since then, this particular Gibson SG has become known as the 'From one brother to another' SG.
Signature guitar
Ever since it swapped hands, and landed in Duane's inventory, Dickey Betts SG has become a legend in its own right. Not only was it a quality Gibson from a very specific time period when Gibson produced the best quality guitars, but it became an iconic piece of Allman Brothers Band lore.
[su_youtube url="https://www.youtube.com/watch?v=a1073AXGVOQ"][su_youtube][/su_youtube]
That SG is a perfect example of how a guitar can have a story, which not only makes it interesting, but gives it a character of its own. A character that is present in all of the music it was used to create.

  Features
Gibson decided to do a very special thing for both Dickey Betts and Allman Brothers Band. They were inspired by this act of brotherly love, and decide to make a limited edition signature model based on the very guitar Betts gave to Duane all those years ago.
There were some 325 of these made, and a small portion of them came with Dickey Betts signature on the headstock.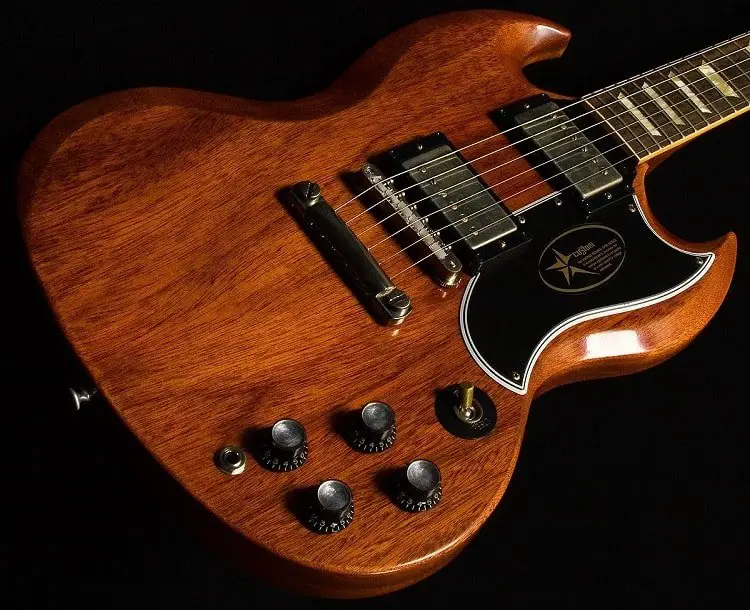 The body of this guitar was made of mahogany that was selected for its similarities with the original 61'/62′ stock it was inspired with. The shape is fits the time frame as well with its asymmetrical horns and processed edges. In terms of finish, there were two options available.
You could go for the aged vintage version which came with the Betts' signature, or you could take the one that featured Gibson's Vintage Original Spec finish. Either way, the guitar looks amazing.
The neck is also a mahogany design with a nice rosewood fretboard fitted with banjo frets. In terms of electronics, you are looking at Custom Buckers that were hand loaded to bring you that vintage PAF tone. We're talking Alnico III magnets and the works.

  Performance
Tonally, this guitar is an impressive piece. Not only does it bring that crispy 60's Gibson vibe, but it has a lot of range. There are loads of sustain to work with, and the tone you get is just on a different level from almost anything you can find today.
In terms of playability, it's comfortable guitar that would keep up with you no matter what your playing style is. Dickey Betts SG is definitely a rarity these days, considering all 325 pieces sold out rather quickly.

  What we like
Fine tuned tone that perfectly captures the what a 1962 Gibson SG sounds like is the selling point of this guitar. With that said, the aesthetics are also worth the praise.

  What we don't like
This guitar doesn't really have any faults. We would love to see another batch made, however that is highly unlikely.
On the whole
What Gibson did with Dickey Betts SG demands respect. They have made an incredible tribute for one very special guitar player.
Aside from its historical value, this ax also sounds like something you will rarely find in modern SG guitars. It's on a completely different level, that is for use.