In recent years Schecter has built a very good fan base, and has become one of the main players in the industry. Today,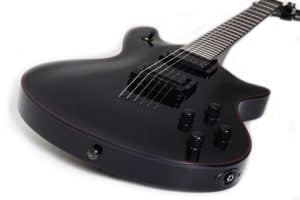 if you want a great metal guitar, you go to Schecter. That's just the way it is.
However, Schecter sometimes steps out of this defined space to deliver guitars which are much more versatile than most give them credit for.
If you need a good example of that, we can give you Schecter Tempest Blackjack. This guitar is one of their more refined models, and it just keeps on impressing with its overall performance.
Sure, it's built for metal and that is something it does incredibly well. However, once you want to tone things down a bit, you will be pleasantly surprised just how classy this guitar can become.
We are going to review this model for you today, and talk about different features it has to offer along with the tone spectrum you can expect from one of these. Let's dig in.
An Overview


What we got here is very sweet looking guitar that has a very unique body style. The main color theme is a matte black combined with red binding and details. This gives it a very sinister appearance that many will find attractive. When it comes to looks alone, Schecter Tempest Blackjack is hands down one of the more beautiful guitars you can get.

  Features
Looks alone don't make a great guitar, so let's check out what components you can expect to see on this Tempest. The material used for body is a mahogany that is only complimented by a three piece mahogany neck. The fretboard is ebony with dark red inlays that match the overall theme of the guitar. Now to the pickups.
[su_youtube url="https://www.youtube.com/watch?v=IKq4mg1yZEY"]
What you get is a combination of Seymour Duncan Nazgul at the bridge, and Seymour Duncan Sentient on the neck. These are probably the best passive pickups on the market right now, hands down. They are controlled by two volume knobs, two tone knobs with push pull ability, and a 3-way switch.
Bridge is a standard tune-o-matic design that is paired with a set of Schecter locking tuners on the other end. These tuners work flawlessly, and you definitely don't need to worry about them no matter how aggressive your playing style is.
  Sound
What really defines this guitar is its sound. Seymour Duncan Nazgul and Sentient really give you the best passive pickup performance you can get at the moment.
Their output is somewhere between standard passive and active pickups. The flexibility they offer allows you to play anything from a aggressive metal with lots of gain, to more reduced blues with a slight overdrive. You just can't go wrong. This comes as a pretty decent surprise from Schecter as their bread and butter is definitely hard tone.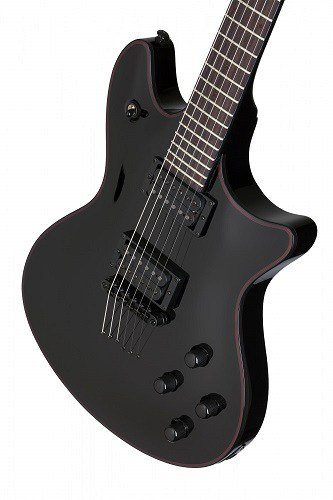 Everything on this guitar is set properly right from the factory. The action is just right, and the there is no need for additional setup. All you have to do is find a decent amp and plug
this puppy in.

  What we like
What is not to like on this guitar? It has the looks, the sound, everything. One thing that stands out is their choice of pickups which definitely add a whole new dimension of flexibility to this Schecter. That makes it a pretty decent all purpose guitar.

  What we don't like
There isn't much we can name in terms of flaws on Schecter Tempest Blackjack. Every detail about this guitar is well made and performs great.
In closing
Schecter Tempest Blackjack is a true performer's guitar. This thing is like a more aggressive Les Paul both in terms of sound, and the feel you have when you play it. It's a heavy guitar, and heavy is good. If you need a good quality Schecter that will give you much more than just great metal tone, this is pretty much it.
There is not much this guitar can't do, and you will definitely need to try one out when you get a chance. Schecter Tempest Blackjack is one of the best guitars in Schecter's line up at the moment, especially if we're talking about passive models.