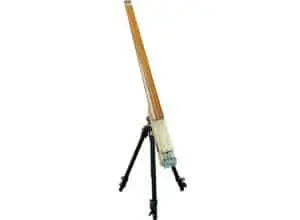 Upright bass is a special type of animal as it is.
Professional bass player will need a decent amount of time and skill in order to fully master this classical instrument. However, there is a type of upright bass that adds a whole new level of extreme to the equation.
If you have some experience with basses, you have probably heard of Kydd. This company produces some of the most outrageous upright basses on the market. Kydd bass is an unusual instrument to say the least. One look at it will make this perfectly clear.
Being an amplified type of bass, Kydd line of instruments lacks pretty much every element of a regular upright bass except the neck. There is no soundbox, there is no headstock, just the neck with a bridge and a nut.
Today we are going to take a closer look at one of these, and try to show you what these instruments are all about.
Let's get right to it.
One of the main advantages of having what is essentially an amplified bass neck with some hardware, is maneuverability of the instrument. A Kydd bass is much easier to carry with to a performance or practice. There are no bulky cases or heavy bags to deal with.
On the other hand, there are some obvious limitations and some which are not so obvious. First and foremost, you will need an amp for this thing. Without one, all you have is a glorified practice neck that you might as well hang on the wall as an ornament. Before we go into its performance, lets check out what this bass is made of.

  Features
For this review, we will focus on The Big Kydd Upright Kydd bass. This thing comes with a body made of curly maple and a grandillo fingerboard. When we say body, we mean everything that isn't the fingerboard, and that is not much.
Anyways, the whole bass is some 40 and a half inches long, and sits on a three pronged stand. The sound is generated by the Fishman BP 100 transducer that sits right next to the bridge.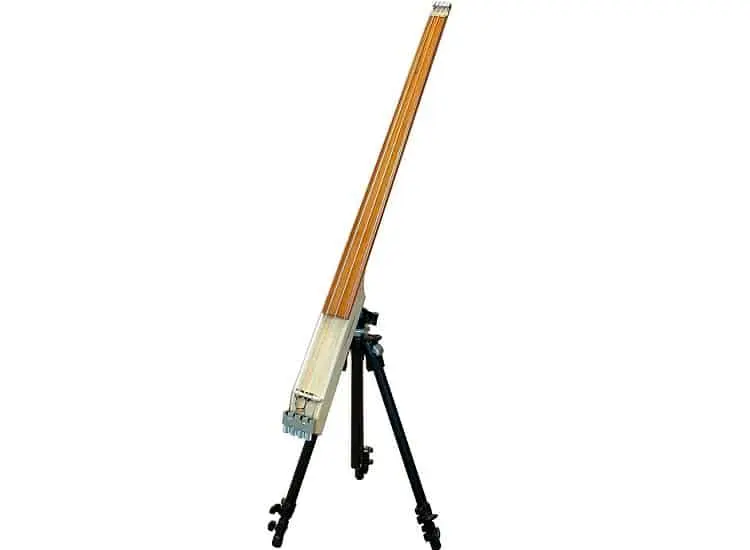 Overall build quality seems pretty decent, which is great considering there aren't many other instruments of this type you can compare it to. The pickup does a great job at capturing the vibrations of the strings, and thus giving you a pleasant tone to work with.

  Performance
Like we have mentioned earlier, the whole idea behind a Kydd bass is the increased mobility. Actually, the creator of this unusual bass said so himself. This is a perfect instrument to have if you gig often, and you need a lightweight setup for that specific purpose. Compared to a standard upright bass, a Kydd one is exponentially easier to lug around with you.
The sound the Fishman pickup is capable of delivering is very well balanced, and can actually be compared with other amplified basses. You are not losing much of the sound quality due to the lack of a soundbox.
The only real issue with this design is the stand. Once you start playing, the stand might start to wobble and squeak depending on how hard you go at it. This is easily solved, but pretty unacceptable for an instrument in this price range. Other than that, Kydd Bass of any kind is very playable and is something every bass players should experience at least once.

  What we like
The bold design of this bass is something that you just have to appreciate. Designers at Kydd solved a very serious issue of mobility in a stylish and classy way. On top of that, this is no gimmicky instrument. There is tangible performance in that block of wood.

  What we don't like
The only issue we have with this instrument is the quality of the stand they instal. That is something Kydd needs to revisit.
All things considered..
All things considered, Kydd Bass is a very odd upright bass that can solve a lot of your problems if you gig on the regular basis.
It provides great performance considering its nature, and is a completely new take on the century old instrument we all know.