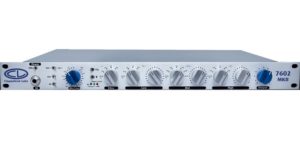 Microphone preamps something that is necessary if you want to step up your sound quality. This is definitely the case if you are recording vocals or acoustic instruments in a studio.
There is a very simple reason for this. Most high quality microphones will require at least phantom power, but you still have the issue of shaping the sound into something you can work with.
Usually the raw input is only good as a foundation that you need to work on a little before it you can achieve the type of sound you're after. That's why preamps and EQs are a must have pieces of equipment.
>> Check Out Current Price & Customer Reviews On Amazon <<
Chameleon Labs 7602 MKII is a very interesting device. It's an EQ and preamp in one package. Not only is this type of setup much more practical than having these two functions performed by standalone devices, but it also reduces the amount of money you need to spend in order to get the job done.
Our task today is to take a closer look at 7602 MKII, and show you just what kind of performance you can expect to see from this unit.
What kind of performance you can expect
What preamp you end up using can really determine the type of sound you are going to get. This is without even including the EQ. When Chameleon Labs 7602 MKII first came out, it was one of the hottest things on the market.
[su_youtube url="https://www.youtube.com/watch?v=OkXO4sSdaHc"][su_youtube][/su_youtube]
People saw that it offered a classic style of tone that was by default something in high demand. When you add the EQ to that equation, the fact this preamp became so popular doesn't seem that strange anymore.

Features
Chameleon Labs 7602 MKII comes in rack friendly format. The front panel is pretty much divided into two sections, with a very clean and intuitive controls layout.
On the far left you will find your input gain and switchable impedance that goes anywhere from 300 ohms to 1.2 kohms. In addition to that, there is also the 48v phantom power and a DI switch.
To the left of these is your EQ section. First in line is a high pass filter that goes up to 300 Hz. This is followed by your three-band EQ. It's also worth mentioning that all frequency bands sport a 20 dB boost or cut.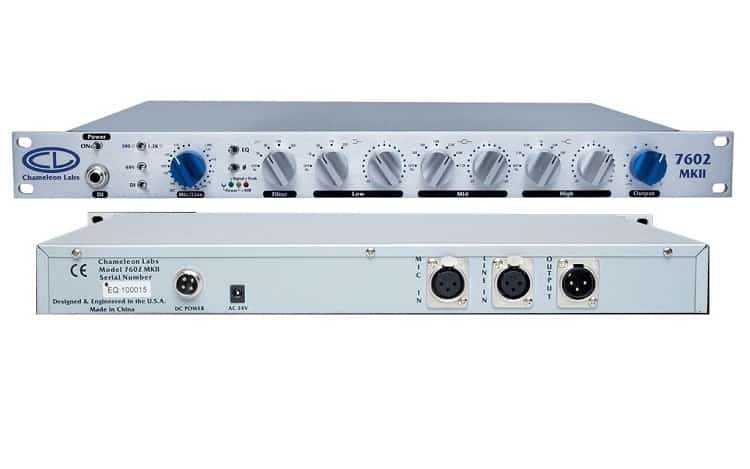 All things considered, the features Chameleon Labs 7602 MKII brings are not as refined as those you will find on a professional preamp or EQ. With that said, they are more than enough to do some serious work with your tone.
The build quality is pretty great with obvious attention to details. Chameleon Labs went above and beyond in some areas. For example, the gain switch is a Swiss made solid gold unit that pushes out up to 80 dB of high quality gain.

Performance
Chameleon Labs 7602 MKII is the type of preamp that can easily play ball with a lot more expensive models. It simply offers a quality of sound that meets these requirements.
The fact that it comes with an EQ and a DI switch is just one more example of Chameleon Labs ingenuity. If you don't want to use the 7602 MKII as a preamp, you can just plug in your instrument and run it as an EQ. With a very intuitive layout, there isn't much that can cause confusion. Precise adjustments are made on the fly with little to no effort.

What we like
Very practical design that combines two of the most useful features for microphone recording. Chameleon Labs 7602 MKII not only comes with a capable EQ, but the preamp portion of the unit offers a great tone to begin with.

What we don't like
There isn't much to criticize about this preamp, aside from the fact that its price is a bit on the high end. However, considering what it offers, the it's well worth the investment.
>> Check Out Current Price & Customer Reviews On Amazon <<
In sum
There are rarely combo designs that can compete with standalone models. Chameleon Labs managed to combine a great amp and equally as good of an EQ into one rack friendly package.
Great performance and user friendly experience are what defines Chameleon Labs 7602 MKII. If you are in need of a microphone preamp and an EQ, you should definitely check out this unit.