Storing your guitar is one of the main elements of proper guitar maintenance.
Not a lot of people actually pay attention to how their guitars are stored. In theory, you would want to have your guitars in a hard case with a humidifier present at all times. However, that is the best case scenario.
A lot of guitar players can't afford that kind of setup, and a good portion of them finds this type of storage to be impractical. Even though everyone should aim to have the setup we mentioned before, there are alternatives which work as well.
>> Check out the Hercules GS525B <<
What we are talking about specifically are guitar racks. Having a 5 guitar rack is a great way of storing your instruments in a safe and practical way. Naturally, these are aimed at people who have more than one or two guitars.
There are many uses for guitar racks in general, but home storage seems to be the dominant one.
Overview
Using guitar racks is perfect for environments where you know that humidity is not an issue. In general, this means your average bedroom with at least some kind of temperature control.
Guitar players who don't use guitar racks or cases, often leave their instruments leaning against furniture, or laying on said furniture. This practice can lead to a whole array of problems. When you use a guitar rack, you are eliminating the majority of risks to your guitars.

  Features
One of the best examples of a practical 5 guitar rack on the market at the moment is the Hercules GS525B. In all aspects, it's a very simple rack. However, it is suitable for a wide range of practical applications.
Some guitar racks are designed in a way which allows you to store only electric guitars and bass guitars. This one allows you to store any type of guitars, including acoustic ones.
Hercules GS525B is a leaning type of guitar rack. What this means is that guitars stay in place because they are technically leaning against the rack. Some more advanced models will have a locking clamp that securely holds the guitar near the headstock, but this type of system work fine as well. As long as you don't bump the headstock of the guitar, it should remain in the rack.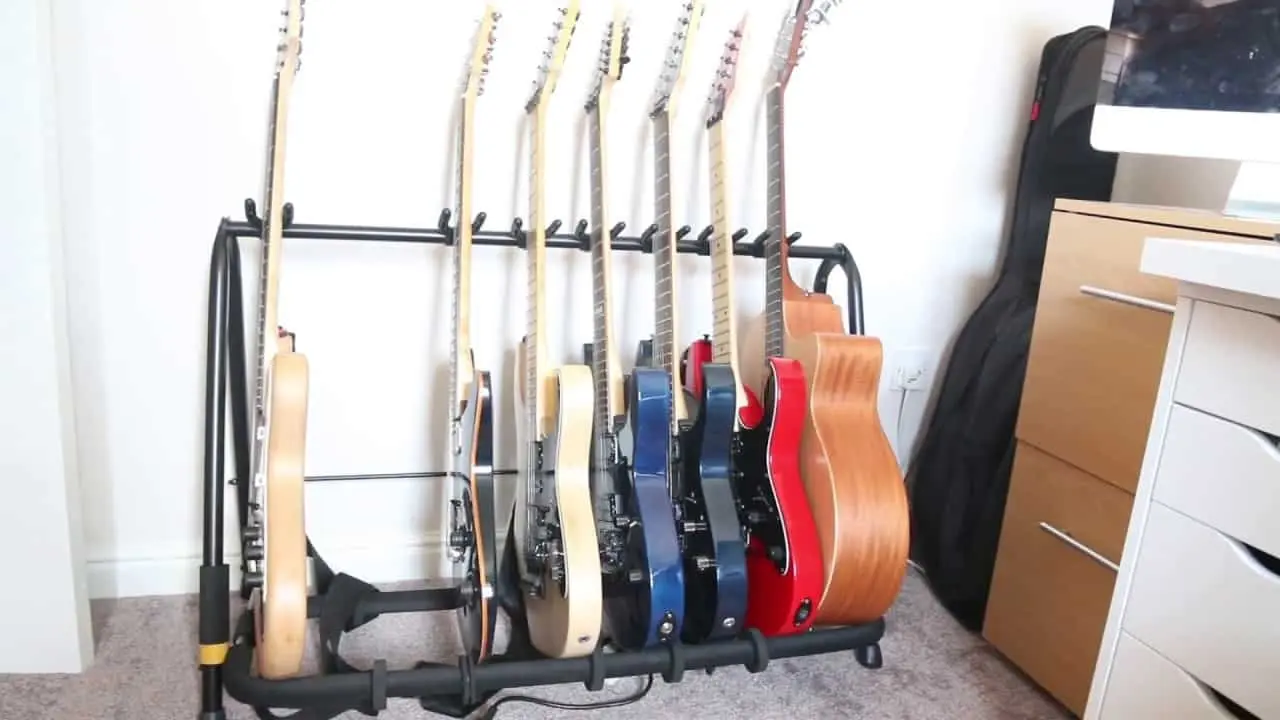 In terms of build quality, Hercules GS525B is very sturdy. We are talking about a metal frame which is padded in all the right places using dense foam. You definitely don't need to worry about this rack collapsing, or tipping over.
Unlike some affordable racks, Hercules GS525B is not wobbly, and there is no creep in the joints.

  Performance
When it comes to performance, Hercules GS525B has shown to be pretty decent. Usually 5 guitar racks are made with a bit more attention as they are supposed to hold more guitars.
It's not a huge rack, but it is larger than most since it's made to support acoustic guitars as well. In all essence, it's the type of guitar rack you would definitely want to use at home, or in a studio.
Whether or not it's something that can be used for touring and similar applications is questionable. For that purpose it is much better to have a guitar rack that has locking clamps at the top.

  What we like
Hercules GS525B is a very simple 5 guitar rack that does the job it's meant to do. The price is reasonable, which makes this model a great investment,

  What we don't like
There isn't really anything wrong with this specific guitar rack. The materials are good, the design is simple, and everything seems to be well made.
By and large
Finding a good 5 guitar rack becomes a necessity once you have more than two or three guitars in your possession. It's a very practical, and honestly the only way to safely store your instruments. This is especially true if you have more expensive guitars. The one we showed you today is great for home use, as well as studio use.
>> Check out the Hercules GS525B <<
Hercules GS525B is on a more basic side of the scale, so if you need something more secure, you will have to look into advanced guitar racks. With so many choices on the market, you will easily find something that works for you.