Learning how to play keyboard or a piano is probably more complicated than it is to play any other popular instrument.
The main reason for this is the fact that good pianos, digital pianos or keyboards cost an arm and a leg.
Unfortunately, the sound is not the only metric that defines whether a keyboard is good or not. Unlike it's the case with guitars where almost any model, despite the price, will give you a mostly similar tactile experience, keyboards are completely different.
There are several important things that a keyboard needs to have in order to be usable for good practice. It all revolves around the keys.
We will talk about keys a bit later, but right now we need to say that there are keyboards out there which will meet some of these requirements, all while being reasonably priced. Just like it is the case with many other types of musical instruments, getting something that is classified as entry level means that you will have to make some compromises.
With that said, Casio CTK-2100 brings a very interesting combination of trade offs which are definitely geared towards prospective piano player who are working on a limited budget. Today we are going to take a closer look at this keyboard and talk about what it has to offer.
Overview
Let's get back to the topic of keys. The main difference between keyboards and digital pianos is in the keys. Digital pianos are doing their best to emulate the sound, but more importantly the sensation of playing an acoustic piano. Due to its very complex nature, an acoustic piano will give a very specific feed back when you press any key on its keyboard.
Being able to control and anticipate this feedback is what allows you to control accents and dwell into the field of expression. This is also why most piano tutors will refuse to tutor a student who has no access to an acoustic piano, or at least a decent digital one. So how does Casio CTK-2100 fit into all of this? Let's find out.

  Features
On a first glance Casio CTK-2100 is a lot different from most of your entry level keyboards. If you've looked over a catalog of any kind, you have probably noticed that most entry level keyboards come in that dull gray color that simply looks cheap. Not this Casio, though.
It appears that Casio figured out that they could attract more potential users by simply making this keyboard look more like the advanced series, which come in black. In terms of most important features, you have 61 keys available.
In relation to our discussion from earlier, these keys are not weighted, which is what piano keys are like, In terms of specs and features, you are looking at a very decent AHL sound engine that is capable of delivering equally as decent quality of sound and 48 note polyphony. That 48 is a pretty nice number to see in this price range. Usually you will find that keyboards that cost as much, or a bit more than this Casio CTK-2100, tend to offer 32 not polyphony.but they do feature the same shape and size .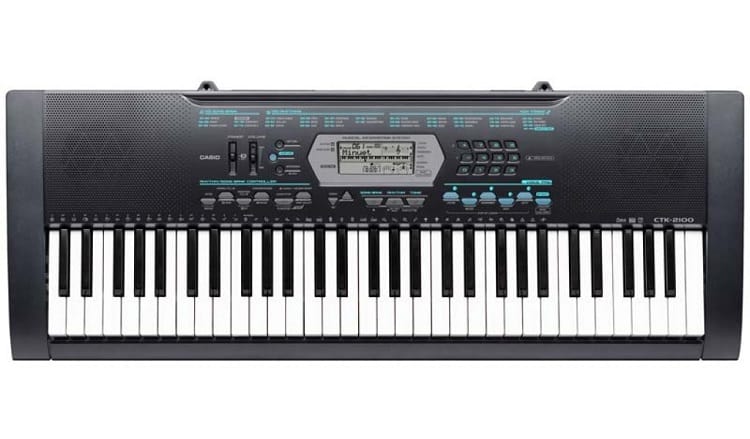 Being a keyboard, Casio CTK-2100 comes packed with a library of tones you can choose. In this case there are 400 different presets, 150 rhythms for auto accompaniment and a number of effects. It's worth noticing that this keyboard also comes with several learning features such as the Voice Fingering Guide and Step Up Lessons.

  Performance
Let's get something out of the way right now. The keys on this board can't be compared to those on any class of digital piano. So you are probably wondering why exactly do we think that Casio CTK-2100 is a good choice for beginner pianists? Well, the reason is simple.
The keys are sport the same shape and feel like the ones you will see on pianos. While you won't be able to control expression and other subtleties of piano playing, you will at least get used to piano keys. All of this for a fraction of the price it would take you to buy something aimed at pianists .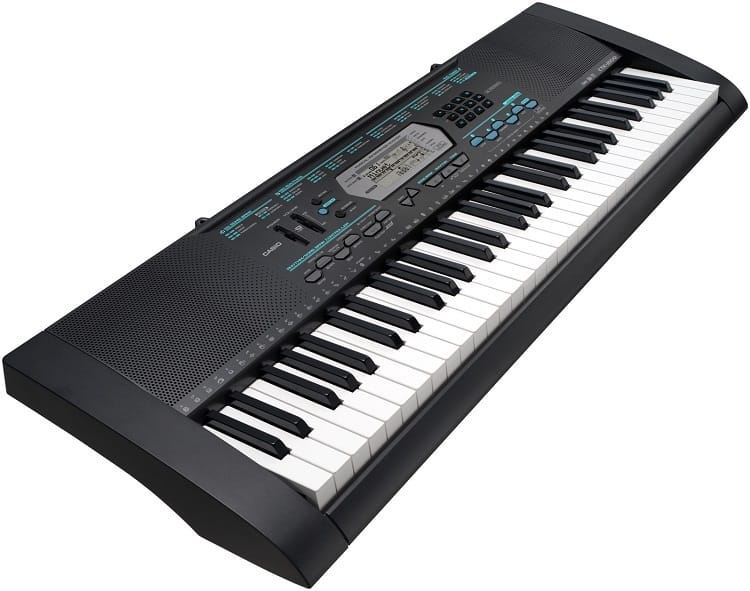 The quality of sound is pretty decent for what is essentially a very cheap keyboard. It's far from good, but it sounds organic enough to pass. Learning features we mentioned earlier work.
You can definitely develop your skills to a new level and learn some new techniques by just using these features. The overall impression Casio CTK-2100 gives is very balanced. One one hand it's very affordable, on the other it delivers where it matter the most but also offers some extra features.

  What we like
The main selling point of Casio CTK-2100 is its very low price. Most people are conflicted when it comes to buying keyboards that cost so little, but in this case it's completely fine. You won't spend money on a toy, but a formidable entry level keyboard that does have some substance to it.

  What we don't like
There isn't much we can criticize on this board if we consider how cheap it is. If we didn't, the list would be quite extensive. However, almost everything we would eventually find wouldn't even matter to beginners, and that is the user base this keyboard was meant for.
Conclusion
Casio is one of those companies who know what the market demands, and are capable of delivering that type of instrument on a relatively short notice.
Casio CTK-2100 is not the best keyboard in the world, far from it. However its value comes from its price to performance ratio.If you are on a very limited budget, your options are few and far apart anyway, so having something like this available is great.
Pianists who are working with impossible budgets might find a way to bridge the gap until they save up some money for something more serious. All in all, this is a very decent keyboard considering what it was designed to do. If the Casio wasn't right for you, check out the Yamaha PSR EW300, a phenomenal pick for beginner pianists!