These days, it is becoming a standard of sorts to see preamps packed in the same body along with an EQ. This trend was started not so long ago, and people simply realized how practical it was compared to having both of these capabilities in standalone format.
These days you will see many such preamp combos on the market. Some are great, others not so much. With that said, there is one that is definitely worth mentioning. ART Voice Channel comes across as a very capable device that pack a decent amount of features, and expands on the whole preamp/EQ design.
Ever since it first appeared, people began to notice it and soon it earned the reputation of a refined workhorse. Multitasking is the name of the game these days. Every product in the music industry is trying to offer two or more features bundled together in an effort to attract customers, but also explore new technologies at the same time.
[su_highlight background="#fcfa8a"]ART VoiceChannel Tube Channel on Amazon[/su_highlight]
ART Voice Channel is a good example of one such effort that resulted in a great device. Our job today is to show you the what this preamp is all about, and give you an idea about what kind of performance you can expect from one of these.
Let's jump right in
Applied Research Technology has been around for a while in one form or another. This company has always strived to deliver product that bring quality first. You have probably heard about some of their analog processors, which they are very well known for.
This time around, they have decided to try to build a device that is in high demand, but very short supply. ART Voice Channel processor is truly the Swiss army knife of audio control.

Features
ART Voice Channel comes in a very sturdy body that is rack friendly. The front panel is where all of your controls are, while the rear is where your connectors can be found. Speaking of which, this processor comes with both analog and digital I/Os. Yes, it is capable of A-D conversion, and sports a very capable converter which makes sure that happens. Aside from this very useful feature, ART Voice Channel is mainly a preamp. There is an instrument input as well as microphone one.
You have some 60 dB of gain to work with as well as additional 20 dB controlled by an output fader. Impedance range goes from 3 to 150 ohms, which should cover just about any microphone you could come up with.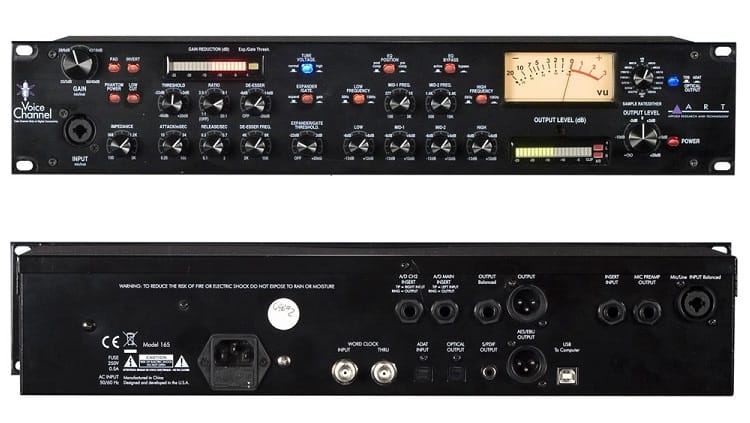 Aside from this, ART Voice Channel also brings a user friendly EQ that has some serious range. It's a four band unit that sports a semi parametric design and comes with low/high shelves that are switchable. Mid range sweeps are included as well. But wait, there's more.
ART Voice Channel comes with a compressor, de-esser and even an expander. It just keeps on giving. What is most surprising about this processor is its price. This thing costs as much as some entry to mid level preamps.

Performance
When you have a device that is trying to be the jack of all trades, it's only logical to be a little skeptical about its performance.
However, ART Voice Channel performs strongly on all fronts. When you put it to use, you will find out that this is a low noise amp that doesn't saturate the signal with interference. Available EQ can seriously impact the tone and gives you a lot of room to work with.

Features such as the compressor and de-esser are very well implemented, although the compressor we just mentioned lacks some finesse. For example, if you want to scoop the a subtle frequency band, you might find it to be a bit too crude. More robust adjustments to the signal are a breeze, though.
Speaking of which, the amp can give you a wide range of tone colors, but you just cant dial in a simply amplified source tone. It's always applies some layer of flavor on top of the signal, no matter what you do.

What we like
ART Voice Channel is full of potential, that much is apparent right from the start. The features it brings are well implemented and actually work rather decently. Low noise operation is great, and opens up a variety of applications for this unit, some of which include professional stage use.
All of this combined with a great analog to digital converter makes the Voice Channel one well rounded product.

What we don't like
The fact that preamp has to alter the raw tone somehow is a bit discouraging. Sure, it compensates by giving you a variety of sound colors, but it would be nice to have access to the unmolested tone. Other than that, ART Voice Channel is pretty impressive for the most part.
Final thoughts
What ART did with the ART Voice Channel is worthy of praise. The amount of versatility they have managed to squeeze into a compact package is impressive. This channel processor simply works, and it works well.
For being so packed with features, ART Voice Channel comes at a very affordable price. It's right up there somewhere with mid range amps that offer a tiny fraction of what this unit is capable of doing. When you put it that way, it's a very logical choice compared to what else is offered on the market.
[su_highlight background="#fcfa8a"]ART VoiceChannel Tube Channel on Amazon[/su_highlight]
This processor is best used for home recording or studio use. This is only made even more true considering digital output and USB support. If you are in need of a capable multitasking channel processor, you will definitely want to check one of these bad boys out. Chances are it can completely solve whatever issues you have in your recording setup.
If you are on the fence because you feel like it can't be this good considering how many features it offers, we urge you to go out and try one for size. You will love it.