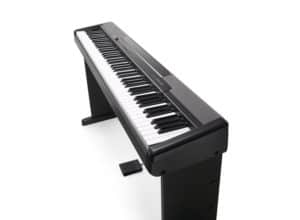 To those who don't know any better, digital pianos and keyboards are one an the same thing. This type of reasoning couldn't be farther from the truth. Aside from the fact that both have keys, these two instruments are vastly different.
Digital pianos require a much greater level of refinement than keyboards. After all, the purpose of a digital piano is to emulate its acoustic counterpart. That is not something you can easily do.
Digital pianos tend to cost a lot more than keyboards purely because of what we have just mentioned.
>> Check out Prices & Reviews on Amazon <<
While entry level keyboards are abundant, entry level pianos are somewhat rare. One of the few companies which offers a great lineup of entry level pianos is Casio. This giant is deeply invested into this segment of the market, and it is no surprise that they are tied with several other brands for the lead.
The piano we are talking about is the Casio CDP100. This modest board brings all the essential features a pianist needs, all while having a reasonable price tag. Today we are going to take a closer look at this digital piano, and see what makes it one of the best entry level models on the market.
Overview
When it comes to digital pianos, there are some features that are simply necessary. This mainly relates to weighted keys and a full 81 key scale. Learning to play a piano is difficult as it is. Some piano tutors won't even teach students who don't have access to an acoustic piano. That is why it's crucial that you have an adequate practice setup.
Entry level digital piano is the minimum that is still acceptable. Anything below that is going to lead to you wasting your time.

  Features
In comparison to standard format of digital pianos, Casio CDP100 is pretty compact. This model is very lightweight, both in terms of mass and features it brings. Build quality is great, and it really inspires confidence. There are no sloppy assembly marks or anything similar. It's a pretty tight package. The keyboard features a scaled hammer action with three levels of touch sensitivity.
The sound generation is take care of by a relatively capable sound engine. There are 5 presets available, most of which are different piano sounds. Aside from these, there are also several effects which include various types of reverb and chorus.

Polyphony is limited to a maximum of 32 notes. This the minimum recommended amount even for an entry level digital piano. There is also one octave transpose feature available. The speakers that come with the keyboard are by far the weakest element of this digital piano.
Everything on Casio CDP100 is pretty much on point, except these speakers. The maximum volume is too low, and the quality of sound is mediocre at best. Casio definitely dropped the ball in that respect. If only they have included a decent set of speakers, this digital piano could have been much more versatile.
Another aspect that is somewhat limited is amplification. Aside from the 3.5mm jack, there is really no easy way to bypass the speakers on this piano. One solution is to get an adapter and run the output through the available MIDI I/O. That complicates things, but considering how bad the speakers are, it's definitely worth the effort.

  Performance
The type of performance Casio CDP100 is actually pretty great despite the issue with the speakers. If the price was higher, it just wouldn't be worth the investment. The way it is now, it's a trade off that is acceptable. The highlight of this digital piano is the keyboard. This is the best weighted action you can get for this amount of money, period.
The type of feedback these keys offer is invaluable if you want to develop good technique on a budget.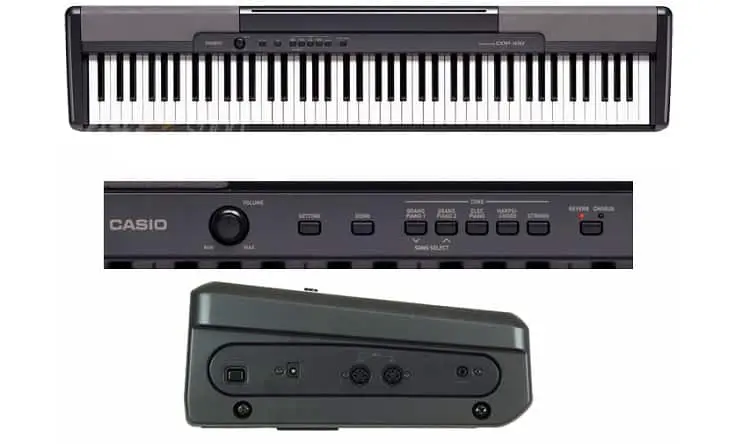 When it comes to velocity and the level of expression you are able to apply, the situation is good. Three levels of key sensitivity allow you to find a setting you can work with. It might not be perfect, but it's going to be close enough.
If we disregard the speakers, piano presets that come with Casio CDP100 are great. For this kind of money, Casio included some pretty decent samples. Which piano they recorded is unknown, but it sounds like a grand, that's for sure.

  What we like
Casio CDP100 is far from being a perfect digital piano, but that is inherent when you are dealing with entry level boards. All things considered, this piano has a lot of good features to offer.
Quality of the keyboard overshadows everything in its class. That kind of feedback is something you will only find in more expensive models. Just that fact alone makes this an entry level piano worth buying.

  What we don't like
Speakers. They are atrocious. Why Casio decided to install this very model of speakers on what is otherwise a great digital piano is something only they know. It's like building a great sports car and cutting corners on the brakes. It makes no sense. Despite this setback, Casio CDP100 is still one of the best choices you can go for at the moment.
On the whole
Entry level digital pianos are a hard to choose. There are so many mediocre models which come at a high cost, that it's very easy to make a mistake.
>> Check out Prices & Reviews on Amazon <<
Considering what is offered, Casio CDP100 comes on top as one of the best options, if not the best option at the moment. It has all the right features, and offers impressive performance where it matters the most.
The setback with the speakers is a nuisance, but it can be bypassed using a MIDI converter. At the end of the day, just the action on this piano makes it worth the money Casio is asking for it. Chances are that Casio CDP100 will become even cheaper in the future. If that happens, it will be a bargain that you shouldn't pass.