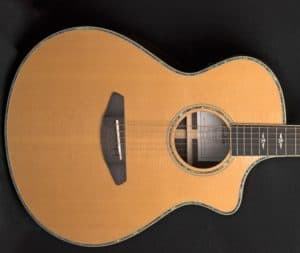 If you've seen any number of movies from the past two decades, you probably know the story about the apprentice beating the master by heart.
A similar scenario is why Breedlove is where it is today as a company. The whole story began when several luthiers decided to end their relationship with Taylor, and start building their own guitars. Working for one of the best acoustic guitar brands in the world tends to teach you a thing or two about elite acoustic guitars.
Needless to say, Breedlove crew took this knowledge and put it to good use.
They don't make a lot of models, but the ones they do are incredible instruments to say the least. The one we are looking at today is called Breedlove Stage Concert, and it packs a surprise for those who have never heard of this brand. In all honesty, this guitar punches way above its weight category. It's by no means a cheap guitar, but considering the work that goes into making them, the price is almost a bargain.
Breedlove likes to make their instruments with a very pragmatic approach, which is great if you are a performing artist. Let's take a closer look.
Breedlove Organic Wildwood Concert CE Acoustic-Electric, Satin, African Mahogany on Amazon
Overview
Finding a good acoustic guitar way trickier than it appears. Unlike it's the case with electrics, a lot of things need to come together in order for an acoustic guitar to be decent. The type of people that work at Breedlove understand this completely, and are designing their instruments accordingly. These are performance guitars. That's probably the best way to describe them.
Breedlove is very pragmatic with naming their models as well.
Breedlove Stage Concert is exactly what its name states – a performer's guitar that features a concert body shape.

Features
As we just mentioned, this guitar comes with a concert style body. The only irregular feature is the cutaway, which looks quite different from anything we've seen before. As a matter of fact, it's not the only element of the guitar where Breedlove decided to stand out from the crowd.
In terms of materials, you're looking at a solid Sitka Spurce top paired with solid Rosewood back and sides. The neck is a Mahogany unit with a Rosewood fretboard. The bridge design Breedlove went with is their own pinless design.
From a practical point of view, this type of bridge makes changing strings a whole lot easier. Again, something a performing artist would appreciate.
Breedlove Discovery Series Concert Hollow Body Acoustic Guitar Ovangkol/Mahogany on Amazon
This is an amplified guitar. The electronics of choice is the LR Baggs TCV system that comes with an on-board guitar tuner which actually works. Overall, the build quality is impressive. This can also be said about the action.
Straight out of the box, you might need to tune the guitar, but that is about it. You won't have to go to a luthier for touch-ups or anything of that nature.

Performance
Sound is where the Breedlove Stage Concert absolutely comes to light. Unplugged, it gives you crisp tones and overall balance across the frequency range. Bass response is on the lower side of the scale, but you need to keep in mind that we're talking about a concert body with a cutaway.
Knowing that, lower end of the EQ is more than great. Once you plug it into an amp, not much changes really. The tone retains most, if not all of its character even if you push it harder.
In terms of playability, Breedlove Stage Concert performs rather well. Everything about this guitar is setup in a way that is optimal for stage use. The action is near perfect, and the hardware holds perfectly. If you are looking for a reliable acoustic electric guitar for serious gigging but you don't want to break your bank account, this Breedlove is definitely something to keep in mind.


What we like
There is something about relatively small guitar shops and the quality of their guitars. Breedlove is no longer small by any means, but it appears that they have retained that mentality.
When you buy their guitars, you have the feeling of purchasing an instrument made by a small mom and pops shop down the road. That's the vibe you get from Breedlove Stage Concert. The performance is great and build quality even better.

What we don't like
The only thing that we can somewhat criticize about this guitar is the choice of electronics. Overall, it performs great, but once you start playing with the controls available, you will quickly find out that they are better left alone. Any bigger adjustment completely changes the tone of the guitar, mostly for the worse.
If Breedlove had included a more refined piece of electronics, this guitar would be a serious tool. With that said, choice of electronics is not a deal breaker, but rather something to keep in mind. Also, if Breedlove was to move their production to USA from Korea, they would probably have even more success globally. At the moment most of their guitars are made overseas, which is understandable.
Breedlove Signature Companion Copper CE Torrefied European Spruce Acoustic-Electric Guitar, African Mahogany on Amazon
Conclusion
In all honesty, Breedlove Stage Concert is one serious instrument which will serve you well no matter how often you perform. Its nature is all about that, which makes it a bit streamlined. Whether it's worth purchasing this particular model if you only plan to play at home depends on your budget. But we know one thing. If you only have casual use in mind, Breedlove Stage Concert will serve you well.
We like to think that guys from Breedlove, the ones who originally departed from Taylor, know exactly what a great acoustic guitar needs to offer. It would be completely reasonable to assume that they are the ones with the necessary knowledge and experience to contest Taylor on the market. And this just might be the case.
Word of mouth is a powerful thing, which is exactly why Breedlove guitars have so much work these days. People are recognizing their effort, and more importantly, quality they offer.