A very popular guitar effect in the 1960s that is still used today, the tremolo pedal produces a vibrato effect to a single note or chord by altering the signal's amplitude by the variation set by the user. With this pedal, you can control both the depth of the signal and the rate of the speed variation.
If you're interested in a tremolo pedal, but not sure which to choose, we're here to help. Let's explore some of the best tremolo pedals on the market, so you can find the right one to enrich your guitar playing experience.
Our Top Pick
If you need a quick answer, we especially recommend the Keeley DynaTrem tremolo pedal. This pedal is easy to use, has striking aesthetics, a true bypass to preserve your tones, and provides a variety of tremolo sounds. It is also reasonably priced for the features it has to offer, and it's built like a tank, so you can expect to last a lifetime.
No products found.
Best Tremolo Pedal Reviews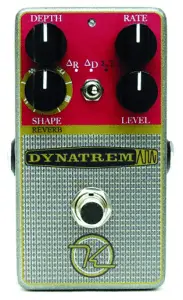 This elegant, vintage looking tremolo pedal is undoubtedly one of the best on the market. The Keeley DynaTrem Tremolo features four control knobs, each with a switch at the center, offering you a wide range of tone options.
Key Features
Integrated noise reduction
Output volume control
True bypass – No tone loss when off
Striking graphics
Powered by one 9-volt battery (not included)
What I like about this product
One of the knobs allows you to regulate the depth of the tremolo. There's also a shape/reverb knob that gives you the ability to control the shape of the tremolo wave. You have the option of choosing either triangle, sine, ramp down, square, or ramp up wave shape.
To be able to control the reverb, you'll need to turn the shape/reverb knob down. The third know is the rate control, which allows you to regulate the tremolo rate. Lastly, but certainly not the least, is the level knob, which enables you to control the output level.
This knob can also function as a booster, offering extra drive if set above twelve. The pedal features a switch in the middle. This switch has three functions:
Dynamic rate – This function measures the tremolo rate from your playing level.
Dynamic depth – This function measures the tremolo depth by the level of your playing.
Harmonic tremolo – This function is designed to deliver a vibrato-like tone from old tube amps. Additionally, it can make your tremolo pedal function like a reverb pedal. You simply need to turn the depth control knob to the left.
Tremolo boxes typically produce some hiss. The DynaTrem doesn't have that problem, thanks to the integrated noise reduction in its circuit. Also worthy of note is the reliable build quality, typical of Robert Keeley's products.
What I don't like about this product
Despite its great attribute, some players have complained that this tremolo pedal can't produce the standard flat tremolo effect.
Pros
A wide variety of tremolo sound options
Dynamic response
Noise reduction feature
Cons
Inability to produce the standard flat tremolo effect, which some guitarists consider to be a defect
Overall, Keeley DynaTrem is a top-of-the-line tremolo pedal. It gives you a variety of tremolo sounds to choose from. It is an elegant pedal, reasonably priced for its quality and inventiveness. However, it may not be the right choice for you if you're looking for a standard flat tremolo effect.
Overall Rating: 4.9/5.0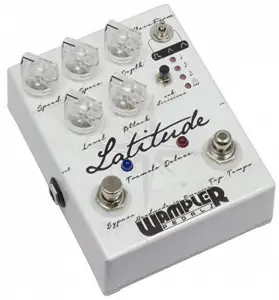 The Wampler Latitude Deluxe is one of the most controllable tremolo pedals available. It allows you to regulate waveform and timing subdivisions. It also features a front-facing tap tempo control, a feature you won't find in most of its competitors.
Key Features
True bypass
One 9-volt battery and an external power supply
Tap tempo control
Timing subdivisions
What I like about this product
The Latitude Deluxe is designed to give you full control. It has seven knobs. Each knob helps to shape your sound distinctively.
The speed and depth knob, for example, allow you to regulate the frequency and the depth of the volume dips. Additionally, you can adjust the distance between the volume bursts using the space control. There's also the attack knob that allows you to regulate the magnitude of attack the effect adds to your tone.
The volume control, on the other hand, helps to enhance your tone so it can be heard through any barrier. This tremolo pedal also offers tap tempo and several time divisions to ensure that all your rhythms are synchronized perfectly.
Another remarkable attribute of this pedal is that it lets you choose between various waveforms, including square, sine, and peak.
What I don't like about this product
The pedal is not without some downsides, however. Its primary disadvantage is the high price tag, which makes it an unsuitable option if you are tight on finances.
Pros
Versatile
Hand-crafted
Full control over your tone
Defined tremolo effect
Cons
Quite pricey
Can be challenging to understand all the controls
Overall, the Wampler Latitude Deluxe is an excellent option for anyone looking for a high-quality, versatile tremolo pedal. It allows you to control every single sonic feature and it produces a powerful, versatile tremolo effect. We only wish it was a bit cheaper for many people to afford it.
Overall Rating: 4.7/5.0
The Electro-Harmonix Stereo Pulsar tremolo pedal is designed to produce vintage tremolo and panning that's capable of filling any space, regardless of the size, with pulsing stereo energy.
Key Features
9-volt DC power supply and battery
Depth, rate, and shape controls
Stereo outputs
Switch-select between vintage, triangle, and square waves
What I like about this product
The most outstanding feature of the Stereo Pulsar tremolo pedal is that it allows for stereo output. When working with two output sources, you can significantly enhance the effect by using the pedal in stereo.
The pedal is equipped with rate, shape, and depth controls. There's a waveform switch with which you can vary the tone between triangle to square wave types. With the wave shape knob, you can vary the transitions between negative and positive sawtooth. The knob also allows you to adjust the width of the pulse.
With these controls, you can make any kind of stereo tremolo. This device also has LED indicators, so you can easily know which mode is currently active.
What I don't like about this product
The most notable downside of this tremolo pedal is that battery compartment is quite challenging to access.
Pros
Compact
Affordable
Stereo Panning
Cons
All in all, Electro-Harmonix's Stereo Pulsar is a great variable shape tremolo pedal. It features a very basic setup, with only three functions and a switch to select either square or triangle wave types. Nonetheless, it can deliver excellent sounds. If you're looking for a quality stereo tremolo at an affordable price, you can't go wrong with the Stereo Pulsar.
Overall Rating: 4.6/5.0
Since its introduction into the market in 1996, the Fulltone Supa-Trem ST-1 has been one of the best tremolo pedals for guitarists across the globe, mostly thanks to its clean boost.
Key Features
One 9-volt battery and power supply
Volume knob with up to 15dB gain
True bypass
True vintage-style photocell without ticking
Soft/hard footswitch
Half/full speed footswitch
LED status and speed indicators
Internal trimmer
What I like about this product
The ST-1 features a mix knob that provides a wonderful sounding clean boost. You can also expect it to offer a subtle boost any time you need it. Another remarkable feature of the ST-1 is the custom-designed Fulltone Opto-1 photocell with a swift recovery time that you can't find in its competitors. With this feature, the pedal behaves just like a vintage 1960's American tube-amp, but without the irritating ticking sounds that most amps and tremolo pedals produce.
This tremolo pedal also features a blue on/off LED as well as a red rate LED, which indicates your speed, ensuring you always start the song at the right tempo. The ST-1 has large knobs, allowing you to fine-tune on-the-fly using your foot. Also worthy of note is that the speed footswitch can accurately half or double your tempo, ensuring you're rhythmically in sync with the tempo of the song you are playing.
This pedal is also has a hard/soft footswitch, which enables you to choose between soft mode or hard mode. What's more, there's a built-in trimmer that allows for fine-tuning of the current that reaches the photocell to regulate the feel of the waveform.
What I don't like about this product
The major shortcoming of the ST-1 is the size. It is quite big, making it a bit difficult to manage while playing. Nonetheless, it's a fantastic tremolo pedal.
Pros
Versatile
Easy to use
Durable construction
Authentic classic amp-style tremolo sound
Vibrant, warm tone
No clicking sounds that other pedals produce
Cons
Internal trimmer fails sometimes
Hard to access battery compartment
No tap tempo
No depth controls
Quite big compared to competitors
Overall, the FullTone Supa-Trem ST-1 is a well-built, conveniently designed tremolo pedal. It is a great buy if you are looking for a tremolo pedal that delivers that natural, classic, vintage amp tremolo sound.
Overall Rating: 4.7/5.0
Fulltone holds a reputation for producing old-school style effect guitar pedals that deliver a fantastic performance. Fulltone Supa-Trem2 is one of the brand's most capable tremolo pedals currently available on the market.
Key Features
9 to 18-volt DC power supply
Phase Correlation control
three-way switch for sine, warble, and square waveforms
Buffered bypass switching
Tap tempo footswitch
What I like about this product
The Supa-Trem2 is a stereo tremolo pedal. It features two sets of inputs and outputs on the back and four control knobs: volume, rate, mix, and phase correlation.
The phase correlation control is the most outstanding feature of this pedal. It allows you to regulate the phasing of the sound. Another remarkable feature of the pedal is the three-way switch, which will enable you to select your preferred sinewave from sine, warble, or square.
Additionally, the Supa-Trem2 has two footswitches – tap tempo and on/off switch. With just two stomps on the tap tempo switch, you can choose the tempo you want.
What I don't like about this product
Unfortunately, to get the best out of this pedal, you'll need to use two amps.
Pros
Fantastic, natural sound
True stereo
Sturdy and durable case
Cons
Needs two amps to deliver the best performance
The Fulltone Supa-Trem2 Stereo tremolo pedal is a fantastic piece of equipment. The fact that it's a true stereo makes it even more incredible. If you are looking to experiment with sound, shifting with the Supa-Trem2 will give you an unmatched experience.
Overall Rating: 4.5/5.0
The Diamond Pedals Tremolo pedal is designed to utilize a 100-percent analog signal, delivering a vintage tone that you can't get from full digital tremolo pedals.
Key Features
9-volt battery
Analog circuit
Tap tempo
Four-user selectable waveforms
Rhythmic trem mode
Chaotic mode – random tempos with any waveform
Timing accents (3/4, 6/8, 2/4 and 4/4)
TapView (TM) function – You can see the tempo and tap speed when tapping a new setting
True Bypass operation
Bi-color LEDs, indicating waveform and speed selection
What I like about this product
This tremolo pedal is wonderfully designed, with a wide body and basic graphics. It features a quite conservative analog path along with a micro-controller that helps in altering the effect. This great piece of equipment comes with several controls to enhance your guitar playing experience.
From the left, there's the speed knob, which allows you to regulate the speed of the tremolo effect. The next knob is for depth control. There's also the volume knob that allows you to adjust the level of the effect.
The last knob, but not the least, is for mode control. This knob allows you to select various timing accents, such as 2/4 and 3/4. The pedal also comes equipped with a chaotic mode function.
When you activate the chaotic mode, your tremolo pedal will choose random speeds and waveforms. Also worthy of note is that the device has a waveform switch, which allows you to choose from four different shapes –sinewave, sharkfin, square wave, and chop.
When it comes to performance, the Diamond Pedals tremolo produces a quite capable old-school tremolo effect. You can use this effect to infuse your instrument's tone with a significant level of versatility.
What I don't like about this product
The only shortcoming of this pedal is that it is quite expensive and may not be suitable for beginners.
Pros
100-percent analog signal.
Clear, full vintage tremolo effect
Variable waveforms
Chaotic time feature ideal for experimenting.
Cons
Quite pricey
Not ideal for beginners
The Diamond pedals tremolo is not one of the cheapest devices on the market. However, it is one of the most authentic and effective stereo tremolo pedals you can get. It may look simple from the outside but is an exceptionally versatile, compact unit.
Overall Rating: 4.5/5.0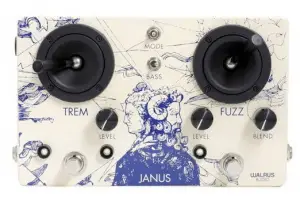 Walrus Audio Janus is a true bypass, dual joystick fuzz/tremolo pedal that lets you create a range of distorted textures. You can use the tremolo and the fuzz separately or together in series to create thick textures with lots of movement.
Key Features
9-volt DC power supply
True bypass
Fuzz and tremolo effects in one
Two joystick controls
Individual volume controls for fuzz and tremolo effects
A pink LED indicator shows the tremolo rate
Three-way switch for selecting various clipping diodes
What I like about this product
The Janus features joystick controls, which allow you to control the device more easily than its competitors. It is a versatile piece of equipment that can be used with vocals, guitars, and keyboards among other instruments.
The device features several different clipping diodes, allowing you to use different fuzz tones. Moreover, you can make use of the blend control, which allows you to mix a dry signal with the effected fuzz signal.
What I don't like about this product
However, you may not like the result of mixing from subtle to unrecognizable fuzz.
Pros
Ability to use tremolo or fuzz separately or combined
Fantastic depth and tempo of the tremolo effect
Cons
Transitioning from subtle to unrecognizable effect is somewhat unsatisfactory
Battery or DC supply not included
Overall, the Walrus Audio Janus tremolo/fuzz pedal is an excellent option for anyone looking to have both tremolo and fuzz effects without buying two separate devices. It is one of the most ambitious tremolo/fuzz pedals ever produced. With the device, you get two high-quality effects that are entirely different but could be combined to create fantastic sounds.
Overall Rating: 4.3/5.0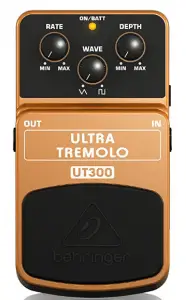 Behringer is credited with manufacturing some of the cheapest yet practical guitar pedals on the market—and the Behringer Orange UT300 is no exception. The UT300 is designed to deliver the classic, warm, and puzzling tremolo effects of vintage 1960s amp at a fraction of the cost of high-end tremolo pedals.
Key Features
One 9-volt battery
Depth and rate controls
Waveform control
First-rate, noise-free on/off switch
What I like about this product
The UT300 is designed to replicate the vintage tremolo effect that the 1960s amplifier produced. If you want to get the awesome Link Wray-style, spaghetti-western tones, the UT300 would be an ideal investment for you. The pedal comes with many control knobs, including depth, rate, and wave.
These controls allow you to choose your desired tones quickly and easily. What's more, the pedal features a true bypass footswitch that preserves the character of your dry signal. If you're usually on the go, this can be a perfect pedal for you. It is compact and lightweight, and hence very portable.
What I don't like about this product
The UT300 is not without some setbacks, however. A significant downside is the plastic case, which can affect its durability. It also utilizes digital signal and so doesn't have that natural, analog feel.
Pros
Several sound and waveform options
User-friendly
Affordable
Compact and portable
Cons
No analog feel, thanks to digital signal
Plastic case not very durable
Component quality is wanting
The Behringer UT300 is one of the most affordable tremolo pedals currently available on the market. Its simple design and compact sound make it an ideal choice for the on-the-go guitarist looking for some vintage tone during their live performance.
Overall Rating: 4.3/5.0
Buying Guide: How to Choose the Best Tremolo Pedal
There's not much difference between various models of tremolo pedals. However, considering the fact that our needs are different, and you probably want something that can serve you for a good number of years, it's advisable to take the time to make the right choice. There are several factors to consider to help you separate the wheat from the chaff. Let's explore some of the fundamental factors:
The sound – If the sound is not great, no other features will make your tremolo pedal a worthy investment. That's why reputable pedal manufacturers have demonstration videos of their pedals on the internet. You should have a listen to how your prospective pedal sounds, preferably in a demo similar to your own sound, before you make a decision.
Modes and Settings – Another important factor to take into consideration when shopping for the best tremolo pedals is the various settings and modes that different pedals have to offer. Virtually all pedals come with the standard three adjustable functions: shape, depth, and speed. A pedal that lacks any of these three settings may not be a good choice unless it sounds heavenly.
Otherwise, you won't get the kind of flexibility that you would want from a tremolo pedal. The speed and depth settings work virtually the same way in most tremolo pedals. The former lets you regulate the tempo of the effect, while the latter governs the variation of the volume.
The shape setting, on the other hand, works in different ways in various pedals. However, it basically helps you change the waveform of the tremolo effect, usually between a saw wave type sound and a square wave type sound. Besides the standard settings, you can also find other features like a tap tempo knob.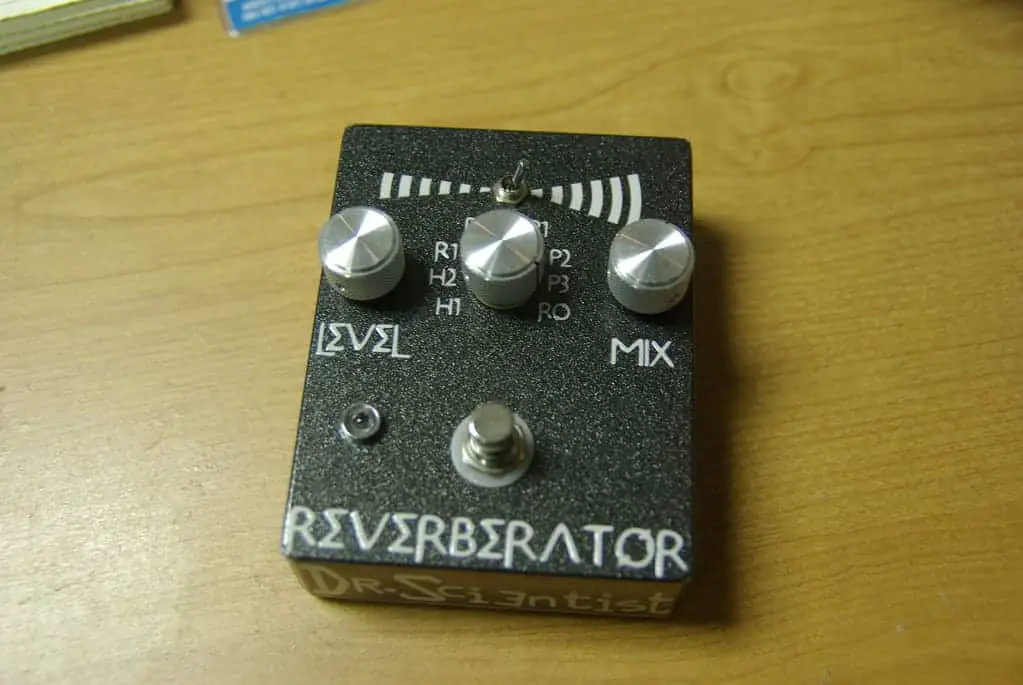 While most pedals don't have the tap-tempo knob, it is a valuable feature. With this knob, you can set the speed of the tremolo effect much faster and with much greater precision. This aspect can come in handy during live performances.
The tap tempo button is especially valuable if you want to set the speed to match a song that is already being played. All you need to do is tap out two beats. It saves you the stress of having to turn a knob, play, listen if the sound is okay, adjust again, play, listen, and repeat.
Bypass type – You may also need to consider the type of bypass that your preferred pedal has. If you have several pedals in your chain, chances are that the signal could be faded or somewhat distorted on its way to the amp. This can result in a degradation of quality or volume.
This is partly caused by the way the signal passes through a pedal when the pedal is off. To avoid this problem, you should consider investing in a tremolo pedal with true bypass. When a pedal with true bypass is off, the current will pass directly from input to output as if the pedal was just a short cable, which minimizes any degradation of your tone.
You should realize, however, that tremolo pedals with true bypass usually are more expensive. You can purchase it if it's important to you. However, you can avoid it if you're working with a tight budget since it doesn't make a significant difference.
Overall, the tremolo pedal to go for will depend on your individual needs and budget. If you want a higher level of flexibility and better playing experience, you'll need to dig deeper into your pocket. However, there many tremolo pedals that lack the fancy bells and whistles but deliver excellent performance, almost rivaling their high-end counterparts.
It's important not to get too hung up on the price tag. A low price doesn't necessarily mean a low-quality pedal, and a high price doesn't guarantee you're getting a good pedal either. Likewise, the specifications of a good pedal often vary by preferences of the player. Be sure to do your research and look for actual sound clips of any pedal you're interested in buying—or better yet try it in person.
Final Thoughts
There is a wide selection of tremolo pedals available on the market, designed to suit the needs and budgets of different guitarists. Whether you are just getting started in the world of tremolos or you are a veteran, you can always find something that's right for you.
We've reviewed some of the top-rated pedals on the market and also shared some tips to help you in decision making. We hope it will give you an easier time finding the best tremolo guitar pedal for your needs.
Again, if we were to suggest one pedal to start your search with, it would be the Keeley DynaTrem tremolo pedal. It offers exceptional quality and will work well for the majority of users.