Music is alive. The trick of the musician is merely to discover the source of this life and manipulate the tools at their disposal to convey this to the audience.
Reverb is a crucial element to guitar playing, as it not only enhances your sound but also portrays you as a much better player, masking any glitches and bringing the audio all around you into one amazing combination which transforms a simple collection of notes into something extraordinary.
So, how do you choose the best reverb pedal?
The good news is that you can focus on your playing, and leave the tough stuff to us. In our reverb pedal reviews, we have put together a list to discover the best guitar reverb pedal, and pass that information onto you.
Top Pick

Our top pick, the Boss RV-500, allows you to combine an excellent price with a quality pedal that consistently delivers great sound and will enable you to add some much-needed reverb to your sound.
Reviews of the Best Guitar Reverb Pedals
Last update on 2023-05-09 / Affiliate links / Images from Amazon Product Advertising API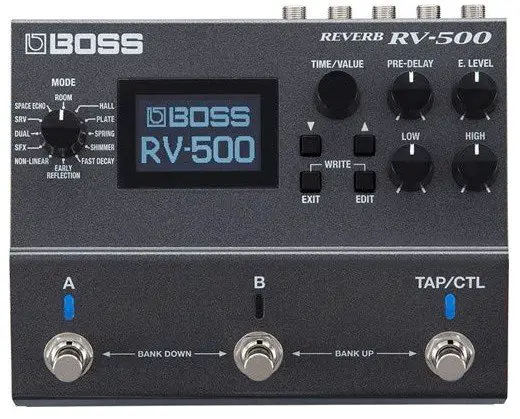 Boss has a solid and an established reputation when it comes to the technology of special and audio effects, and their latest reverb pedal, the RV-500, is no exception.
Key Features
Three-footswitch unit
Can be configured for a range of functions
Twelve selectable reverb modes
Digital delay
What I Like About This Product
This model is our top pick among reverb pedals for guitars, and it has truly earned its place. Reverb and delays are equally balanced to create a versatile pedal. It is easy to switch between ambiances for different songs, making this ideal for those who are performing a varied setlist.
What I Don't Like About This Product
It is tough to find anything to dislike about this pedal. Boss has delivered a quality piece which will massively enhance the quality of your playing.
Pros
Hugely versatile for a range of sounds
Twelve reverb modes, each with a full-function digital delay with modulation
Five knobs allow you to tweak and adjust as you go
Cons
Sound can be a little thin, but this is easily adjusted and rectified
The RV-500 is a versatile, flexible pedal which could be a perfect choice for musicians looking to add a fantastic reverb to their sound and boost their performance to the next level.
Overall Rating: 10/10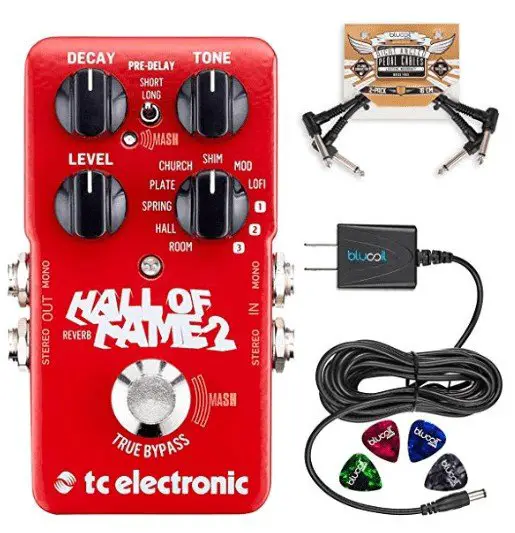 Pressure is the keyword with this Hall of Fame Pedal. It offers unique MASH technology that responds directly to the pressure you apply to produce clean, fantastic reverb and add individuality to every note.
Key Features
Produces eight reverbs – Hall, Spring, Church, Plate, Modulated, Low-Fidelity, and Shimmer
Reverbs can be customized to create your own sound
Optimized headroom with True/Buffered Bypass and Kill-Dry on/off ensures a true tone
Parameters easily controlled with MASH technology
Comes with all necessary extras and accessories
What I Like About This Product
Adding an expression pedal to a stomp box has allowed Hall of Fame to up their game and produce a compact but capable reverb pedal. There are ten different reverbs available, and you get the chance to really tweak and create a unique signature sound.
What I Don't Like About This Product
The patch cords can be temperamental and may need replacing quickly. This issue could be problematic for players who are using the equipment a lot as it can be a big inconvenience.
Pros
Eight reverbs available to allow you to create a versatile range of sound
Three TonePrint slots enable you to customize your sound
Optimized headroom with a True/Buffered Bypass switch and Kill-Dry on/off
MASH technology responds to the amount of pressure applied to the switch, allowing you complete control of your sound
Includes powers supply and plug
Cons
Patch cords require a lot of replacing, and this could be frustrating
The customization potential in this model is a big appeal and allows you to tweak and adapt your sound exactly as you desire.
Overall Rating: 9/10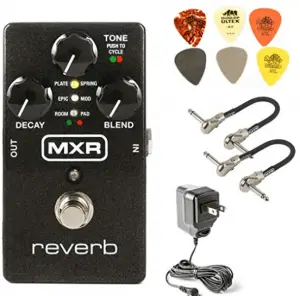 Simple, affordable, and offering a great sound, this MXR pedal ticks a lot of boxes and packs an awful lot of power into a compact space.
Key Features
Preserve your reverb tails with Trails Bypass mode
Optional expression pedal allows you to manipulate the Blend control
Comes with all required extras
Can be operated in Mono or Stereo depending on your needs
What I Like About This Product
With a choice of six distinct sounds, I like the choice which comes with this pedal, especially because it comes in such a handy, compact box. There is a lot of potential for different sounds, but the overall effect is neat and easy to use.
What I Don't Like About This Product
The only real issue with this kit is the disturbance. There is sometimes a loud squeal through the amplifier if the pedal shares a power source with other pedals. This issue is annoying not only from an audio perspective but also having to find another plug socket or power source.
Pros
Real variety and choice with six reverb styles – Plate, Spring, Epic, Mod, Room, Pad and Shimmer
Tough and durable construction
Power adaptor and six Dunlop picks included
Blend control can be manipulated with an expression pedal
Cons
An expression pedal is not included
Requires a separate power source to avoid interference and noise
I like the versatility of this model, but the interference is a big problem and adds another thing to remember and organize before you can start playing.
Overall Rating: 7/10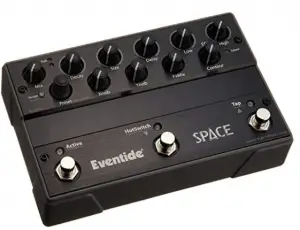 Eventide has reached new heights—though perhaps not the final frontier—with this compact, durable pedal capable of an impressive range of modulations, effects, shifts, and more.
Key Features
True analog bypass
USB allows easy software updates
Good choice of spatial effects
Twelve Eventide Signature Reverb Combo Effects
Top quality sound
What I Like About This Product
The vast number of presets which come with this pedal is a huge advantage and help to set it apart from the varied competition. I was also a big fan of the variety of reverb algorithms, delays, modulation, spatial effects, and other bonuses in one model.
What I Don't Like About This Product
I can imagine that this would be a little complex and overwhelming for those just getting to grips with reverb and sound effects. The factory settings do require some tweaking to get the best results, and this could be confusing for beginners.
Pros
Outstanding quality sound
Any software upgrades are easily completed with a USB connection
Has aVast range of abilities, including pitch shifting, modulation, and tremolo
Cons
Some of the sounds are a little unnatural and may be better suited to a specific type of performance
Can be a little complex for newbies
For synthesizers and 'out there' sounds, this could be a wise choice, and it offers a lot of variety and choice to get as creative as you dare.
Overall Rating: 9/10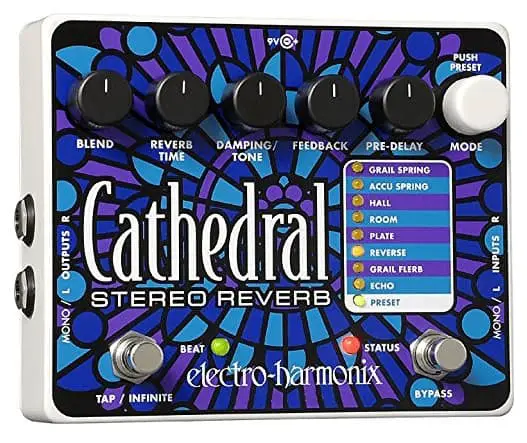 In all honesty, the aesthetics of this pedal was the key draw for me. It plays on its 'Cathedral' titles with a great visual appearance and combines this with a great reverb pedal which can boost your playing and sound.
Key Features
True stereo inputs and outputs
24-bit AD and DA converters
Tap Tempo allows a pre-delay section
Eight reverb styles
Damping and tone control available for each reverb model

What I Like About This Product
This model allows you to take full control of the sounds and effects. The six knobs mean you have the power to adjust everything from wet and dry signals to echoes and delays with ease, to create a truly unique sound.
What I Don't Like About This Product
This pedal is intuitive and versatile, but I have seen various alternatives in the same price range, which offer a few more tricks for the cost. That said, this is great for those players looking to keep it more simple.
Pros
Offers a superior level of control over final sound and effects
Bright and fun appearance
Chance to create loads of weird and wonderful
Great for creative types
Cons
Some more experienced players may find it limiting compared to other models
This Cathedral model is a fun way to play around with your reverb sound and tone, and add another layer to every song. Though there are limitations, it is nonetheless a great bit of kit to let your imagination run wild.
Overall Rating: 9/10
This Holy Grail model has a stellar reputation in most reverb pedal reviews, and it is easy to see why. It combines a low price with a compact design, great sound, and adaptability to suit every player.
Key Features
Three different reverb algorithms
Very easy to use
True bypass
The finest "spring" reverb available
96DC-200BI power supply included
What I Like About This Product
If you are looking to add reverb to your music, rather than build the sound around it, this is the ideal choice. It is simple, easy to operate, and does exactly what it says on the box. Perfect for beginners, or those who are just starting to think about reverb but are overwhelmed by complicated models.
What I Don't Like About This Product
There aren't enough features, buttons, and switches to keep more experienced players interested, and these people are likely to get frustrated and bored very quickly.
Pros
Very easy to pick up and use
Compact design for easy portability
Three distinct reverb algorithms – perfect for beginners
Affordable price if you are just starting out
Cons
Very limited compared to competitors
Can only be used with the supplied power source
Sound can seem very artificial
There are no hidden surprises with this pedal from Holy Grail, and it is ideal for those looking to add reverb as a 'side dish' in their music, rather than focus it as the main attraction. Those looking for something more complex are likely to be very disappointed and should aim for something in a higher price range.
Overall Rating: 9/10
Apart from the frankly brilliant name, there are a lot of great features in the EarthQuaker pedal. It creates a detailed and in-depth soundscape for any song and is a lot of fun to play around with.
Key Features
Fully analog dry-signal path
Fully digital reverberation path
Modulated reverb with extra-long decay
Electronic relay based true-bypass switching
Six knobs for greater creativity and control
What I Like About This Product
For the ultimate sci-fi experience, this is an ideal choice. It makes even the most normal sounds slightly weird, and the already-strange downright fantastic. It offers a sound which is unique and individual and will definitely add some fun to your music and playing experience.
What I Don't Like About This Product
This model is not a great choice for those looking for a natural or more 'normal' sound. It would be better if there were a choice and wider range—this is very much a piece for the more unusual tunes effects.
Pros
Allows you to create an engaging, immersive soundscape
Six knobs enable you to tweak and adjust a variety of effects
Creative and fun appearance
Allows for hugely unique and original effects and results
Cons
Very niche, specific sound
Very little range outside the preset sound
At no point does the EarthQuaker deviate from its intentions, and it is clear at what it sets out to do. It achieves this goal to the full, offering a fun and creative opportunity to play around with traditional sounds and tones and do something very different. It may not be the best guitar reverb pedal for those looking for traditional, but it is a lot of fun.
Overall Rating: 10/10
This offering from Strymon combines a clear sound, simple reverbs, and great additional modes to bring you everything you need to boost your sound.
Key Features
Three different reverb modes
Three different reverb plates
24-bit 96 kHz converters
115db typical signal
What I Like About This Product
This pedal offers studio-quality reverb and allows you to adjust the tone easily with one preset setting—a real bonus for a pedal of this size. The shimmer mode is my personal favorite on this model and adds a rockstar quality to any performance.
What I Don't Like About This Product
Compared to other models which offer similar features, the price on this one is quite high.
Pros
Top standard, studio-quality reverbs
A single preset – makes life easier and a bonus for a pedal of this size
Includes the typical delay/mix knobs, but also adds additional dials to adjust the tone of the effect itself.
Small, compact size
Cons
Requires a sperate power supply which could be an inconvenience
Quite pricey compared to similar models on the market, though I would argue it is worth the extra cost
This Strymon model does add up to a little more expensive than comparable models, but the ability to adjust and personalize the tone is a major plus point, and I would argue worth the money.
Overall Rating: 9/10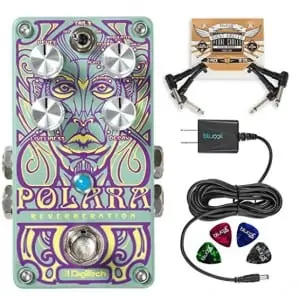 Compact, comprehensive, and not overly complicated, the Polara model offers everything you need from a quality pedal in a pocket-sized format.
Key Features
Choice of seven reverbs
Liveliness knob and decay knob to adjust reverbs to your needs
Includes all necessary accessories as standard
True bypass switching
Reverbs can be turned on or off with ease
What I Like About This Product
The key selling point for me was the range of reverbs available; there are seven to choose from, which gives you a wide variety of sounds and options to play with. There is also the choice to adjust the tone and length of the reverb with the extra knobs, and a Polar Reverb Pedal produces clean tones.
What I Don't Like About This Product
There are no real negatives to the Polara model. If I had a criticism, it would be that this is a less attractive model than competitors—which isn't something most of us care about. It also requires a separate power supply, though, so keep that in mind.
Pros
Seven lexicon-grade reverbs for a full palette of sounds – choose from Room, Plate, Reverse, Modulates, Halo, Hall, and Spring
Liveliness knob allows you to adjust the tone of the reverb
Decay know controls length of the reverb
Includes reverb on/off switch for further control
Make sure all your notes are clean and sharp with the true bypass switching
Cons
Not as attractive as other models
Requires a separate power supply
There is no doubt that this offering has earned a place as one of the top guitar reverb pedal options, and it is an excellent choice for new players and pros alike.
Overall Rating: 10/10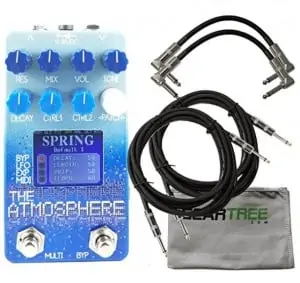 My favorite thing about this pedal from Dr. Scientist is the clear color screen. This screen shows you exactly what is happening with the pedal and allows you to change and alter the settings a fraction either way to produce a totally new and unique sound.
Key Features
Sixteen modes to choose from
Clear color screen
Offers both classic and hybrid reverb styles
Resolution knob allows further changes
What I Like About This Product
The versatility of the Atmosphere pedal is the main bonus for me, especially when combined with a large color screen which allows the player to see what they are doing and make minor adjustments with ease. There is superb attention to detail, which makes it possible to create more personalized and individual tones.
What I Don't Like About This Product
The tone control doesn't come saved with user presets, and this could be an unexpected change for those who are used to working with other pedals. In many ways, however, it offers an advantage—the tone can change according to the ambiance and environment the player finds themselves in, and this could be a positive for gigging musicians.
Pros
Large color screen
Versatile
MIDI implementation capable
Cons
No presets
No dual footswitch capability
The Dr. Scientist Atmosphereis a well crafted and clear model, which has earned its spots as one of the best reverb pedal options, particularly for professionals and those traveling and performing in a variety of different venues and environments.
Overall rating: 9/10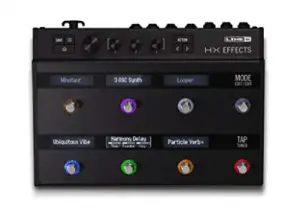 Any reverb pedal reviews would fail to be complete without this option. It is the only multi-effect pedal on our list but has more than earned its place at the top. With a massive chance for creativity and the ability to combine different effects, this is something of a game changer in the industry.
Key Features
Large LCD screen for easy use
Wide variety of reverbs available
Amp and cab modeling
Dedicated stereo send
100+ HX effects for your pedalboard with the chance to run up to nine at once
Also includes legacy effects library from M5, M9, M13, DM4, DL4TM, MM4 TM, and FM4 TM
Capacitive-sensing switches with scribble strips and LED rings
Functions as the command center for your entire pedal rig and amp
What I Like About This Product
This option is fantastic for anyone looking to take their creativity to the next level. This pedal allows you to link and combine effects, layer reverbs and delays, and choose from a vast range of reverbs and effects. The overall effect is one of ease and convenience; you can change the entire tone and feel of your music from a single tool.
What I Don't Like About This Product
You can only use nine effects at a time, and this could be restrictive for players used to a more extensive range. For most, however, this is plenty.
Pros
Range of reverbs and effects to choose from
Clear LCD screen
Chance to layer, blend and link sounds and effects however you prefer
Offers massive ambient sounds which cannot be matched by other models
Cons
Pros and purists may be put off by the limited number of modeling opportunities offered
When it comes to sound quality and versatility, this pedal is hard to beat. In terms of multi-effects tools, it certainly stacks up amongst the best options and will change the sound and tone of your playing for the better.
Overall Rating: 10/10
Buying Guide
Before you commit to spending a bundle on a reverb pedal, it is vital that you have a full understanding of the effects which are available for instruments, and how they can affect your playing. If you are a seasoned pro, you can skip this bit, but for a thorough understanding, read on.
What Are Guitar Effects?
In the simplest terms, effects are electronic circuits and devices which can process the electronic signal from a mic or instrument. The variety is vast—from sci-fi-like modulation effects to create an alien soundscape so immersive you lose track of reality, to a subtle change to enhance a few chosen notes. If the guitar is the artist's primary tool: a palette of colors, effects are the brushes and tools used to take the creation to the next level.
Effects serve the purpose of making you sound better. They can change your tone or sound in different contexts, or even invent brand new sounds altogether. In short, they are fun and mean you can enjoy messing about making the strange sounds and learning to love your craft.
The concept became popular in the 1940s when Les Paul, a guitarist innovator, started experimenting with multi-track recordings and echoes to help add excitement to his work. During the same period, the first ever foot-switched effect appeared with Harry DeArmond's Trem Tol tremolo processor.
More effects developed in the '50s and '60s but were limited and expensive. Amplifier creators such as Gibson and Fender were also bust incorporating tremolo and reverb effects into their amps, and these helped to produce overdrive and distortion effects if the volume and gain were cranked to the max—a technique and effect which is hugely popular today. The technique became more popular in the '60s, and a quest for strange sounds grew in popularity to reach the heights we see today.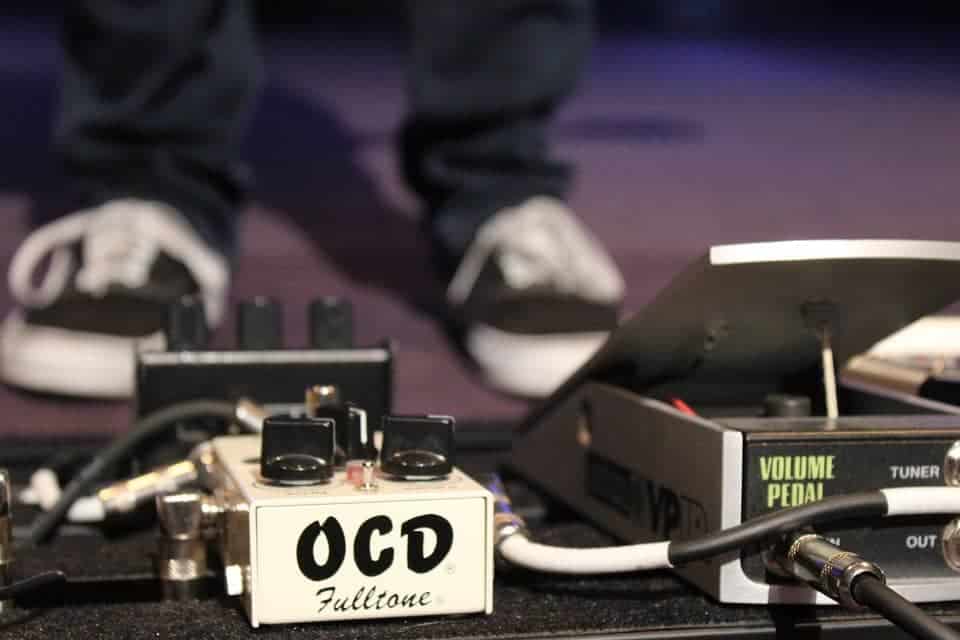 Nowadays, effects are hidden everywhere. They are pre-built into amplifiers, packed neatly into a single pedal like the examples above, incorporated into a multi-effect processor, rack-mounted, or even controlled via an iOS device. They have been used by hundreds of artists to create unique and signature sounds which help boost and make their careers.
Stompboxes are the most common type of effect, being metal boxes at the feet of the musician. They gain their name from the metal button which powers them on and off and often contain a foot pedal which allows them to modulate the volume and intensity of the effect. They can be single pedals, or part of a multi-effect processor, which includes multiple pedals and buttons to allow different effects to occur simultaneously.
Rack-mounted effects processors are also popular and usually found in home or professional studios. They are almost identical to floor-based pedals but are mounted on a rack and controlled with a foot pedal.
Buying the best reverb pedal for you is an individual choice, and will depend on a range of factors including how you intend to use it, where you are going to be playing, personal preference, as well as other considerations. As we have seen, different pedals (be it a reverb or a wah pedal) offer a range of different effects and sounds, and others will mix different effects in a single pedal.
The first thing to consider is just what you want your reverb pedal to do for you; do you need something simple that you can forget about, or a more complex option to suit a variety of songs? Do you need a range of different reverbs, or a single tone to help your sound stand out? The main areas to consider are:
Value: How Much Do You Have to Spend?
Simplicity: do you need a simple, easy-to-use pedal, or do you have the confidence and experience for something more?
Flexibility: do you need a single reverb sound or the flexibility to switch between tones?
Presets: are you happy to manually adjust the pedals, or would you prefer to save different presets for when you need them?
Quality: is quality important, or are you on a budget and need something more affordable?
Size: is size important? How much space do you have?
Once you have had a chance to consider these key concepts, the next step is to decide which type of reverb you are looking for. There is a range of types, and these can all be mixed with effects. The main types are Hall, Plate, Room, and Spring. These will come with most pedals.
Hall and room reverbs are the simplest and will emulate what you would naturally hear in a large, empty room or hall. If your pedal offers room and hall reverb, you will usually have the option to control the size of the room, allowing you to create effects from small, subtle studios to massive church-like reverb.
Spring reverb occurs when a long metal spring vibrates, and the pickup catches the vibration. This is one of the most distinctive types and can be adjusted by shaking the spring reverb device. Some amps will offer a built-in spring reverb. This option is most common in vintage amps; however, most current offerings will emulate this sound digitally.
Plate reverb is similar, but sheet metal is used in place of a spring. The sheet vibrates from a transducer, and a pickup catches the vibration.
Picking the right type of reverb pedal is a personal choice, and will depend mainly on where you will be playing, and for what purposes.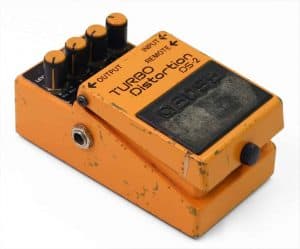 In addition to picking the right type of reverb, there is a range of other features you will need to consider, including:
Stereo
Not all reverb pedals are stereo, and so it is crucial to check before purchase if this is important to you. The reverb pedal tends to be one of the final effects in the guitarist's effect chain, and so whether it is stereo has the potential to impact the entire signal chain–a big deal if you are running a stereo rig.
A good way to decide is to take a look at your current pedals. If most of them are stereo, you should carry this on with your new purchase. If, however, most of your pedals are mono, this is less of a pressing concern.
Analog vs. Digital Effects
Up until the early '80s, all effects were analog circuitry-based, and so operated by directly modifying the sound signal. The digital revolution transformed this, using digital effects to convert the output of the instrument to a digital bitstream. This is then modified by digital circuitry and translated back to analog signals for output. All the early digital effects were modeled on existing effects, but those that followed only became achievable with the advent of digital signal manipulation.
Analog is perfect for a traditional sound, but most effects nowadays are digital for convenience, and the increasing quality of technology means you can recreate an authentic analog sound with a digital alternative. For this reason, many professional players have converted to digital effects.
Some purists will still stick to analog, and it is true that this offers a purer and more raw sound which many advocates see this as a more authentic musical experience. Digital has its place, however, and ultimately it is the choice of the player as to which they prefer.
Modeling
One of the coolest options offered by effects is the ability to recreate sounds which were generated by vintage amplifiers, instruments and effects, as well as microphones, microphone placement, speaker cabinets, and revered amplifier heads.
Most of the multi-effects units and amps which are popular today will incorporate within them an impressive range of models, and many manufacturers have created guitars which contain the modeled sound of famous instruments from the past.
Presets
Presets are another significant advantage to modern technology, and these allow a predetermined array of effects to be set up and applied well in advance of your performance for ease and convenience. As well as the factory set options which come with many instruments, there is usually a chance to build and create your own presets. Just take the factory basics, add your own spin, and save it ready to pull out at the crucial moment.
Equalization effects
Equalization (EQ) effects, work through cutting and boosting specified frequency bands within the signal. They are not involved in changing the pitch but will adjust the quality or timbre of the sound from creating treble, and high end sounds to a low-end bass.
Many modern guitars will offer multiple tone knobs which can provide a simple form of EQ control—these will add or cut the treble frequency of the signal from the instrument and allow you to control treble, bass, and mid frequencies while playing.
In addition to a typical EQ, you can further control and tune the sound with a graphic or parametric EQ. These allow you to alter the width of the frequency band and the shape of the curve, or divide the frequency ranges into narrow bands. Each band can then be lowered or boosted by sliders to allow you to see how the EQ is being affected, meaning you can make minute adjustments.
EQ is most important when you are playing as part of a band as it allows you to harmonize perfectly with the other players, and create a smooth and sleek overall effect that has just the perfect amount of reverb depending on your location and playing environment.
Final Thoughts
Choosing the best reverb pedal is an integral part of fine-tuning your guitar playing skills and creating a unique, signature sound. There are many considerations to work through; do you need a simple, single reverb, or a variety of options which will be suitable for a varied set list of songs? Are you looking for something you can set up and go, or are you a budding inventor, desperate to play with different tones and sounds?
Based on all the above, of course, a guitar pedal is going to vary by the user, but the Boss RV-500 pedal made our top pick because it offers a versatile and flexible range of reverb effects suitable for everyone from professional players to newbies looking to enhance their guitar experience and find their own authentic tone. It's likely going to be an outstanding match for most player's needs.
It comes encased in a compact body, perfect for transporting from gig to gig with confidence, but manages to pack an awful lot of power into this small space. One of the best aspects of this choice, though, is the affordability—no matter your budget, you can pick up a great model from Boss that will help you get started in creating your own mark on the music industry.