The quality of your instrument can have a significant effect on the quality of your performance—and this is just as true for trumpets.
As you may know, there are several differences between a student trumpet and an intermediate one, especially in terms of sound quality, projection, and intonation control. Before finding an intermediate trumpet that is right for your genre, playing style, and budget, you have to do a little research to ensure that you don't waste money on an instrument that is not right for you.
In this guide, we will review the best intermediate trumpets and discuss crucial requirements and considerations. Keep reading to learn more.
Our Top Pick
Of all the trumpets we reviewed, the Yamaha YTR2330 was the clear winner for the best intermediate trumpet. It is designed for musicians still honing their craft and comes in at a fair price point to boot. You can learn more in our full review below—we put it at the top where it belongs.
Last update on 2023-05-04 / Affiliate links / Images from Amazon Product Advertising API
Review of the Top Intermediate Trumpets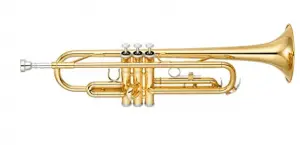 The YTR2330 from Yamaha offers everything you could possibly want in an intermediate trumpet – a consistent and vibrant tone, natural playing, and reliability.
Key Features
Bb trumpet
Twopiece yellow brass bell
A third adjustable bell
Flatcontour mouthpiece
What I like
The Yamaha YTR2330 is specifically designed to help intermediate trumpet players boost their playing skills to a professional level. This trumpet delivers a superior sound, is reliable, and easy to play. A standout feature of the YTR2330 is its twopiece yellow brass bell to ensure a consistent resonance.
Additionally, it is lightweight and easy to handle. The instrument's third valve also makes natural hand movements possible to enhance and develop your performance. A third valve contributes significantly to the trumpet's bright sound.
Because of the YTR2330's yellow brass twopiece bell and third valve, it delivers a superior intonation. The trumpet features a flat contour mouthpiece that is not only comfortable but adds to the instrument's sound projection.
What I don't like
At first glance, this model may seem like it is suitable for players of all skill levels. However, it is specially developed for intermediate players, and may not be ideal for use by professionals.
Pros
Lightweight and easy to play
Highend intonation
Delivers a consistent and vibrant sound
Features a twopiece bell and third valve
Cons
May not be suitable for professional trumpet players
The YTR2330 is ideal for intermediate players who want to switch gears in terms of sound and playability.
Overall Rating – 5 of 5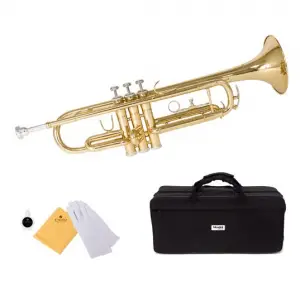 The Mendini by Cecilio MTTL is an intermediate trumpet for players with budget constraints. This instrument offers a wide range of highvalue features to enhance the intermediate's trumpet playing skills.
Key Features
Trumpet in the key of B Flat
Gold lacquered trumpet
7C mouthpiece
46inch bore
5inch bell
Phosphorous copper lead mouth pipe
What I like
The Mendini by Cecilio MTTL shares many features with the Mendini MPTN pocket trumpet with the noticeable difference between them being the size. This trumpet has a 0.46inch bore and a 5inch bell.
Because this instrument's bore size is on the narrow end of the intermediate spectrum, it delivers a soft and warm tone but with ample sound projection. As a result, it is ideal for intimate performances in jazz bands and classical orchestras.
Other features the MTTL shares with the pocket trumpet include white mother of pearl key inlays, a 7C mouthpiece, and three smooth action valves to enhance your trumpet playing skill.
What I don't like
One issue with this trumpet's construction is that it can quickly sound watery, and you will have to clear your spit valves regularly.
Pros
Delivers warm tones and sufficient projection
Included with many handy accessories
Three smooth action valves
Ideal as an intermediate trumpet
Excellent value for money
Durable carrying case for protection
Cons
Susceptible to moisture accumulation
The Mendini by Cecilio MTTL may not offer the same craftsmanship and sound as models at the highend of the quality spectrum but, for the price, this model offers everything you want in an intermediate model and more.
Overall Rating – 4.4 of 5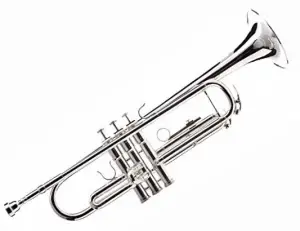 The WDT313 trumpet from Hawk is suitable for intermediate players who need an instrument that matches their skill and offers good value for money.
Key Features
Bb Trumpet
Bore size of 11.665mm
Bell diameter of 123mm
Silver plated instrument
Durable case and mouthpiece are included
Stable construction
What I like
The WDT313 is a popular option among intermediate players, especially since it is comfortable to play and designed to meet the unique needs of beginners who are looking to step their skills up a notch.
This trumpet has a rugged construction to withstand abrasions, but it comes with a highquality protective case for safe storage and transport. The trumpet has average bore and bell sizes and, as a result, its sound is suitable for a wide range of playing styles and music genres, including classical music, jazz, and blues.
The Hawk WDT313 has three valves, silver finishes, and a compact profile.
What I don't like
One drawback of the WDT313 is that it doesn't deliver the same sound projection as other trumpets in this category. It is, however, suitable for performances in rooms that are small or treated for acoustics.
Pros
Versatile intermediate trumpet
Designed for durability
Included with a protective case
Suitable for beginner trumpet players as well
Designer to help beginners improve their playing
Excellent value for money
Cons
Sound projection can be improved
You may have to replace the mouthpiece
The Hawk WDT313 is a viable option if you are looking for a highend trumpet but at an affordable price.
Overall Rating – 4.7 of 5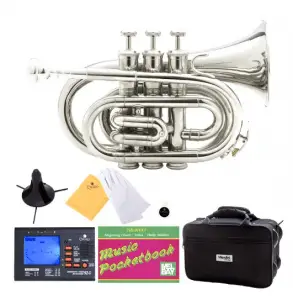 The Mendini MPTN is a pocket trumpet and ideal for intermediate trumpet players. This Bb model comes with a 7C mouthpiece and a phosphorus copper lead mouth pipe.
Key Features
Pocket trumpet
Phosphorus copper lead mouth pipe
7C mouthpiece
White mother of pearl key inlays
Three smooth action valves
46inch bore
75inch bell
What I like
The Mendini MPTN is nickelplated and offers a wide range of highend features, including a 78C mouthpiece, white mother of pearl key inlays, and three smooth action valves that allow for smooth and quick hand movements.
The 0.46inch bore and 3.75inch bell make this trumpet suitable for performing with ensembles, marching bands, and smaller jazz bands. With your Mendini MPTN trumpet, you will receive a Cecilio 92 D chromatic tuner to finetune your instrument to precision. You will also receive a pocketbook with essential information for intermediate trumpet players.
Other accessories that are included with this model include a bottle of valve lubrication oil, a pair of white gloves, and a pocket trumpet stand.
What I don't like
Because of this trumpet's bell size, it doesn't have the same projection as most other intermediate models, which can limit its application range.
Pros
Pocket size for use with marching or jazz bands
Highend 7C mouthpiece
Included with an array of accessories
Portable and lightweight
Easy to play
Cons
The bell size limits sound projection
Not suitable for beginner players
The Mendini MPTN is ideal for the intermediate who requires a pocketsized instrument for specific applications.
Overall Rating – 4.2 of 5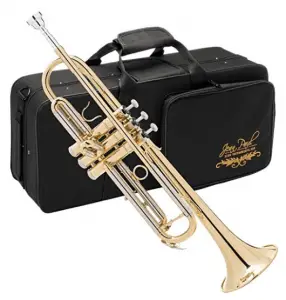 The TR330 is a quality trumpet from a worldfamous brand but at an affordable price. If you are looking to improve your skills in style, consider the Jean Paul USA TR330.
Key Features
Trumpet in the key of Bb
Yellow brass with lacquer finish
Adjustable ring with a slide stop
Valve slide thumb saddle
7C mouthpiece
Accessories include a robust carrying case
What I like
Because of the TR330's affordability, warm sound, and highvalue features, this model is widely recommended by schools and band managers to intermediate trumpet players.
The trumpet is in the key of B Flat and is suitable for extended practicing and a wide range of performance applications. It has a sturdy yellow brass construction with a lacquer finish and a stylish appearance.
With this trumpet, you will receive several handy accessories, including a robust carrying case to protect the instrument against blows and moisture. The kit also includes cleaning gloves, valve lubricant, and a polishing cloth.
What I don't like
One drawback of this trumpet is that its finishing is not on par with the manufacturer's usual standards. The valves are quite sticky, and they have rough edges, which can be uncomfortable.
Pros
Rich, warm sound
Sufficient sound projection for several applications
Comes with several handy accessories
Visually appealing instrument
Sturdy yellow brass construction
Cons
Imperfections in the trumpet's finishing
The Jean Paul TR330 is an intermediate trumpet with a wide range of musthave features to boost your skill level and ensure a memorable performance.
Overall Rating – 4 of 5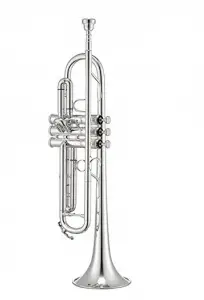 The 1100S is a popular Bb trumpet among intermediate trumpet players despite its relatively high price. The trumpet offers superior craftsmanship, a reverse lead pipe configuration, and a warm tone.
Key Features
Yellow brass trumpet with silver plating
Rose brass lead pipe
Adjustable third valve slide ring
Stainless steel pistons
.460inch bore
B1 Bead 4.8inch bell
Woodframe case included
Reverse lead pipe configuration
What I like
This trumpet offers a combination of features that contributes to its rich, warm tone. These features include a reverse lead pipe configuration, the 0.46inch bore, and the 4.8inch bell. Because of the trumpet's highend sound and intonation, it is a suitable intermediate trumpet for performing solo or with jazz bands and classical orchestras.
The 1100S also gives a step away from beginner, and lowend intermediate models with its customizable first valve ring – an upgrade from conventional valve rings that can be a source of discomfort.
What I don't like
Since the 1100S is a highend intermediate model from a reputable brand, its only drawback is that it may be too expensive for intermediates who enjoy trumpet as a hobby only and don't necessarily want to become professional players.
Pros
Delivers a warm, mellow sound
Excellent projection in all tonal ranges
Easy to play
Adjustable third slide valve for adjustability
Cons
High price
The trumpet isn't lightweight
If quality and sound is your highest priority, the 1100S is a suitable option that you can use for years to come.
Overall Rating – 4.8 of 5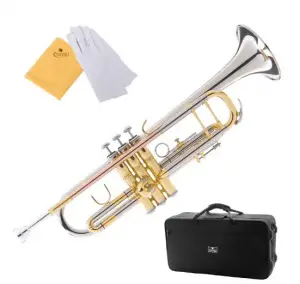 The 3Series TT380CN from Cecilio is a beautiful intermediate trumpet at the lower end of the price spectrum with fast action valves and durable construction.
Key Features
Bb intermediate trumpet
Doublebraced design with Monel pistons
7C rose brass mouthpiece
460inch bore
5inch bell
First valve slide thumb saddle
Adjustable third slide lock
What I like
The 3Series TT380CN is the ideal trumpet for the intermediate student who wants to develop their technique and become professional. The trumpet has a medium weight, and its professional sound is the result of a 0.460inch bore, 5inch bell, doublebraced design, and a lead pipe that is made of rose brass.
Since the trumpet is fitted with Monel pistons, the valves are responsive with a smooth action. The 3Series TT380CN also features a third adjustable slide lock to provide you with precise intonation. With your 3Series TT380CN, you will receive a nylon cover carrying case with a back strap as well as white gloves and a cleaning cloth.
What I don't like
This trumpet doesn't have any drawbacks in terms of quality and sound, especially considering that it is an intermediate instrument. However, some players may not like the color mixture between nickel plating and rose brass.
Pros
Delivers a rich sound with sufficient projection
Fast action valves for smooth playing
Adjustable third slide lock for precise intonation
Included with several handy accessories
Cons
The 3Series TT380CN from Cecilio is a reliable intermediate instrument that you will be able to play for years, even as a professional.
Overall Rating – 4.7 of 5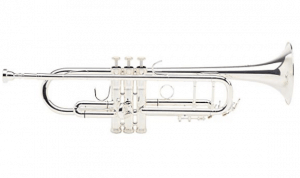 The 110 Bb trumpet offers ample value to the intermediate player with its adjustable components and added sound projection.
Key Features
Bb trumpet
Yellow brass lead pipe material
460inch bore
75inch brass bell
Thumb saddle first valve slide adjustment
Fixed ring third valve slide adjustment
Dual braced main tuning slide
What I like
The Kohlert 110's features make it the ideal upgrade from most beginner and lowend models. The trumpet's concertquality sound is the result of a 0.46inch bore, a 4.75inch bell, and the yellow brass lead pipe.
While the bell is relatively small, the trumpet offers sufficient sound projection – mainly because of its mass.
Other benefits of this instrument include a dualbraced tuning slide and the adjustable third valve slide stop for added finetuning accuracy. The instrument is also fitted with Monel valves that make flawless and smooth action possible.
With your trumpet, you will receive a 7C mouthpiece and a black case with a wooden shell for added protection during travel and safe storage.
What I don't like
While this trumpet is sufficient to help intermediate students develop their skill, professionals may not derive optimal value for this instrument.
Pros
Full, vibrant sound
Sufficient sound projection
Features for precision tuning
Comes with a 7C mouthpiece and wooden case
Monel valves for smooth action
Cons
Not suitable for professionals or new beginners
Teachers and schools widely recommend the Kohlert as it offers all the features you want in a highquality intermediate instrument.
Overall Rating – 4.5 of 5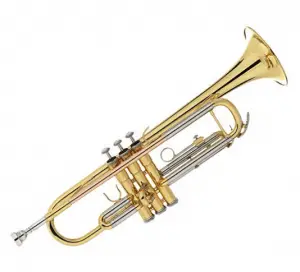 The TRP1000LQ is a highly versatile and affordable intermediate trumpet with all the measurements and materials to deliver a decent sound.
Key Features
Yellow solid brass body
Bb trumpet
First valve slide thumb hook
Adjustable third valve slide ring
Cupronickel tuning slides
464inch bore with 5inch bell
Included with several highvalue accessories
What I like
If you look at this trumpet's features and bore and bell measurements, it may seem fairly standard. However, the trumpet has an adjustable mouthpiece, and you can attach a mouthpiece of any size and type. The result is a highly versatile instrument with a variable projection and sound.
The TRP1000LQ is also adjustable for complete comfort with the first valve slide thumb hook and slide ring for the third valve. The cupronickel provides full intonation control for a professional performance.
With the TRP1000LQ, you will receive several accessories that include a molded case, valve lubrication oil, maintenance gloves, and a polishing cloth.
What I don't like
One issue with this trumpet is that the nickel plating tends to wear off over time, which can affect its appearance and performance. In terms of durability, this instrument is not on par with other models in this price category.
Pros
Compatible with any mouthpiece
Quality sound and projection
Complete intonation control
Comes with handy accessories
Cons
Nickel plating can start wearing off
Relatively short life expexpectancy
The Kaizer is a suitable option if you are performing in a wide range of settings while you improve your skills to a professional level.
Overall Rating – 4.3 of 5
Trumpet Buying Guide
Why Buy an Intermediate Trumpet?
Intermediate trumpets are a unique set of transitional instruments that are sperate from beginner and professional trumpets. An intermediate trumpet is ideal for players who are no longer beginners, but who still have to develop their skills before reaching a professional playing level.
Intermediate players are committed to playing the trumpet, and their objective is typically to enhance their trumpet playing abilities and, to a lesser extent, give performances.
Intermediate trumpets generally outperform beginner models in the following areas:
Strength of build
Functionality
Material composition
An intermediate trumpet's quality is generally superior to that of a beginner trumpet. However, this type of trumpet doesn't have the same level of quality or price as a professional type.
When Should You Switch to an Intermediate Trumpet?
Intermediate trumpets differ from beginner models in that they typically have a third valve ring for more precise tuning. Intermediate trumpets usually have components and finishing that weigh less than those of beginner trumpets to improve the instrument's vibration.
The result is a fuller and more authentic sound. There is no definite answer to when you should change to an intermediate trumpet. Generally speaking, you should consider switching when you become frustrated by the limitations of your student model.
The Trumpet for You
Selecting an appropriate trumpet for your skill level and playing style is not as simple as looking for brand names that seem familiar and picking their most affordable model.
As an intermediate trumpet player, there are several requirements that your trumpet should meet. You also have to take several buying considerations into account so you don't end up with an instrument that you can't use.
The trumpet you choose should not only compliment your playing style and skill level, but it should also fit your budget. Below, we will be discussing some of the things you should look for and consider when shopping for an intermediate trumpet.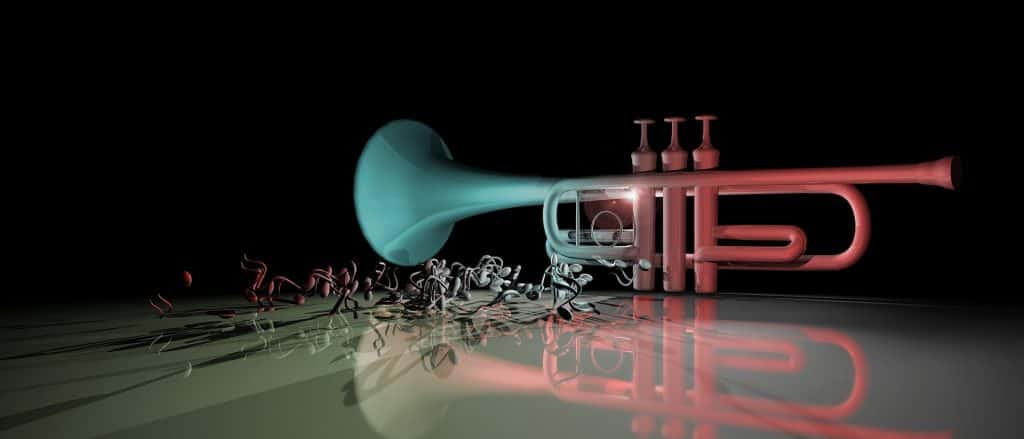 Intermediate Trumpet Requirements
An intermediate trumpet should meet several requirements in terms of sound level, component quality, intonation, and more. If the trumpet you are considering doesn't adhere to these requirements, it may not be suitable for your needs and skill level.
Intermediate Sound Quality
An improved sound level is one of the critical requirements for an intermediate trumpet. Sound delivery is often the factor that frustrates most trumpet players about their student models as their playing ability improves.
Models in the intermediate range can have darker sounds that are more suited to classical music, or they can have a brighter sound that is ideal for jazz.
Mouthpiece
One of the easiest and most affordable ways to upgrade a trumpet is to switch to a different mouthpiece. However, if the time has arrived for you to switch to a whole new instrument, it is crucial that you select an appropriate mouthpiece.
A good mouthpiece will provide you with sufficient projection and deliver a tone that is firm and compact. A mouthpiece should also be comfortable and help you develop a better technique and embouchure.
Bore
Bore size is the internal diameter of your trumpet's tubing. Intermediate trumpets' bore size range from around 0.458 inches to 0.472 inches. If you prefer a mellow, softer tone, select a bore size at the narrow end of the spectrum. However, if you prefer a bright and aggressive sound, you may need a larger bore.
Bell Type
Trumpet bells are available in several materials and sizes. The most common bell materials are brass, rose brass bells which give a trumpet a warm and dark tone, and silver. The best intermediate trumpet bells feature onepiece, hammered designs.
Like small bores, larger bell sizes are suitable for soft and mellow tones. Smaller bell sizes, on the other hand, produce brighter and sharper sounds.
Checking Intonation
Intonation refers to a trumpet's ability to accurately play notes without the occurrence of unusually flat or sharp notes. A highend intermediate trumpet should be able to produce a consistent and quality sound without dropping or rising a halftone.
Operation Mechanisms
Operation mechanisms are the trumpet's valves, triggers, and the valve rings that you use for tuning your instrument. The moving parts of your trumpet should move smoothly to enhance your playing experience and make it easier for you to coordinate your movements.
If the operation mechanisms of your trumpet lack in quality, or if they don't move smoothly, it can make the trumpet challenging to play, cause frustration, and, ultimately, reduce your skill development.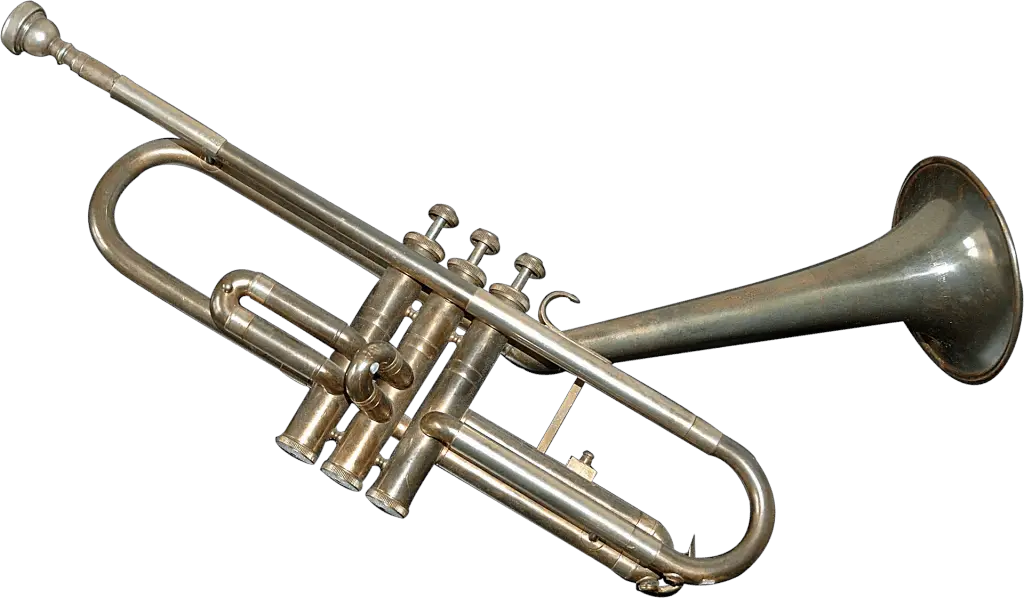 Buying Considerations
Before you buy a trumpet, there are several things that you should consider to find the most appropriate trumpet for your skill level, genre, and budget.
Which Brand?
One of the most effective ways to ensure that you are buying a highquality intermediate trumpet is to select a model from a trusted brand. Reputable trumpet brands that provide highquality instruments include, among others, Yamaha, King, Jupiter, Conn, Coxier, Getzen, and Cecilio.
Other notable brands include Bach, Merano, Mendini, Windsor, Jean Paul, and Allora.
Comfort and Playability
This consideration is subjective. A trumpet that is comfortable for one player may be uncomfortable for the other. How comfortable a trumpet is for you depends on your mouth, lung capacity, and the size of your hands.
To ensure that you find a comfortable and easily playable trumpet that delivers natural projection with minimal effort, make sure that it has a freeblowing tougher register that doesn't feel pinched.
Price
Generally speaking, the price can be an indication of the trumpet quality you can expect. There are, however, exceptions, so don't assume that price always means quality.
Since your objective is to develop your trumpet playing skills, don't settle for poor quality to save money. Instead, stick with your student trumpet while you save for a highend model that matches your unique criteria.
You can also upgrade your mouthpiece to enhance your beginner trumpet's sound quality and projection. If you settle for a lowquality model to save money, you may find yourself in need of an upgrade again in due course.
Fortunately, there are several affordable intermediate trumpets available that may work well for your needs. There are many models available at many different prices. The secret is to carry out thorough research to find the most suitable model for your budget and skill level.
Final Thoughts
When shopping for an intermediate trumpet, your objective is to find a model that will help you develop your skills. The Yamaha YTR2330 is our top pick, and it offers everything you want in an intermediate trumpet – a consistent and vibrant tone, natural playing, and reliability.
The instruments measurements are standard and similar to many other models in this category. However, when it comes to quality and sound production, this trumpet is a cut above the rest. Not only is it comfortable to play, but it has all the features you need for accurate tuning and intonation control.