The mandolin—this small stringed instrument belongs to the lute family and is known for its signature bright and warm tone. Even though they aren't as popular as guitars or ukuleles, there's an extensive selection of mandolins available today— an overwhelming selection of brands and kinds of mandolins actually, and deciding on one brand and model, especially when you're a beginner isn't that straight-forward.
It is equally important that you pick the right one to suits your needs best as well. If your mandolin doesn't offer playability and comfort, you'll just dread playing, your motivation will take a dip and inevitably, the instrument will only collect dust, and that money could have been better spent elsewhere.
Our Top Pick

Don't worry, though, in this round-up of nine of the best mandolins available today we'll help you find the perfect one for your needs and skill level.

If you're short on time and are looking for our top pick that I'd recommend to everyone, it'll be the Loar LM-520. If you want your mandolin to be gorgeous, have impeccable sound, and also be within a reasonable price, you can't go wrong with this purchase.
Here are the Best Mandolins:
Last update on 2023-09-09 / Affiliate links / Images from Amazon Product Advertising API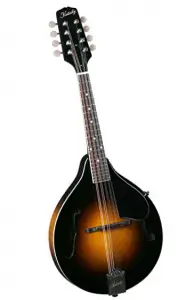 Kentucky is one of the best mandolin brands and a well-respected manufacturer in the musician community. Their focus on quality control is what earned them this respect, and this model is no exception.
Crafted from German spruce and maple, this mandolin comes in both solid-top and all-solid variants. While the all-solid configuration is slightly pricier than its counterpart, it is worth the extra cost if you won't settle for anything but impeccable sound quality.
It is a traditional A-style mandolin and gets its name from the tear-drop shaped body design that it sports. Aside from the back and sides made from solid Alpine maple, the fretboard is choice tonewood, which offers excellent playability. These design features, coupled with a high-gloss sunburn finish make for a beautiful looking piece.
Key Features
Hand-carved solid spruce top
Vintage glossy sunburnt finish
Exquisite craftsmanship and attention to detail
Compensated bridge for better intonation
Choice tonewood fingerboard
What I like
It creates a crisp, warm, and bright sound with great volume, intonation, and sustain. You can actually feel the resonance inside the body when it vibrates over and over. It combines a reasonable tone with exceptional durability, easy playability and vintage looks, all for a very reasonable price.
What I don't like
Although the tone isn't too dull, other models in a similar price range have a brighter tone owing to their higher register. Additionally, the plain and simple sunburn lacquer finish, as delightful and beautiful it is to look at, might not visually appeal to everyone.
Pros
Highly playable
Great for a reasonable price
Respectable tone and overall sound quality
Perfect for entry-level players
Cons
Has some plastic components which aren't as durable
Slightly duller tone than its competitors
If you're a beginner looking for a quality mandolin which is easy on both your eyes and ears, and you don't want to break your bank or cheap out when buying your first mandolin, you can't go wrong with this purchase.
Overall rating: 4.3/5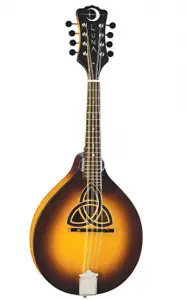 This model has a somewhat unique signature look, with its trinity knothole, faux tortoise binding, and tobacco-gloss finish. It is crafted from solid spruce and solid maple which is contrasted by black open-geared tuning machines.
Key Features
Maple, rosewood, and walnut construction
Sunburst high-gloss vintage finish
Built-in metal strap pin for easy strapping
Adjustable truss rod
Compensated rosewood bridge
What I like
It comes pre-strung with Olympia strings, and the fingerboard features black walnut which looks striking, to say the least. It has a reasonable sound quality and sound workmanship, which make it an ideal pick for both beginner and intermediate level players.
What I don't like
I find it lacking in string quality though, which could have been lighter, but that issue is quickly resolved by restringing the mandolin with new strings.
Pros
Celtic aesthetics
Suitable for beginners and intermediate mandolists
Cons
Luna's folk series is geared towards people who a penchant for Celtic folk music or Celtic knotwork and aesthetics.
Overall rating: 4.4/5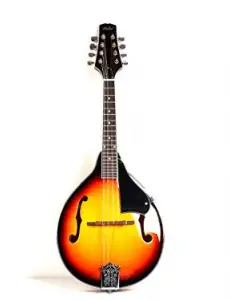 If you're starting with mandolins chances are you've heard that A-style mandolins are more commonly played by Celtic and folk players, while bluegrass musicians usually favor F-style.
The Hola! HM-3TS is an A-style mandolin which features maple tonewood as the top, sides, and the neck, which looks not only sleek but also produces excellent sound. The adjustable bridge and the fretboard are crafted from rosewood and walnut. The design also has a high-gloss sunburst finish which gives it a timeless and classic look and also adds to its durability.
The neck comes with chrome-plated open-geared tuning machines and a tailpiece which has beautiful engravings and presents a nice contrast against the glossy sunburst look. It also features an adjustable truss rod – for variable tones and an adjustable compensated bridge – which allows for fine-tuning.
Key Features
Maple, rosewood, and walnut construction
Sunburst high-gloss vintage finish
Built-in metal strap pin for easy strapping
Adjustable truss rod
Compensated rosewood bridge
What I like
Hola! is a reputable brand, and one of the best mandolin brands around since they are known for manufacturing playable, high-quality but inexpensive instruments— and this mandolin is no different. It features excellent craftsmanship and aesthetics, coupled with respectable sound quality. The price is relatively reasonable, and it can be a good fit for you, especially if you're a novice.
What I don't like
As I mentioned above, it will sit well with beginners, but seasoned or veteran players will find it lacking since it is best described as an entry-level instrument. Despite the manufacturers' claims, the strings lack in quality, and you will probably need to restring the instrument with better and lighter ones.
Pros
Has a beautiful vintage look
Has a respectable sound quality
Fairly durable
Allows for fine tuning
Cons
Poor string quality
Not suitable for expert players
If you're a beginner looking for an inexpensive but comfortable, playable and refined mandolin, this A-style piece from Hola fits the bill.
Overall rating: 4.6/5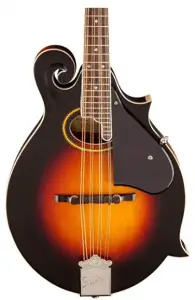 Moving down our list, we have the G9350 from Gretsch. It is an F-style mandolin with an all-solid configuration featuring spruce wood on top, maple on the sides and rosewood as the fingerboard. It has a semi-gloss smooth finish and an antique sunburst color. Add to that an overall neat and tidy build; this piece certainly looks impressive.
It has a slim neck and buttery smooth, comfy action which translates into great playability. The tone is warm, clear, and dare I say, perfectly balanced. It features an ebony wood bridge, a tailpiece with intricate engravings and open geared tuners which exude a sense of professionalism and quality. As far as the volume goes, it is good enough to help this mandolin stand out.
Key Features
F-style mandolin
All-solid spruce and maple construction
Mid-ranged price
What I like
This mid-range instrument with a price of under $1,000 has a professional and high-quality feel to it. It is also electric and comes with onboard electronics. It has a Fishman M300 ceramic pickup which allows for easy plug-and-play amplification if you like recording or performing on stage, for instance.
What I don't like
I don't have a lot of complaints with this product, except for its narrow and slimmer nut which can sometimes affect playability, especially if you have chubby fingers. To add to that, it also feels considerably more cumbersome compared to other mid-ranged mandolins when worn with a strap.
Pros
Visual appeal
Clarity and warmth in tone
Acoustic/Electric
Smooth and comfortable action
Cons
Needs precise plucking
Slightly heavier than its competitors
This model is well-built, has a timeless antique look, not to mention great tone and volume. If a first-rate instrument with outstanding sound quality is what you're looking for, this product might be the ideal fit for you.
Overall rating: 4.4/5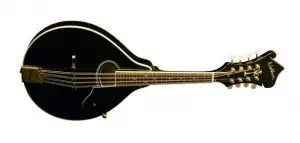 Next up on our list is another A-style mandolin that features a unique and fresh design. It has a solid spruce wood top construction and uses maple on sides and back, both of which are considered excellent tonewoods for mandolins.
What distinguishes it from the rest is its tasteful glossy black finish which complements the golden hardware and components. If you're not too fond of black finishing, you can also pick between transparent red and transparent blue options.
The maple wood neck has 20 frets and has tuning pegs which function smoothly allowing for trouble-free tuning. Unlike A-style mandolins which F-style holes, this model features an oval hole which makes the sound it produces is relatively loud in volume and a bit' boomy,' so to speak.
Key Features
Uses spruce and maple tonewoods
Black gloss finish
Gold-colored hardware
Smooth functioning tuning machines
Rich, more rounded, and loud sound
What I like
Washburn has been manufacturing banjos, guitars, and mandolins for over a hundred years, and evidently, they're a well-established and trustworthy brand. In other words, you don't have to worry about the quality of your instrument because it will likely deliver what it promises on sound and build.
What I don't like
Although the overall construction feels robust and clean, the same can't be said for the strings, which are clearly lacking in quality. That said, it's reasonably easy to restring your mandolin with better strings, so this minor flaw shouldn't be a deal breaker.
Pros
Well-made and looks great
Italian style loud sound
Multiple finish options
Cons
Strings could be of better quality
The bridge isn't compensated or very adjustable
You'll probably appreciate this model if you're a beginner looking for a better mandolin than the inexpensive and budget options available today.
Overall rating: 4.6/5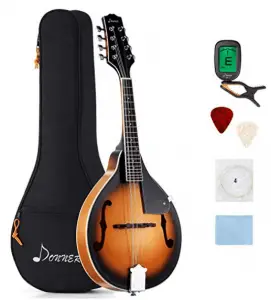 The DML-1 A-style mandolin provides excellent value for its affordable price. In addition to the mandolin, you get a bundle of other accessories as well, including a gig bag, a couple of picks, an electric tuner and some extra strings, all for a price you'd usually get just a mandolin for.
Key Features
An all-in-one bundle
Includes a gig bag, clip-on tuner, picks, and extra strings
Has an elegant sunburst finish
Features a compensated bridge and a truss rod
Key Features
It is crafted from African mahogany which brings out a richer sound, and it has a smooth glossy sunburst finish, that coupled with a comfortable grip and a sturdy design makes it a fine piece.
As far as the sound goes, the rich and vibrant sound it creates isn't half bad either. It features chrome-plated open-geared tuning pegs and a tailpiece which make tuning your mandolin a breeze. For a budget mandolin, it is a pleasant surprise to report that it doesn't fall out of tune very often, even when the strings are new.
It also comes with a compensated adjustable bridge and a truss rod – an often sought-after feature in mandolins, which allows for fine tuning and better playability.
What I don't like
A gripe I have with this mandolin is the height of the strings, which even though are adjustable, don't go as low as you'd like. Besides, you also need a bit of finesse to set it up correctly.
Pros
Strings are of good quality
Easily playable
The clip-on tuner makes the tuning process hassle-free
Affordable
Cons
Strings can be tight and might need replacing
Machine heads could have been better
All things considered, this all-in-one bundle has value to offer, particularly if you're just starting because you won't have to throw extra money on accessories to get started.
Overall rating: 4.5/5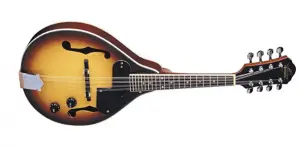 The Oscar Schmidt OM10E is another A-style electric/acoustic mandolin. Its top is built from spruce, while its neck, back, and sides are mahogany and the fretboard and bridge are rosewood. The body has an overall tobacco sunburst gloss finish, which makes the design absolutely attractive.
Key Features
Mahogany and spruce construction
Tobacco sunburst finish
Passive pickup system
Adjustable volume and tone
What I like
Featuring chrome-plated hardware— which is corrosion-resistant and a multiple-ply pickguard which protects your instrument against abrasions and also adds to the tone. It also has a passive pick up for amplification which lets you control the volume and tone, so you can set the volume to your liking.
As for the sound, you can expect a similar quality you hear from more high-end mandolins, and you won't be disappointed. It produces a rich, warm, and crisp tone, and the strings let you reach your desired tone accurately.
Speaking of which, the strings are light, of fine-quality, and sturdy. They're built to last you a long time of use, and the same can be said for the whole instrument.
What I don't like
I don't have any complaints with this product except for maybe some minor string and strike plate issues.
Pros
Offers articulate tone
Pleasant on the eyes
Reasonable price
Sound quality exceeds expectations
Cons
Some slight issues with the string and strike plate
If you're looking for a near-flawless mandolin for a reasonable price, that not only sounds good but is also well-built and looks immaculate and gorgeous, this mandolin can be an attractive option for you.
Overall rating: 4.7/5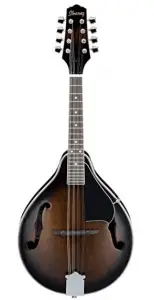 With its tear-drop body shape, this A-style mandolin is made from select spruce wood and features mahogany and the back and sides. The fingerboard, on the other hand, uses rosewood. It comes in three different shades, all of which have a traditional and exquisite feel to them.
Key Features
A-style design with a mahogany construction
Dark brown glossy finish
Chrome-plated rust-resistant hardware
Compensated bridge
Truss rod
What I like
It excels when it comes to sound quality. You can reach higher and lower tones, and it offers better intonation because of its compensated bridge. The tones themselves are bright, rich, and crisp, and the truss rod it features works like a charm by enhancing the playability.
What I don't like
As attractive as this instrument is, it has a laminated construction instead of a solid top or body. If you favor all solid designs over laminated ones, this one might not be the right choice for you.
Pros
Suitable for both beginners and expert players
Great tonality
Improved playability
Easy to set up
Cons
The brilliant craftsmanship and sound quality make it ideal for almost every skill level. Whether you're an experienced player or a greenhorn, you'll probably appreciate this instrument.
Overall rating: 4.6/5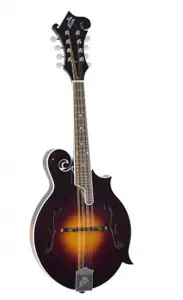 Admirable appearance and class are how this instrument is best described. Probably one of the best, if not the best mandolin in this price range, The Loar LM-520 offers a feature rich design which helps it distinguish itself from others.
It has an all-solid, hand-carved construction featuring solid, hand-carved and graduated spruce in the top while the back and sides are made out of solid hand-carved maple. Its glossy sunburst finish gives it a tasteful and more vintage-style look.
The adjustable bridge is crafted from ebony and contributes towards better intonation and string pitch. It comes with top-of-the-line classic-style Grover tuning pegs which help your mandolin stay in tune for longer, in so many words, it will keep singing truly for days and even weeks to come. The sound quality is just as impressive if not more. Everything considered this fine work of craftsmanship is sure to turn heads.
Key Features
All solid hand-carved fully graduated spruce and maple
F-style design
Ivoried binding
Two-way adjustable truss rod
What I like
The meaning of the word 'quality' has been somewhat diluted because of its overuse by almost every brand, but this instrument has marks of high quality and delivers on what it promises. That alone should be enough to make any veteran performer fall in love with this mandolin.
The price is incredibly reasonable too, so even if you're a beginner and not on a tight budget, I'd recommend picking this instrument up.
What I don't like
However, some customers have reported issues with the finishing and the quality in certain areas.
Pros
Professional quality
Reasonable price
Beautiful aesthetics
Excellent sound
Cons
Some customers complained of shoddy quality in certain areas
Overall rating: 4.8/5
Buying Guide
When shopping for a mandolin, you have a lot of things to take into consideration. You can't just pick the first one you set your eyes on and call it a day.
It's crucial that the mandolin you decide on is in line with your budget. By the same token, it is equally essential that the instrument you pick suits your skill level. As an example, it won't be a wise decision to go for a high-end thousand-dollar mandolin, if you're just starting and need to figure out if this instrument is for you.
In this buying guide, I'll count down the factors I mentioned above as well as different styles and construction methods you should take into account when choosing the best mandolin for yourself.
The right price for your mandolin?
Mandolins can range between very inexpensive (under $100) and up to $10,000 for premium high-end mandolins and everything in between. If you're a novice mandolist, there are plenty of moderately priced mid-ranged mandolins to pick from.
The rather inexpensive 'budget' mandolins are geared towards absolute beginners who are trying to figure out if this instrument is right for them or if they want to devote themselves to learning it.
The more high-end and top-quality mandolins offer excellent playability, design, and quality, and are often favored by more seasoned and veteran mandolist. If you are one, you probably wouldn't want to compromise on quality and the higher price would be more than worth it.
As you can probably tell by now, your purchase should be in-line with your budget, your level of skill and commitment and finally the features you're seeking.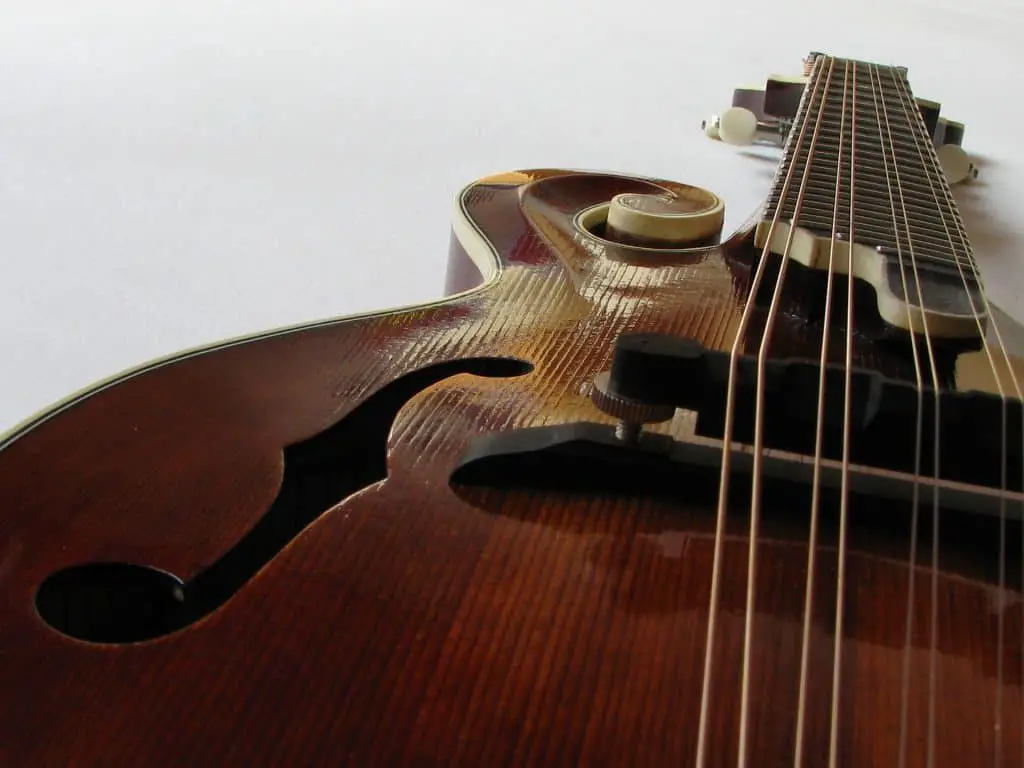 Which body style to opt for?
As I touched on above, there are multiple body shapes in which modern mandolins come in, namely: Bowl-back, A-style, and F-style.
The shape you will opt for depends purely on the preference of your music style, aesthetics, and of course, your budget.
The bowl-backed mandolin gets its name from the bowl-shaped round back and is the oldest of the three. It is not just the oldest, but also the most inexpensive variant, and by the same token, the poorest in quality. They often offer poor tone and volume, making them reasonably unfit for novice or beginner players.
A or F-style mandolins, however, are often ideal for beginners and seasoned players alike. The difference between A-style and F-style mandolins is mostly just visual. That's not to say there is no difference between their tone or music style because rest assured there are plenty.
For starters, A-style mandolins are often favored by classical, folk, or Celtic music players, while bluegrass and country musicians usually prefer F-style ones. A-style mandolins are of a tear-drop shape, and their backs are flat, unlike bowl-backed mandolins. They also have either oval, or F shaped sound holes, often found in violins. As a rule of thumb, they're typically cheaper than F-style mandolins because they're easier to build.
F-style mandolins have a more intricate and novel body shape, combined with dual F sound holes. While they are more expensive than A-style mandolins, they offer a more comfortable grip and playability.
The Tonewood Used in Construction
As I explained above, the body shape of the mandolin has some bearing on the tonal quality but not as much or as direct as the materials used in the construction of the instrument.
Generally, mandolins are crafted from wood, and often a combination of different select tonewoods. Most high-quality mandolins use solid spruce wood, which not only makes for a robust piece but also makes it more light-weight. These characteristics of spruce aren't just limited to mandolins either but highly sought after even for guitars, pianos and a variety of other instruments.
If a mandolin features cedar or mahogany, it probably classifies as a more budget or inexpensive option. It may be cheaper, but it offers more depth for tone and lacks when it comes to volume. Speaking of budget mandolins, more often than not, they have a laminated body which uses a combination of spruce and mahogany. Although this lamination of tonewoods makes the instrument more durable, it lacks by a considerable margin when it comes to sound quality.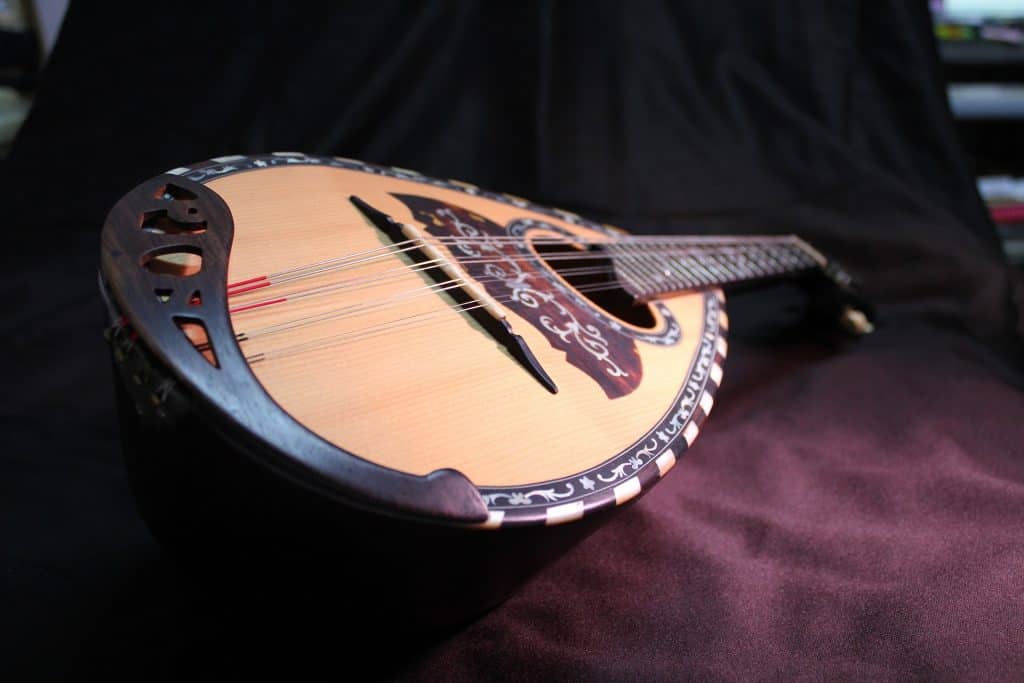 If you haven't figured it out yourself, beginners might find laminated variants excellent choices since they're cheaper and sturdier.
As for the back and sides, the top-quality mandolins use solid maple wood which can be considered even stronger than spruce. Aside from maple, some mandolins also use mahogany and koa. More budget options use multiple wooden sheets stacked together to form a laminated body, which doesn't affect the tone too significantly.
The neck, however, should be laminated instead of solid wood since a solid neck is more susceptible to bending and warping. Mahogany and maple are both favored for neck construction owing to their rigidity.
I've mentioned a component called the 'truss rod' multiple times in the reviews above. This rod sits inside the neck of your mandolin and lets you make adjustments to how you tune the instrument.
Finally, we have another wooden hardware called the bridge which, unlike most plucking instruments, is adjustable. It is usually made of rosewood, and more uncommonly, ebony wood, and affects the intonation of your instrument.
Most of the mandolins you come across will have a glossy finish—and the finish isn't there just for aesthetics, but it also serves the purpose of protecting your instrument from abrasions and scratches. That said, a poor finishing job can negatively impact the sound quality of your mandolin, so it's important that you choose one with a high-quality finish.
Electric/Acoustic
Once you've decided on the body shape and the woods, you need to figure out if you need the flexibility offered by electric mandolins. It's vital that you make that choice correctly because electric mandolins are usually more steeply priced. If you have no use for the onboard electronics, or if an acoustic instrument will serve you just fine, there's no point in paying extra bucks for that feature.
That choice solely depends on the scenarios in which you'll be playing your mandolin. If you're just going to play for yourself or for, say a group of friends, you'll be better off picking up an acoustic mandolin. On the other hand, if you'll be performing on stage to a loud crowd, in an orchestra or for recording purposes, an electric mandolin will serve you best. It all depends on what you'll be asking from your new instrument.
You can use a mic in front of your acoustic to amplify the sound, but this quick and dirty trick doesn't work well when you're performing with your band. If that's the case, an acoustic-electric or a semi-hollow electric mandolin will work best.
Acoustic-electric mandolins employ a piezo-electric pickup and a preamp to send signals to the amplifier. Unlike fully hollow electric mandolins, semi-hollow electric mandolins make use of a wooden block to minimize the feedback.
However, if you change your mind down the line, you can easily use magnetic pickups or preamps to electrify your acoustic mandolin too.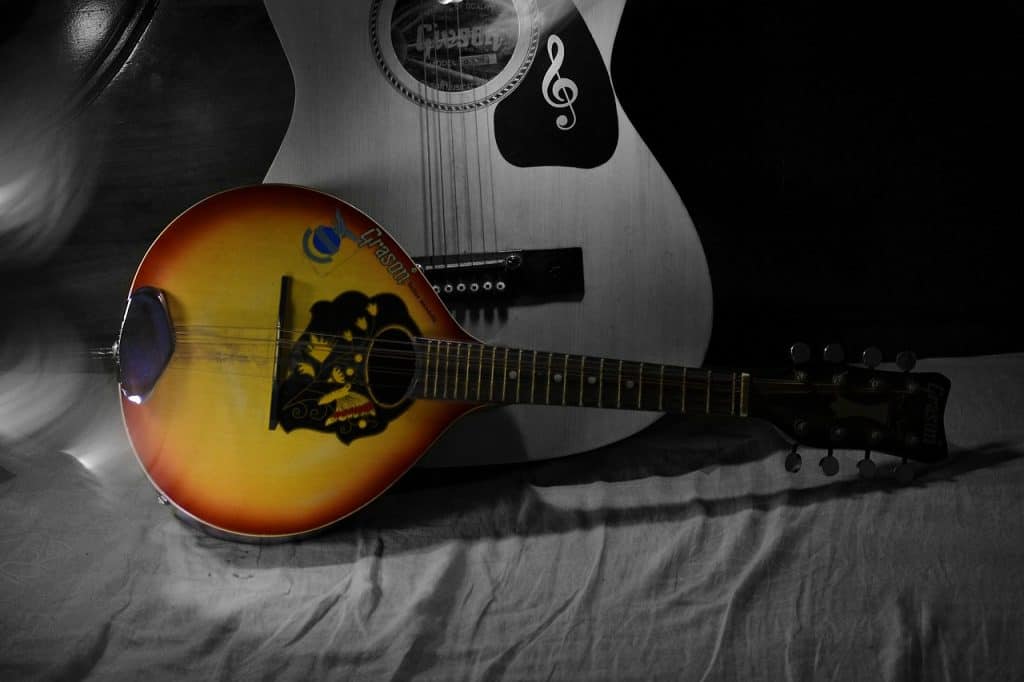 Mandolin Accessories
Choosing the best mandolin isn't just limited to the instrument itself, but it also means picking up the right accessories for your needs. Some are vital to your playing experience while others just add to it, and it's up to you to figure which bells and whistles you require.
If you're looking for mobility, portability, or just general protection of your instrument, consider investing in a hard-shell case. However, if you're on a budget, a gig bag should do the job well enough too.
Strings are another important component which requires due consideration. More often than not, budget or inexpensive mandolins come with shoddy strings that need to be replaced before the instrument can be played. Even if you go with higher-end options, the strings will eventually lose their original tone, and you'll have to restring your mandolin. You can pick from a wide selection of quality strings available and choose the kind which suits your needs best.
Last but not least, consider buying a clip-on electric tuner. An electric tuner can make the whole tuning process much more streamlined and freer of hassle.
Final Thoughts
To wrap up this guide, you can bring back the old tunes from way back with a mandolin. They're probably one of the most ancient musical instruments in North America and produce a sweet, bright, warm and mellow sound which is pleasing on the ears. Aesthetically speaking, most mandolins have a stunning vintage and antiquated look which seldom fails to turn heads.
If you're just starting with mandolins, our countdown has some of the best entry-level mandolins in the market. And if you're a long-standing mandolist, you'll find some of the best mandolin brands, which manufacture high-end mandolins, tailored specifically for the trained eyes.
On the off chance that no model in our rundown interests you, you can benefit from our buying guide to find the perfect mandolin for yourself.