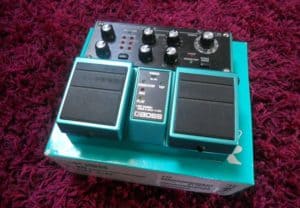 When it comes to effects pedals, you could say that there are two somewhat distinct categories out there.
You have your traditional units that are designed to do a single job, and which are used most often by professional guitar player as well as enthusiasts. We are talking about overdrives, distortions, modulation effects such as chorus, and so on.
On the other hand, there are pedals that you could consider to be on the experimental side of things. These pedals step into the unknown, and offer the user a way to explore different effects.
Boss SL20 Slicer is a perfect example of this kind of experimental pedal. It's not a new concept by any means, but it offers something you rarely see. Some would call it a glorified tremolo pedal, but those who actually know what's going on will recognize the potential this unit brings to the table.
>> Check Out Current Price On Amazon <<
You can create some pretty interesting results with this pedal alone, now imagine using it in combination with other effects.
An Overview
[su_youtube url="https://www.youtube.com/watch?v=LtXYWNdmGyg"]
This is one of only few models by Boss that features dual stomp pedals. SL20 Slicer may come across as intimidating at first, since it's packed with all kinds of knobs and buttons. However once you figure out what each control does, using this pedal will come natural to most.

  Features
Boss SL20 Slicer comes in a rugged housing that we are used to seeing from Boss. It's pretty much their standard design only stretched out to allow for two stomp switches. We can divide the controls on this pedal to two groups. The top part where you have all of your sound shaping controls, and lower part which is used to activate the pedal and more.
On the upper section of the top panel you can find your main control points for choosing different sound settings. On the far left there are two level knobs, one controlling the effect level and one controlling direct level. Next to it is your mode selection button with 7 LEDs that indicate which tremolo mode you are in.
There's auto, two types of 3D modes, mono which is indicated by a green LED, fixed stereo, random and ping pong. Out of all of these, ping pong and random are the most interesting modes.
Ping pong pans the sound from left to right, while random just combines a number of different modes to produce a weird tremolo effect.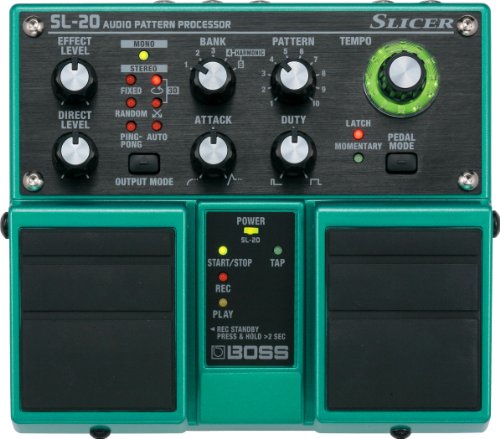 To the right of these you will find four knobs. The lower to allow you to control your attack and wave form, which is called Duty on this pedal. The upper two knobs are named Bank and Pattern. What these do is change the type of effect you get.
Bank knob offers several stutter variations while the last two settings allow you to create melodies using the chords you want to play. Pattern lets you choose different types of tremolo patterns.
To the right of these four knobs you will find a giant Tempo knob that is encircled by a glowing ring. As you can probably guess, this knob allows you to manually set the tempo. There's pedal mode button underneath which we will discuss in the next section
The bottom part of the pedal is where you will find you two stomp switches and a central console that tells you which recording mode is activated. The left pedal is essentially what you use to activate this effect pedal, while the right one is your tap temp. To increase the tempo you have to press the right stomp switch twice quickly.
When you press the pedal mode button we mentioned earlier, and go from latch to momentary, you change the way the pedal is activated. When it's in latch mode, one press activates the pedal, and another turns it off. In momentary mode the pedal will be on as long as you are pressing the left stomp switch. When you let go, the effects turns off.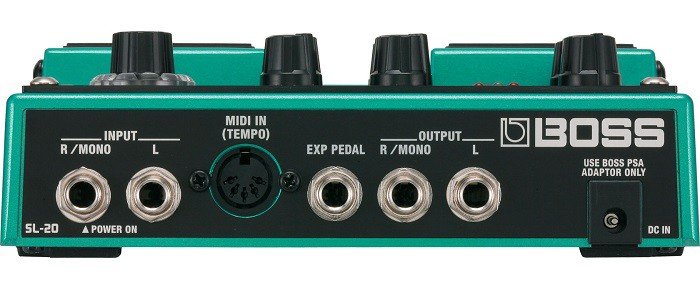 Since this pedal also acts as a loop pedal, if you press the left stomp switch for two seconds you will activate the record mode. You can record up to 40 seconds and loop that section infinitely.
  Sound
Like we said at the beginning of the article, Boss SL20 Slicer is more of an experimental type of effects pedal. You have more than 50 ways to shape the tremolo effect, allowing you to achieve anything from a conservative tremolo effect, to something that is too crazy to even describe.
Seriously, you can create some pretty psychedelic effects with this pedal. How practical it is in every day life is up for debate. Some will say that effects like these are too niche to justify a dedicated effects pedal, while a certain few will find the answer they were looking for in this very pedal.

  What we like
The sheer spectrum of effects that you can achieve with Boss SL20 Slicer makes it worth of praise. The pedal is very versatile, and will open up a whole new dimension of sound sculpting that you probably haven't experienced before. It's rugged, fairly simple to use and effective.

  What we don't like
There are few things that could have been done in a better way. For example, you have all these options and presets to chose from, yet you can use only one sound setting at any given time. If you wanted to change the mode from fixed stereo to a ping pong effect, you would have to bend over and scroll through the modes manually.
Some will say that what this pedal offers is too niche for it to be practical, and we agree to a point. You really need to be searching for a very specific sound if you need a pedal like this.
In closing..
In all essence, Boss SL20 Slicer is a very unique effects pedal. It serves a very niche purpose, but it's also a great tool for those who like to experiment with sound. Whether something like this is for you depends on what you really want to achieve.