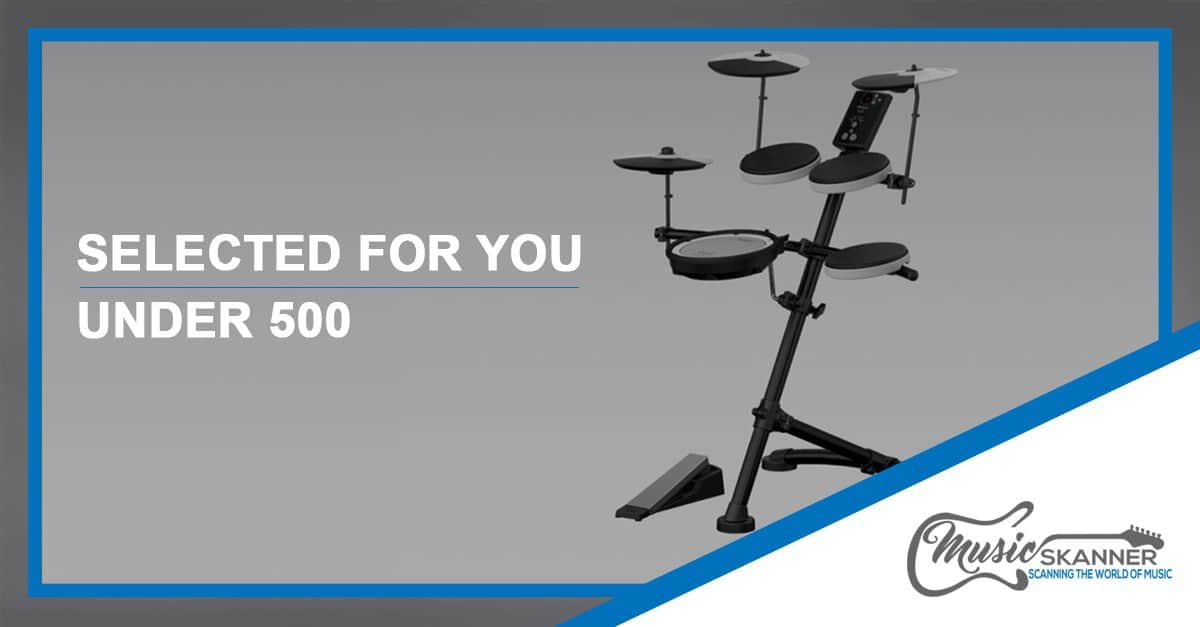 When they first hit the market, electronic drum kits were considered to be a gimmick at best. The technology was still in its infancy, and they offered a performance that was no match to even a basic acoustic kit.
Being so new, electronic drum kits also came with a very steep price tag which meant that only a small group of people could afford them. If you wanted a good sound on a budget, you always went for acoustic sets.
With that said, the situation has significantly changed. The technology has evolved to a point where electronic drum sets became more than capable of challenging the acoustics.
One of the most common applications of electronic drum kits is using them for practice. If you ever tried to practice on an acoustic set in your home, you probably know what kind of nuisance that was for you, your family, and your neighbors. There are numerous stories of people filing noise complaints to the police because someone in their neighborhood decided to play drums in a room that was not sound insulated.
Electronic drum kits solve this problem completely. When it comes to good practice kits, a more affordable set will do just fine. Today we are going to try and find the best value electronic drum set. This is a good price range where you will find kits that bring decent sound for not a lot of money.
Decent Sound and Performance for not a lot of money
EDITOR'S CHOICE
Roland is the company which pioneered the electronic drum set technology, and kept evolving it to this very day. They are constantly launching new pads, new modules and other components that are pushing the envelope in the industry. Their TD-1K is definitely one of the best electronic kits in the affordable range.
Roland is known to deliver quality products, especially when it comes to the percussion instruments that are electronic. They currently offer the best electronic drum set on the market, and TD-1K definitely brings some of that Roland quality. If you are looking for a proven set, Roland TD-1K is definitely the way to go.

Features
The price range we selected for this article is somewhat limiting when it comes to features you can expect to find on electronic drum sets. Roland TD-1K comes with a very simple but efficient rack that is made of quality materials and keeps the whole set stable during use.
Unfortunately, the expansion options are almost non existent. With that said, you do get four pads, three cymbals and two pedals.
There's no hi hat or kick drum in their traditional form.
Instead the two pedals we have mentioned replace these two standard features.
The module on this kit is basic, but does what it is meant to do well. There are 15 drum kit presets stored on it, which will allow you to cover a pretty broad range of music genres. TD-1K comes with training features, while you can also connect it to your computer for recording.

Performance
The performance you can expect from this kit is basic but consistent. The pads and cymbals don't offer much flexibility in terms of positioning, so you will have to adapt your playing style a bit to this kit. The response from the pads is pretty good, with a decent bounce. With that said, it's definitely not comparable to an acoustic drum head.
The whole kit is pretty compact, so you won't have to dedicate a whole lot of space to accommodate it. This makes Roland TD-1K perfect for practicing at home, although you can pretty easily bring it with you.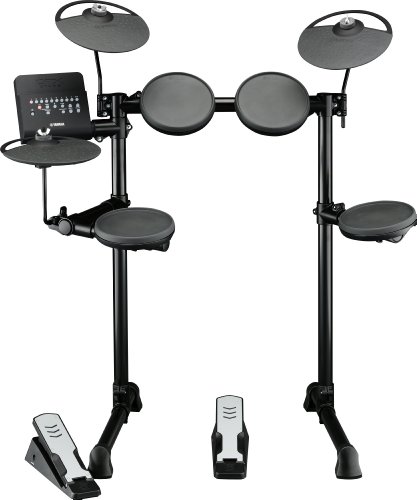 Yamaha is another pretty big name in the world of electronic drum sets. They definitely lack the presence in the top tier segment of the market, but their affordable kits are known as quality instruments.
Yamaha DTX400K belongs to this group, and it brings a steady performance that earned it some respect among musicians looking for a decent, yet compact practice kit. Compared to the Roland we just mentioned, this Yamaha lack some features, but it has a lot to offer despite that fact.

Features
The configuration of this kit includes four drum pads, three cymbals and two pedals. The rack everything is mounted on is probably the simplest one you can find. The quality of the rack is great, and the way it was designed offers optimal stability. The pads can be customized to a certain extent in terms of their positioning, however not too much.
Same goes for the cymbals. There is no kick pad, and instead you have a silent pedal that triggers the kick drum. Hi hat pedal is also a remote version, and is always in the open position if not used.
There are 10 presets that contain almost 300 different drum samples and sounds. The module of this electronic drum kit also comes with several training programs, and an iOS app that allows you to use the module with more ease.

Performance
The best way to describe the performance of this kit is to say it's well rounded. The rack does its job of keeping everything stable and in one place, while the module definitely delivers when it comes to the lack of latency and quality of samples. The pads are average for this price range, offering decent bounce and performance overall.
Silent pedals work well, but fail to recreate the sensation of an acoustic set. This is not something that is unique to Yamaha's KU100 silent kick pedal, it's the flaw of this type of device across the range. All in all, Yamaha DTX400K is almost as good as the TD-1K while it definitely belongs to the top 5 kits in this price range.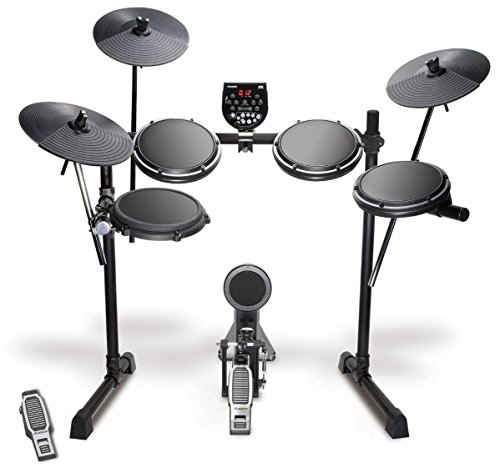 Alesis is known for delivering quality kits at a low price. Their Alesis DM6 is a perfect example of this policy.
It is priced significantly lower than our previous two kits, and while it lacks some of the features the other two have, it definitely delivers a great core experience. If you are on a stricter budget, but need a good kit for practice, Alesis DM6 is what you are looking for.

Features
In terms of features, this kit brings four pads, three cymbals and a kick pad. The rack is a bit thin for our taste, but seems to be doing a good job. Unlike the previous two kits we talked about, Alesis DM6 actually comes with a dedicated kick drum pad.
Although it's definitely not the best on the market, it's nice to have an actual physical pad for a kick drum. Cymbals are pretty maneuverable, and so are the main four pads. The quality of every component is decent enough to be considered reliable.
The module is very basic and comes with a somewhat limited library of 108 different samples.

Performance
The performance of Alesis DM6 falls behind the Roland and Yamaha we mentioned. But, for the money, you can't beat it. The pads have a good bounce, although they might come across as stiff. The kick pad is decent, and just the fact it has one is good enough reason to consider this kit. For a beginner electronic drum set, Alesis DM6 performs very well.
All in all
We went on a search for the best budget electronic drum set, and found three great kits that offer a proven performance. Roland and Yamaha are the go to models in this price range, while the Alesis offers a similar experience for less money.
You will hardly find better kits than these on a budget.