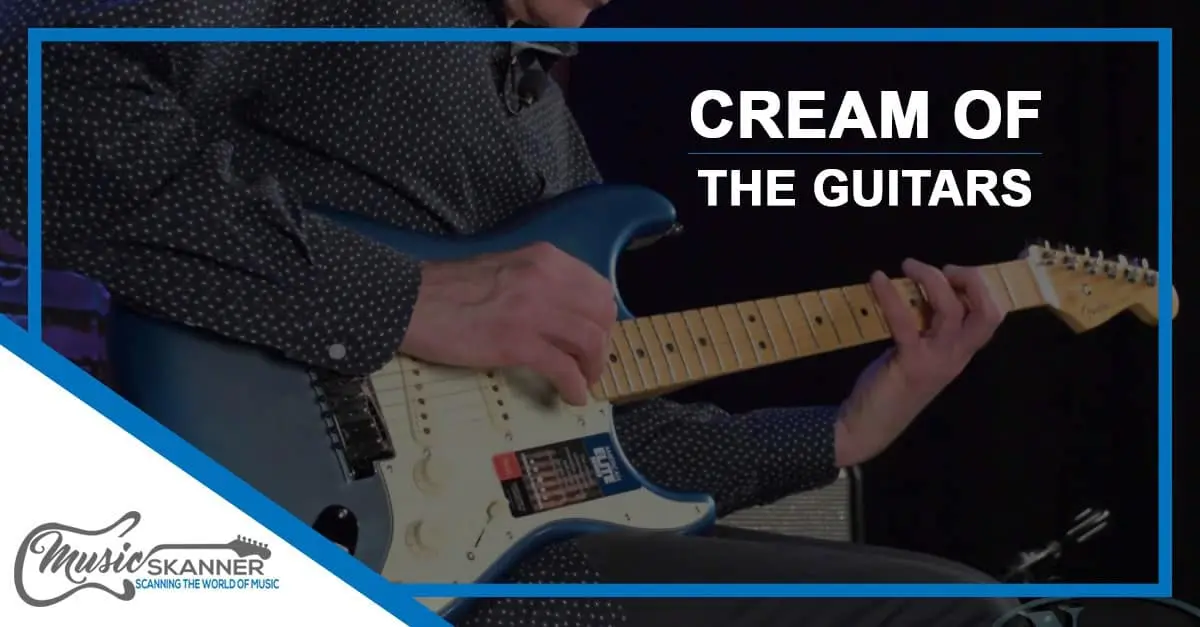 When Leo Fender came up with the Stratocaster design back in the mid '50s, he probably didn't even dream that his creation would become one of the most iconic electric guitars ever made.
All he wanted to do is make a guitar that would give the user more versatility and a very practical shape to use. The rest of the story is pretty much history. Fender Stratocaster became one of the most popular guitars, with numerous copies being made all over the world to this day.
Trying to find the best Fender Stratocaster is not that hard. The only true Strats are made by Fender, and can basically be divided into two categories. Those made in United States, and those made in Mexico. The former are considered to be the best you can get, and they come with an appropriate price tag.
The latter are cheaper and are a bit less popular, especially among the purists out there. If you are looking for a Fender Stratocaster, we prepared four awesome models for you, so stay tuned.
A closer look – Music Skanner List
EDITOR'S CHOICE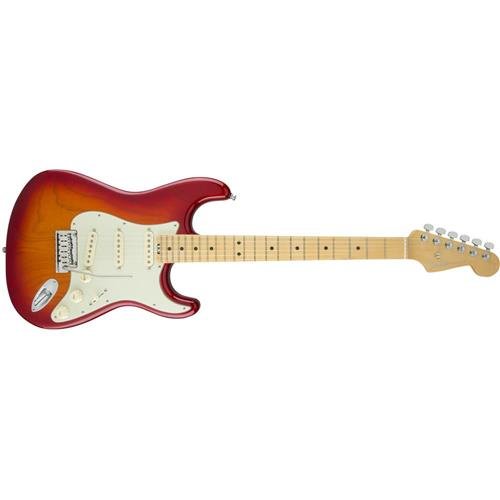 Strats come in all kinds of flavors. There are numerous features to choose from, like the type of pickups and more. Fender American Elite Stratocaster is the current best Fender has to offer. It's the same old design with completely new components that features one of the nicest finishes this instrument comes in. Everything about the American Elite is outstanding.

  Features
Fender American Elite Stratocaster features an alder body with a sky burst metallic finish. The neck is made of maple, and sports the standard Fender's compound back shape, modern "C" to "D" design, with 22 medium jumbo frets.
The pickups are the all new 4th generation noiseless single coils all around, just like we are used to seeing on a Stratocaster. Hardware you can expect to find on this Strat is pretty great. The tuners come in form of locking short-post units that hold the tuning well and offer a great deal of precision.
The controls on this guitar are pretty much the same as on previous Strats, with certain differences.
First and foremost there's the five-position blade that allows you to choose the pickups and their combination. The master volume comes with Fender's S-1 switch, while there are also two tone knobs. One for the neck pickup, and one for the middle and bridge pickup.
  Sound
Nothing but pure sweetness is what you can expect to experience with this Stratocaster. The new noiseless pickups reduce the hum greatly, although it's still there in traces. The tone is defined, clear and as crisp as only a true Stratocaster can deliver. When combined with a tasty overdrive, this guitar steps into another dimension.
Fender's S-1 switch allows you to experience a new type of sound. It essentially gives additional pickup wiring combinations, like having all three pickups active at the same time. In terms of new Stratocasters, American Elite is the new gold standard.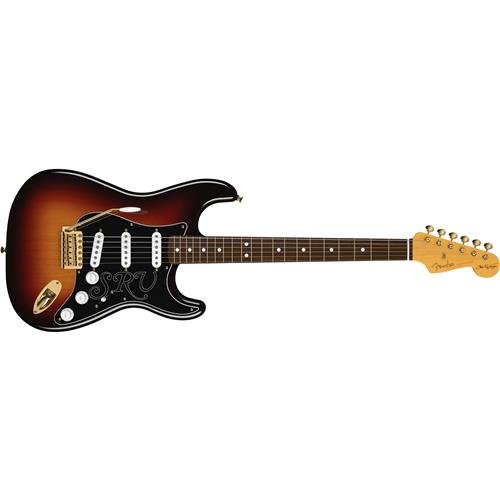 One of the best Stratocasters on the market belong to Fender's Artist series. These are guitars made with the help of various legendary guitar players who gave their input on how a perfect Strat should look and sound.
This created a variety of unique flavors that each have their own nature. Steve Ray Vaughn is probably the most interesting one in the bunch.

  Features
Fender Stevie Ray Vaughan Stratocaster comes with a beautiful 3-color sunburst finish. The pick guard is black with SRV inscribed on the surface, and the hardware dark gold. There are several things that differentiate this Strat from the regular models.
First and foremost you have the Texas Special single coil pickups that are chosen by Stevie Ray Vaughan, and will give you the closest sound to his. The neck is a thicker design compared to the standard "C" profile, and comes with a Pau Ferro fretboard.
This fretboard combined with Dunlop's Narrow Jumbo frets allows you to get those bends going easily and comfortably. The guitar looks great right out of the box, really is unique.
  Sound
Sound this Strat creates is really close to that Vaughan tone we all grew to love. Texas Special single coils have a really defined tone that is different in many ways from the standard pickups that come on other Strats.
There's a lot of tonal fidelity to enjoy, especially if you are into classic blues or classic rock. The fret and fretboard combo really make bending strings a joy and increase the overall playability of the guitar. It's soft, fast and accurate.
American Standard is one step below American Elite in the Stratocaster hierarchy. It's still delivers a genuine Fender experience, only with a more toned down set of features.
In simpler terms, Fender American Standard Stratocaster is your middle of the road, run of the mill Strat. It's the base model that sets the standard for the whole series.

  Features
Fender American Standard Stratocasters come with Fender's basic choice of finishes. There's no crazy sunburst variants, and you are limited to single tone colors for the most part.
It's worth noticing that these Strats come with a super thing poly coating that allows the guitar to breathe similar to the nitro finish the purists prefer to see, especially on Stratocasters.
The neck comes either with maple gloss or rosewood fretboards. A combination that was made popular by the Stratocaster. Pickups Fender chose for the American Standard are three Custom Shop Fat 50 single coils that offer the most authentic Stratocaster sound.
Other features that are worth mentioning include the bent-steel saddles and fine machined tuners that hold the tuning of the guitar so well. As you can see, there's no special bells and whistles on this model of Stratocaster. Everything is pretty straight forward.
  Sound
Fender American Standard Stratocaster offers what can be described as the closest thing to the vintage Stratocaster sound. It's completely neutral, and has all the qualities that define this iconic model.
The guitar is very playable, especially with a maple-gloss fretboard. It's fast, very accurate, and the tonal fidelity it offers can only be described as impressive. If you always wanted the core Stratocaster experience, with no additional shades and variations, the American Standard is what you are looking for.

One of the biggest issues most guitar players have with Fender Stratocasters is their price. These guitars don't come cheap, especially if you go into more niche versions.
Fender solved that problem by outsourcing a part of their production to Mexico. Now, the quality of these guitars is outstanding to say the least.
The reason why many purists prefer the American made ones hides in very subtle details. If you just want a Fender Stratocaster that gives you the core experience, a Fender Standard, made in Mexico Stratocaster will serve you just fine.

  Features
What sets this model apart from more expensive Strats is the choice of pickups you get, and the fact that it was made in Mexico. Pickups are basic model Fender Strat single coils that are pretty neutral by nature, and produce a bit more hum than all the other models we've listed. It's the entry level package to the Stratocaster universe. The materials and finished available also reflect this.
There's no fancy sun burst or anything similar. Fender Standard Stratocaster is the vanilla version of this iconic guitar. Is it any worse than a U.S. made Strat?
Well, the main thing that differentiates the two guitars is the fact that one is fitted by a luthier, while the other one was fitted like any other production model.
  Sound
In terms of sound, this guitar gives offers a good amount of tone that you are going to find in models that belong to the American Standard and similar. It is lacking certain details and tonal qualities, but those are so subtle that you would really have to look for them to even notice.
The fact that it was made in Mexico takes nothing away from its performance and playability. It's a rock solid instrument that is used by professionals and enthusiasts alike. If you are on a tight budget, this is your ticket into the world of authentic Fender Stratocasters.
Conclusion
We showed you four Strats that belong to different price groups, and offer different features. The American Elite and SRV signature model are really neck and neck for that best Fender Stratocaster title. It's not about which one is better.
Both of these guitar offer an incredible tone that is simply different in its nature. If you want something that is more in line with the authentic Stratocaster sound, we suggest you go for the American Elite.
If you don't mind the niche tone, SRV signature model will rock your world. On the other hand, American Standard is your go-to basic model. It covers all the bases and gives you the most neutral Stratocaster tone of the bunch.
The Standard we spoke about last is an affordable choice that will allow you to experience a good portion of top-end Strats without ruining your bank account.