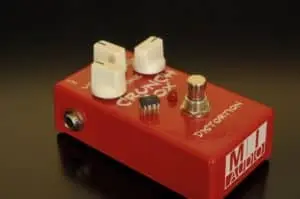 Guitar effects pedals are the cornerstone of guitar sound, and have been so for the last several decades.
Over the years we have seen many different models hit the market with varying levels of success.
There are numerous huge brands that make these pedals, and they have delivered some of the most iconic ones known to us at the moment. However, boutique effects pedals also have their hall of fame. Not many people turn to these rare effects pedals, mainly because of their price and limited availability.
MI Audio from Australia is one of the rare guitar pedal manufacturers whose boutique Crunch box distortion pedal became famous world wide. As soon as it hit the market, it became an instant classic.
Anyone who has ever tried this pedal probably know exactly why this is the case. For those of you who are not familiar with this Crunch box, we are going to talk about it today and try to give you a sense of just how amazing it actually is.
Overview
When you first start using guitar effects pedals, especially distortions, most of them sound almost the same. As your experience and knowledge grows, you will begin to notice various differences and subtle features each model has to offer.
[su_youtube url="https://www.youtube.com/watch?v=TNTG-wHCPwY"]
Mi Audio Crunchbox is a British-style stomp box with a very dynamic and unique sound. There aren't many pedals like it, and this is partially why it became so popular so quickly.

Features
When you first look at the MI Audio Crunchbox, you probably won't be blown away by its appearance. It comes in a pretty simple red case, that doesn't have any outstanding themes on it anything similar.
MI Audio didn't really spend too much effort in making this pedal pretty. However, that is completely fine since you aren't buying a distortion pedal for its looks.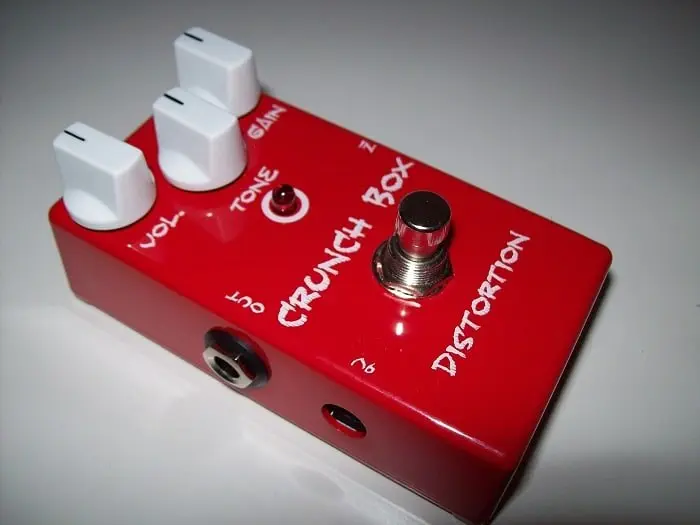 Most important thing is that MI Audio delivered a very reliable and durable pedal. Sometimes when you shop for boutique effects pedals, you can run into pedals that don't have a really durable case.
Even though its common sense that you use your foot to operate these things, often times aggressively, some boutique shops fail to deliver a good quality case for their circuitry. That is something you don't have to worry about with MI Audio's Crunch box.
In terms of controls, things are simple as well. There are three knobs, a gain, volume and tone, along with a standard stomp switch. There is a single LED light that indicated when the pedal is on, and that is about it when it comes to controls. Pretty simple and basic.

Sound
The sound you get with MI Audio's Crunch box is just impressive. The distortion is so well saturated that it's hard to compare it to anything else. There is tons of midrange headroom and tone is very thick.
One of the most impressive qualities of this stomp box is the range it give you. Using the existing controls you can dial in a very wide spectrum of distortions. Anything from light overdrive to a very dirty distortion is possible with Crunchbox.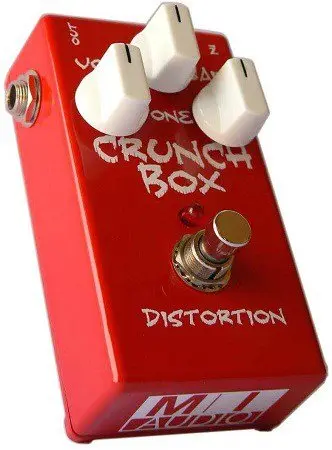 The EQ is impressive, and gives you so much freedom to shape the tone. In all seriousness, this kind of performance is not often seen these days. The pedal will work great with any kind of Wah or modulation pedals you have.

What we like
Although everyone has a taste of their own when it comes to distortion pedals, there are simply some stompboxes you must have.
MI Audio's Crunchbox is one of them. It is hands down one of the best British-style distortion pedals you can own.

What we don't like
There is really not much we can say we don't like about the Crunchbox. The only thing that comes to mind is the fact that it sounds somewhat plastic on super low volumes. However irritating this may be, it is far from a deal breaker.
By and large..
MI Audio definitely struck gold with their Crunch box. People loved it, and it has proven to be one of the best modern distortion pedals. The original was discontinued, however you can still find it in certain shops.
MI Audio did release a new version called Super Crunch box which pretty much offers the same experience with some changes.