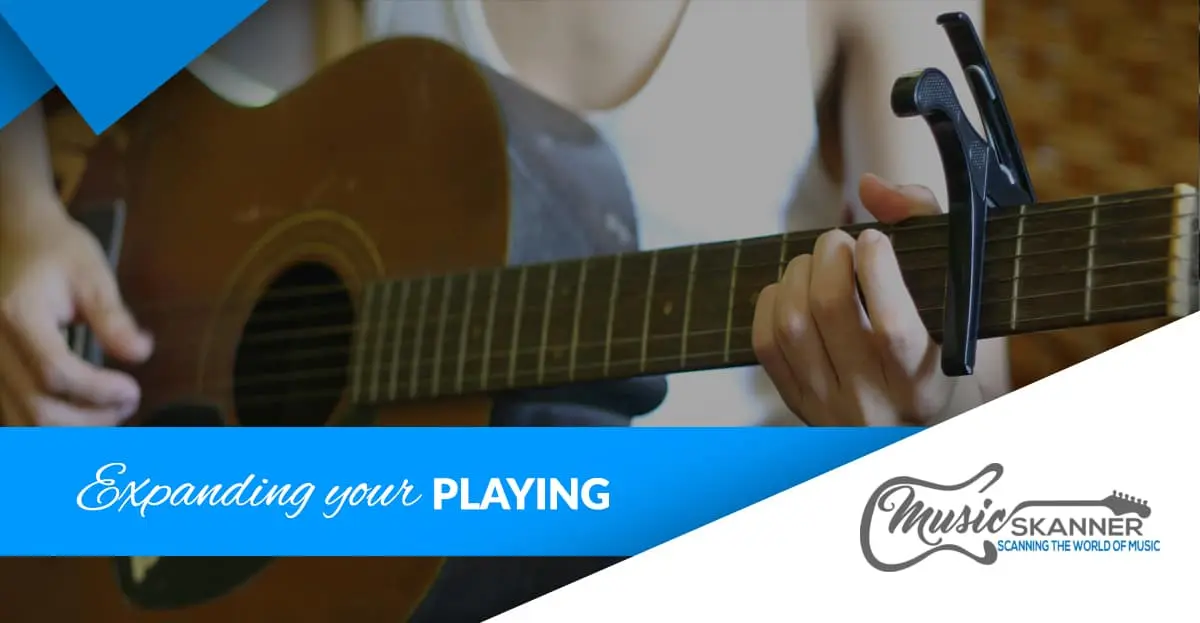 If you play acoustic guitar, you have probably used a capo at least once in your life. These simple devices are irreplaceable if you want to have complete freedom of expression on your guitar. For those who don't know how capos work, and haven't used these devices, let's quickly explain what a capo is.
A capo is a simple mechanical devices that allows you to change the key of the guitar by pressing all six strings on the fret of your choice. This enables you to play songs in different keys by using the same chord shapes you are used it.
In all essence, the fret where you place your capo becomes the start of the fretboard. Pretty useful devices when you think about it. We have looked into the best capo for acoustic guitar for you, and we chose 3 models that we think fit this description.
Let's take a closer look at each one !
EDITOR'S CHOICE
– Nordic Essentials Universal Capo –

Nordic Essentials delivers a great solution for a capo that can be used on just about any stringed instrument. This is a pack of two capos. You can use them both at the same time, or just one, that is completely up to you. What we like about this capo set is the price and overall quality. This is the one we will gladly recommend to anyone looking for a good capo.

  Features
Nordic Essential capo is made of aircraft grade aluminum and it features a very unique design which allows you to use it with one hand. It's a spring loaded capo, meaning that there are no screws or anything similar that you need to torque or loosen up when installing this capo on your instrument.
The side of the capo that grips the strings is rubber coated for better grip, while the side that makes contact with your instrument's neck features a ribbed rubber insert that holds everything in place.

  Performance
When you first start using this capo, you will be impressed just how easy it is to put it on the neck. The spring is pretty heavy, and will hold the capo pressed all the way against the strings, so you don't have to worry about it loosing grip as you play.
There are two handles used to compress the string, which you can do with one hand. Nordic Essentials capo is so practical. It comes with several different color themes to choose from. All in all, it's a quality product with a lot potential.
– Shubb GC-30 Deluxe

Shubb has been making capos for decades now, and are one of the go to brands for the majority of professionals. Their GC-30 Deluxe is a proven design that is very popular, and a bestseller.
It is loved by both professionals and enthusiasts, all while having a more than reasonable price tag. If you want a sure fire solution for a capo, this Shubb should be on the top of your list.

  Features
The design of this capo is something that has set Shubb aside from the competition for a very long time. To install the capo on the neck of your guitar,you have to tighten the tension screw until you reach the necessary torque. This system ensures that all of the strings are pressed down with equal tension, and eliminates the chance of applying too much pressure on the strings.
The capo itself is made of high quality metal, and the surfaces that come in contact with the guitar are coated with a nice rubber layer that prevents any wear on the instrument.
The tension regulator is very well made. Generally the problem with these is that they usually start coming undone after prolonged use, completely ruining the performance of the capo as they do. The one found on GC-30 Deluxe doesn't suffer from this at all.

  Performance
Even though it's not as simple as the Nordic Essentials one we just reviewed, Shubb GC-30 Deluxe is still very easy to setup, and remove. If you need perfect intonation every time, this capo is what you're looking for. No matter how many times you put it on and take it off, it will exert the same amount of pressure the next time. Shubb GC-30 Deluxe is simply a quality made product.
– Neewer Blue Single-handed Guitar Capo

Unlike the two capos we just mentioned, Neewer Blue Single-handed Guitar Capo is a simpler solution that is both cheap and easy to use. It provides a pretty decent performance for those who just need a capo once in a blue moon. If we had to use only one word to describe this capo, decent would probably the one to use.

  Features
In terms of features and design, this is as basic as it gets. Neewer Blue Single-handed Guitar Capo is made of aluminum and comes in a variety of different colors. It uses spring tension to press down on the strings, and there is no tension regulator or any similar way adjust the pressure exerted on the strings. The design of this capo allows you to install it and remove it using only one hand.

  Performance
Performance you can expect from this capo is good for the money you're expected to pay. It clamps down pretty well over the strings, while the rubberized surfaces prevent any wear on the instrument. The tension it exerts is enough to cap the first fret with ease.
It's not too versatile when it comes to neck shapes you can use it on, however you won't have a problem if you have one of the more common neck profiles on your guitar.
To summarize
Capos are simple yet very powerful tools that every guitar player needs to have. These three models are definitely among the best capo for acoustic guitar on the market.
The Shubb and Nordic Essentials capos are the go-to models we recommend, while the Neewer one is something that will serve you well if you use capos occasionally.