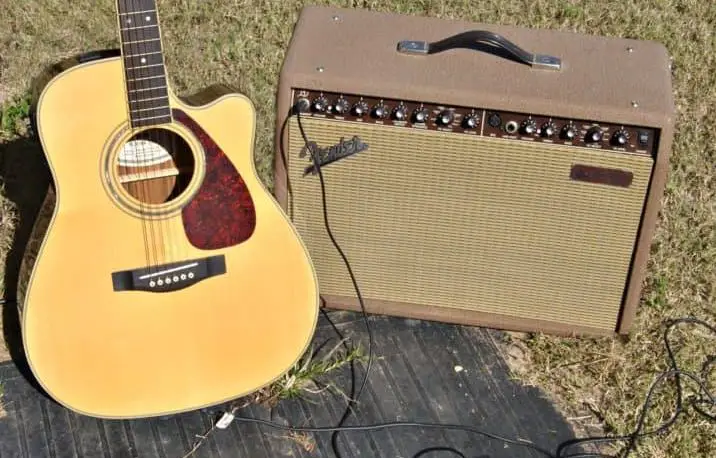 If you are looking for a good amplifier for your acoustic guitar, you already may know just how expensive they can be. The price tags can rise up well into thousands of dollars, leaving you to wish you didn't need an amp at all. If you look at the most expensive amps there are, you'll quickly realize they have a few things in common.
They all offer pristine sound quality, they all have a set of extra features you probably wouldn't be able to find on the lower price range and most importantly – they come with a really detailed and long warranty.
Do you need all of that to perform and be considered a good musician? Well, on one hand — sure!
Who wouldn't like to have the sound of their music blasting through an AER Compact 60?
Unfortunately, not everyone can afford something like that. That doesn't mean you can't play decent music without something like that! Quite the contrary, if you are on the market for a decent amp that isn't going to thin out your wallet but it's still going to make you feel good about your music, just take a look below and you'll be sure to find something you like!
Last update on 2023-11-14 / Affiliate links / Images from Amazon Product Advertising API
Here are the Best Budget Acoustic Guitar Amps
The number one spot goes to Fender and this 15 watt monster in disguise.
Seemingly small and compact, the Fender Acoustasonic 15 has a 6" speaker and an impeccable high-frequency response. It has two channels, so you can hook up your instrument and a microphone to get loud, crisp sound and vocals during a performance. Keep in mind that the bass, mid, treble, and chorus effects are for the instrument only.
The dedicated microphone input channel doesn't have any built-in effects for you to play around with. It weighs about 10.5 pounds, making it extremely easy to move around. It can fit into the back of your car, but if you're not a driver – it's still lightweight enough for you to carry around as needed.
At the top front, there's your standard ¼ inch jack for the guitar and the XLR input to get your mic set up. It's simple, portable and it offers the best of both worlds whether you are a casual player or a full-time performer. Using their unique 'whizzer' technology exclusively for this model, Fender included a small speaker cone latched to the voice coil. This is what gives the amp such a distinguished, enhanced response.
When it comes to materials and design, the Fender Acoustasonic has been made using lightweight plywood, with a brown textured vinyl cover, that gives it that sleek and stylish look. It's sturdy and there's some extra protection thanks to the metal corner guards. The back also has a velcro pad, which you can use to make sure the cables don't get in the way when you aren't using it.
This one would be ideal for performances in medium and even slightly larger venues, but you can feel free to use it for street performing or solo jamming sessions. It is adequately strong and gives you just enough options to choose from. Being easy to transport makes it the best choice in this price range.
Packing a bit of a powerful punch in a sturdy, durable shell, the Peavy Vypyr boasts 20 watts of crystal clear volume. This amplifier is a morphing powerhouse, offering support for acoustic and bass guitars and for the first time – electric guitar users will be able to access the instrument models, thanks to the variable instrument input technology that powers this amp.
This is definitely a rarity among amps, so electric guitar players that have been trying to find the amp they can use – look no further! You found one of the best amp to take out to your next performance.
All of the effects are resting on a powerful floating-point SHARC 32-bit processors and Vypyr's unique Transtube analog circuitry. The effects can be modified, altered and tweaked to a specific preference all from the amplifier's interface. That means you can change your settings on the go and all in one place, without ever having to hook this amp up to a PC.
That's not to say you should avoid using it in conjunction with a PC, in fact, you can get a whole lot more out of it if you do. It's just that the settings are much easier to manipulate and tweak on the spot without any further involvement. This is perfect for players who like to use effects mid-play to add some depth and a surprising twist to their songs.
To provide ease of access and make sure you can quickly shift between different settings, the WYSIWYG (what-you-see-is-what-you-get) control surface has you covered. Everything is straightforward and self-explanatory, which will eliminate all of the guesswork and let you alter the controls with perfect clarity and confidence.
The controls are laid out and spaced out perfectly, so once you get the hang of them initially, you will be able to change them any way you want without even giving the amp a second glance.
You can still hook the amp up to the PC to get the most out of it. In fact, it has a USB bi-directional data and audio port, so when you do hook it up, when used along with the Vypyr software, allows you to record at a moment's notice.
You can export whatever you record straight to your PC for additional editing or just to play the tracks. Other than that, you can browse to find new presets, get tutorials and lessons and even practice to backing tracks live!
It's great for practice, but just as suitable for a performance in small to medium venues. The smooth interface will also be a great asset for street performers, so if you are looking for a new amp to add to your collection, this is definitely one of the better choices to consider.
Coming up with 25 watts of power is the Mugig amp! This lightweight, portable amp has been built for those of you who don't mind jamming on the go. There are no complicated setup steps involved. The amp is powered by a durable rechargeable lithium battery with a ridiculous runtime. It can withhold up to 10 hours of play at full volume. A lot of players are extremely hesitant when it comes to battery-powered amps, as they can always give out at the most crucial of times.
Still, even if you crank up the volume to the highest and rock on, you will have plenty of time before it runs out of juice. Even if it does, you have the charger and after about a few hours of charging, it goes right back to its usual state, giving you peace of mind.
The amp also has a recording feature, to help you capture your best performances or record backing tracks with ease. It has 8 different sound options for you to play around with.
It's compatible with electric and acoustic guitars. The input board includes the USB/MP3 interface, and a jack for your headphones and microphones. You can use it to play music and listen without disturbing anyone or you can use the mic jack to get a home karaoke party started. At its peak power, it can reach up to 40 watts, making it perfect for anything – from solo plays to street performing and a wonderful party asset.
If you are a performer looking to take a powerful amp to your next gig, the effects you can achieve with this amp are going to make it all worthwhile. The battery life makes it perfect for performers with a packed schedule and not a lot of time to waste.
This model has been designed for band practice in mind. Its weight is only about 8.8 pounds, and its small frame makes it really easy to fit into a back of a car. The sturdy handle on top makes it effortless to carry around. It won't take up a lot of space onstage either as you can place it vertically, horizontally or even strap it on.
The effects and the strength are more suitable for band practice and casual jamming. If you are a performer, and you are going to play in a smaller venue, this one actually does fine on its own.
Medium venues are a stretch, but thanks to the sound output at its peak, you can pull it off just as easily. If you are looking to tackle large venues, you may want to look for a much stronger amp. While this one is strong, it still won't offer enough power to cover an exceptionally large space. The reverb, bass and treble effects can really give more depth to the sound and make it stand shoulder to shoulder with stronger amps.
Conclusion: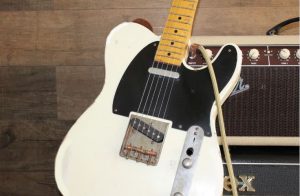 At the end of the day, quality can be found in nearly every price range. From ridiculously cheap to astronomically expensive, there are good amps to be found for everyone's taste. You have to keep in mind that the effects and recording features are always going to knock the price up.
If you are looking for an amp that won't deliver a metallic sound or randomly squeal when you turn it on, the above choices, especially the Fender Acoustatonic, present for the biggest bang for your buck. They are all compact and easily portable, to accommodate your need to perform or get set up on the go. Though you may be able to find a decent amp at an even lower price, the low prices generally indicate a short lifespan.
Those might be good for a few uses, but you're bound to get them to act up after a while. The best amps out there are standing somewhere in the middle of the price range. If you are a professional performer and you need sound effects for your gigs, there's no need to spend an entire fortune. Even if you are just playing for fun and you'd like to get more out of your sound, the amps listed above are going to give you everything you need to enjoy your practice with a fully fleshed out sound.