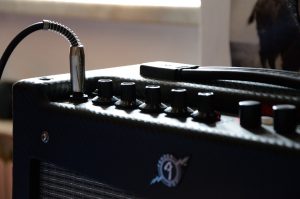 A must-have companion of every quality bass guitar out there is a good practice amp to connect it with in order to get that sonic roar we all yearn for.
If you are a beginner, you will need the best practice bass amp money can buy, but even if you are a seasoned pro with a gig amplifier, we still wholeheartedly recommend getting a practice model. Jamming at home is just so much different than playing live shows, and those big amps are just too loud for such surrounding.
With all that in mind, we dived into today's market in an attempt to bring you the crème de la crème of this domain. We have singled out three champions, all of which you can check out in the rundown below.
Last update on 2023-11-21 / Affiliate links / Images from Amazon Product Advertising API
The Best Practice Bass Amps Are:
We'll kick things off with a trusty Fender – the Rumble 25 model. This is an amp we can recommend to every player regardless of favorite musical styles, but if you happen to be a classic rocker, it's your lucky day!
Features
The amp offers a total of 25 watts of power presented through a single speaker. Tucked away in a sturdy casing, the amp features a classic Fender design, a well-known mixture of black and grey.
When it comes to tonal adjustments, the amplifier packs a full-on three-band EQ control with Bass, Middle and Treble knobs. These allow significant tonal tweaks, but it's the additional controls that make all the difference when compared to similarly-priced items. Specifically, we are looking at a Contour switch that delivers a gritty bite and precise slap punch to the mix, along with an Overdrive switch for cranking it up to 11 gain-wise.
Sound
The sound is first and foremost strong and sturdy. As noted, if you want that classic rock or heavy blues vibe, you'll achieve it with ease, but thanks to those extra knobs and switches, you will be able to cover a lot more ground than that.
Flick the Contour switch on and you will get a kick of that low-end groove perfect for funk and jazz, while going to overdrive will make the amp adaptable even for the realm of heavy metal. It's just a matter of making all the right tweaks, and once you hit the soft spot nothing will stop you.
Up next, we'd like to draw your attention to the Hartke HD25, another versatile function you can actually use for more than just house practice. It's smooth, a bit chunky, and loaded with power.
Features
The amp can deliver a sonic wave of 25 watts through a single 8-Inch aluminum cone driver. It utilizes a four-band set of EQ controls, along with a line of basic effects, loop send and return jacks. This allows not just a vast array of tweaks, but a solid dose of audio experimentation to push you and drive you forth.
Additional notable features include a dedicated CD or Mp3 player input that allows you to directly jam along to your tracks and songs of choice, as well as a headphone output for silent practice. Apart from being strong, sturdy and reliable, the cabinet features the so-called dual position design, allowing you to place the amp in flat or kickback position.
The flat position is pretty standard, while the kickback position turns this device into a genuine on-stage monitor. So not just can you use it for house practice, but you can also bring it to gigs to gain extra input on how you sound live.
Sound
In our opinion, the most prominent feature of the audio output of this amp would be the lower and low-mid frequencies. This secures a sound that is first and foremost warm and punchy, although there is plenty of room to infuse it with treble brightness and cover a vast array of styles.
The power it offers makes the amplifier strong enough to be used not just for house practice, but also for smaller live shows and band rehearsals where the drummer isn't manically bashing away.
Finally, the raw power of Ampeg amps had to find its spot on our little rundown, and for that we bring you the BA108 model, a genuine mini powerhouse.
Features
The device packs a total of 20 watts of power that sound very loud for the specified wattage, delivering the goods through a single 8-inch speaker. It utilizes a strong and practical design tucked in a casing with a 60-degree monitoring angle.
As for the tonal control, the amp has all the basic stuff it needs – Volume, Bass, Middle, and Treble knobs, along with an AUX Level control with an accompanying AUX input, and a -15db switch. The product is rugged, weights a total of 27.9 pounds and comes with a size of 17.1 x 14 x 18.9 inches.
Sound
The sound is signature raw Ampeg vibe. The company has always been making more drive-oriented devices, and this one is no exception. Organic and natural, the sonic attack is a perfect match for anyone looking for a pinch of fuzz and buzz in the bass sound.
In addition to that, the sonic strength is really through the roof, allowing you to comfortably use this puppy for band rehearsals or even for small live shows. It rock and it purrs!
Conclusion – Best Practice Bass Amp
As a conclusion, we can easily say that each of these fellas is a worthy contestant for the title of the best practice bass amp. They all pack a very good sound, they're all easy to use, they're light and portable, and they have great value for money.
Now it is just a matter of jotting down your personal needs and preferences and singling out the perfect device to fit your needs to a tee. Once that is settled, feel free to make a purchase as early as today. Highly recommended, a major thumbs up from here!