We have written about numerous Schecter models before, but it's time to mention of the truly great ones this company has delivered so far. Schecter C1 was one of their most popular models ever.
This guitar pretty much defined what this company is all about. On one hand, Schecter is know for making incredible metal guitar that can give you the type of face melting tone you would need. On the other hand, they are known to balance this savage nature with some refined traits.
>> View Current Price On Amazon <<
Schecter C1 embodied this duality in a perfect way. Ever since it was discontinued, Schecter introduced a whole line based on it. These days you can find numerous models which have a C1 designation. Each of them is unique in its own way.
Whether it's the pickups or the overall finish of the guitar, the C1 family is still …
The bread and butter of Schecter.
Unlike most of the Schecter lineup, C1 was the type of guitar you could use for a variety of music genres. It had all the weight necessary to play just about any type of metal you could imagine, but it offered much more than that. If you wanted, you could dial in a very refined blues tone. That is not something that can be said for a lot of Schecter guitars.

  Features
The body of this guitar features a modified Super Strat shape with a slightly arched top. The tonewood of choice is Mahogany, which seems to be the optimal tonewood for the type of music this guitar was designed to play. The neck is standard Maple bolt on design with a smooth Rosewood fretboard. That being said, the action was pretty fast, which is definitely something you'd want to have on a mid range guitar meant for metal.
The electronics Schecter decided to put on this model were Seymour Duncan HB-105 active humbuckers. This naturally gave C1 boatloads of output, but also a lot of precision. For an active set, these Seymour Duncan humbuckers were rather expressive. In a way, they combined the best traits of active and passive pickup technology. Two humbuckers are controlled by two tone knobs and one volume knob. On top of that, there is a pickup selector switch.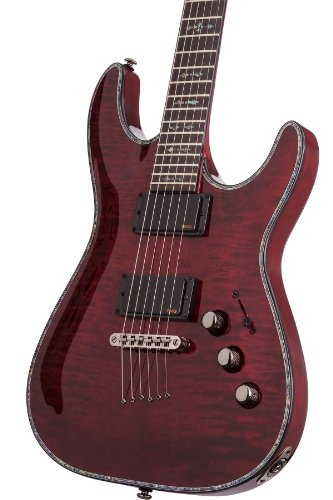 Hardware on this guitar is rather standard. You're looking at a tune-o-matic bridge that is followed by a string through body configuration. On the other end there's a set of locking tuners which will keep the guitar in tune rather well.

  Performance
The sound you could get from this guitar is impressive. Seymour Duncan HB-105s have the type of range that allowed you to play death metal today, and blues tomorrow. When you put this thing on a decent clean channel, you get very crisp tones that have the width but also a defined edge. Add a good distortion pedal to the mix and you get balanced saturation. Schecter C1 offers just the perfect amount of rich sustain, which only adds to its overall great versatility.

  What we like
Schecter C1 was one of the most versatile guitars that belonged to the metal side of the market. Usually when you opted to take this route, you had to give up on certain types of tone. Not with this guitar. It was the golden balance between two very different worlds.

  What we don't like
Aside from it being discontinued? Nothing. Schecter did introduce a whole range of C1 models after they've cut off the production of original one. However, all of these have very defined nature. In a way, the new models are a C1 only by name. A lot of that versatility is gone.
To sum up
Schecter C1 is probably one of the best guitars this company has ever made. It had character, which not many guitars have these days. They went on to design new models that are worth the praise, but we are still to see a revamp of the C1. You can still find these from time to time.
>> View Current Price On Amazon <<
Unfortunately, they usually appear on the used market. If you don't mind owning a used instrument, a well maintained Schecter C1 might prove to be a great purchase. If one of these crosses your path, you should definitely check it out.