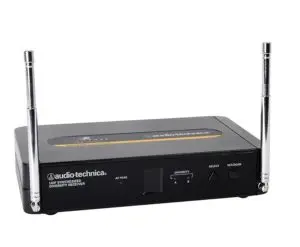 Wireless units are often considered as a piece of tech that only professional musicians tend to use. The reason for this type of reasoning is that good wireless systems cost a lot of money, and not everyone can spend that much just so they would have to deal with cables.
However, things are changing. This technology is becoming more and more affordable as manufacturer further develop new features. Today, you can find decent wireless systems at reasonable prices.
>> [su_highlight background="#fcfa8a"]Check out Prices & Reviews on Amazon[/su_highlight] <<
One such model which has proven that quality doesn't have to cost a lot is the Audio-Technica ATW R700. Audio-Technica is known for delivering good products in all aspects of audio industry, at competitive prices.
They applied the same principle to this wireless system. Anyone who knows a thing or two about wireless setups will tell you that there is a defined list of factors which differentiate good wireless systems from bad ones. Surprisingly, ATW R700 meets the majority of these requirements.
An Overview
How well a wireless system will perform depends on the frequency range it supports, the way it establishes connection between the transmitter and the receiver, and which frequency band it uses. When it comes to the frequency range, broader is almost always better.
How good a connection between the transmitter and the receiver will be depends on the size and the amount of antennas available. Lastly, frequency band you will want to use is going to depend on the laws in your country. Different places have different rules regarding certain frequency bands, so that is a very relative factor.

  Features
One of the best features about the Audio-Technica ATW R700 is that it comes with two antennas. What this means is that the receiver will automatically decide which of the two antennas catches a stronger signal, and use that one to establish a clear connection with the transmitter. This choice of antennas can change depending on your position in relation to the receiver, and the system will always choose the optimal one.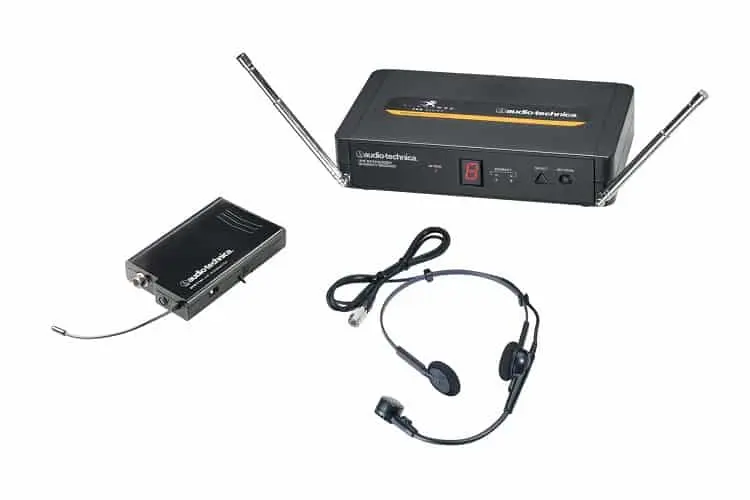 Audio-Technica ATW R700 uses UHF frequency band to operate. It supports 8 different channel, and is capable of automatic frequency scanning. This allows the receiver to always use the frequency which has the least amount of traffic, hence reducing any interference or signal jamming that might otherwise occur.You can connect up to eight different systems to this unit, and use them simultaneously at any given time.
In terms of connectivity, you have balanced XLR output connectors and unbalanced 1/4 inch output connectors. The UniPak transmitter has separate guitar and microphone trim controls, while it also allows you to change the channel for that end. It can run on AA batteries, and has a visual indicator which you can use to monitor battery life.

  Performance
What is really amazing about the Audio-Technica ATW R700 is the fact that you get a lot of range, automatic frequency hopping, and dual antenna system at a price which is considered affordable. These features used to be reserved for high end models not so long ago. Most importantly, the sound quality this unit offers is impressive.
In places where UHF band is not as saturated, the signal is going to be crystal clear. This in turn means that the transmitter can send a perfect signal to the receiver. Even if there is some UHF traffic around, automatic frequency hopping takes care of most signal interference.
All in all, it's one of the rare wireless systems that deliver this type of performance in this price range.

  What we like
To say that Audio-Technica ATW R700 is a great bang for the buck model would be an understatement. It punches way above its weight. If you need a reliable wireless setup with a somewhat limited budget, the ATW R700 is probably your best choice.

  What we don't like
There really isn't a flaw we can find on this model that is worth mentioning. It's a capable unit that will work great in most places.
Conclusion
Audio-Technica ATW R700 is the proof that wireless systems are getting better and better by the day. The type of performance it offers makes it too good to pass, especially if you're looking for a reliable system and great sound quality.
>> [su_highlight background="#fcfa8a"]Check out Prices & Reviews on Amazon[/su_highlight] <<
This specific model is great for both music work as well as public speaking.