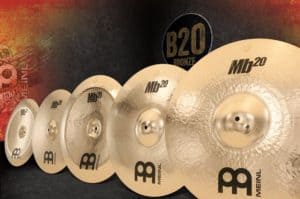 When it comes to drums on any given track, nothing can give the whole song a specific character more than cymbals. They can make a calm track sound aggressive and vice versa.
Meinl is on of several companies that have been making some of the best cymbals for years. Along with Zildjian and few others, they have constantly been pushing the advancement of cymbal design, technology and sound. When they release a new set on the market, it's no wonder the eyes of the whole industry are on them instantly.
[su_highlight background="#fcfa8a"]Meinl MB20 Cymbals on Amazon[/su_highlight]
One of their most notable cymbal series has got to be the MB20. Unlike most, the MB20 is pretty niche set that is aimed at a specific music genre. Everything about them works towards this single purpose, their construction, materials used, and finally the range of sound they are capable of producing.
In this article we will take a closer look at these powerful cymbals and talk about..
What makes them so impressive
[su_youtube url="https://www.youtube.com/watch?v=LHF-yZE9fHM"]
MB20 is one of the few Meinl series of cymbals that were designed with a specific genre of music in mind. With that said, using them for anything else would be like trying to perform a heart surgery using nothing but a jackhammer.
However, what they are designed to do is something they do incredibly well. The series include anything from a china to a splash cymbal, offering the full range to those who need the type of sound these are made to deliver.

  Build
As their name suggests, these cymbals were made of a B20 alloy that consists of 80 percent copper and 20 percent tin. The casting procedure used to create these cymbals is anything but cost effective.
Each one is cast into a separate blank. This ensures the highest levels of quality, but also ramps up the price.
The blanks are then sent to a facility where they are hammered into shape by some of the best tradesmen in the business until they reach their final form. Once that is done, the cymbals are shipped from Turkey to Germany for the final treatment and polishing.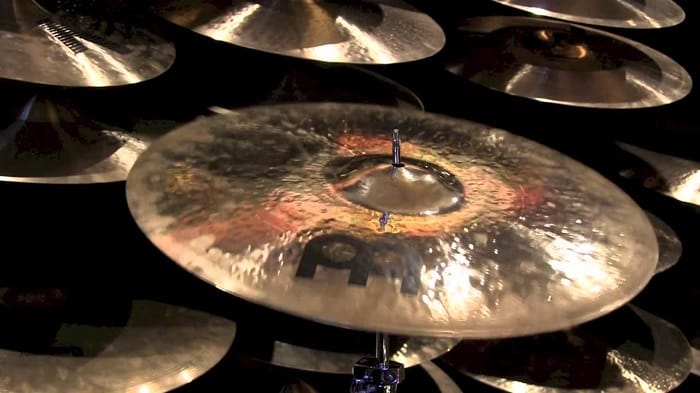 The result is cymbals that not only look disturbingly good, but also have the sound that can only be described using that same exact word. If appearance of your cymbals is by any chance a requirement when you go shopping for a set, these will not only fit that bill, but they will also push your standards to a whole new level.
  Sound
Meinl designed the MB20 line of cymbals strictly for heavier genres of music. When we say heavier, we mean the most brutal metal that exists. If you wanted to use them for anything other than that, you would be better off with a no-name cheap set. The kind of power MB20 cymbals bring is frighteningly good.
First thing that hints these cymbals are up to something naughty is their size. Even crash versions come in 16 inch size. If that is not jaw dropping, a whopping 24 inch ride sure ought to give you something to think about.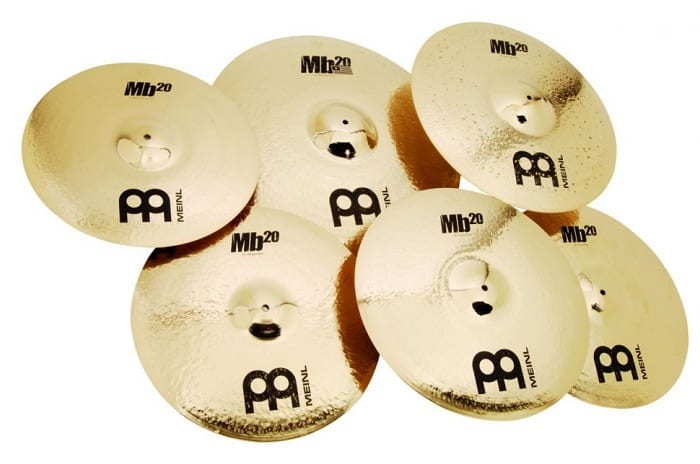 For a metal drummer, MB20 brings all the qualities one can ask for. There is tons of volume to work with, and even the gigantic ride is capable of cutting clearly through the mix with no issues. Chinas that come as part of the series are just asking to be struck hard.
That is something that can be said for the whole set. MB20 are the type of cymbals you just have to play hard, it is in their nature. Crashes really bring the heat when you are fighting against stacks of Mesa Boogie's Dual Rectifiers. They cut through that thick distortion like butter.
Hi Hat comes in form of a 14 inch Heavy Soundwave set that is surprisingly versatile. When everything is pieced together, you end up with a drum set that breaks everything and anything in its path.

  What we like
The niche application of Meinl MB20 is probably their best trait. These cymbals are not trying to be the jack of all trades, but rater offer the best possible performance tied to a very narrow scope of music genres. You could say they are a scalpel.
Sound properties of this set are hard to replicate using other cymbals on the market. The pure build quality is immediately apparent, and that is something everyone can respect. If you are a metal drummer, and you need the ultimate be all, end all set of cymbals, Meinl MB20 is the set you need to have.

  What we don't like
The complex nature of how these cymbals are made in order to achieve the quality and sound the offer, makes them vulgarly expensive. Seriously, the price tag will make you sit down and contemplate your choices for a while.
However, that is the cost of having a set of cymbals that can deliver the kind of performance MB20 can. Could they have been cheaper? Probably, but since there isn't anything quite like them on the market, Meinl is pretty much free to put whatever price tag they want to. Is it worth getting these cymbals? Absolutely yes.
In sum
Meinl MB20 are very specific cymbals that are definitely not something you want to have if you plan on playing a bunch of different genres of music. On the other hand, if metal is your primary choice, these will be the set that will give you and your band the edge most of metal fans are craving for.
[su_highlight background="#fcfa8a"]Meinl MB20 Cymbals on Amazon[/su_highlight]
Their brutal sound and unforgiving presence makes the MB20 a killer set. The price tag definitely places these cymbals into a somewhat exclusive group. You will need to put aside a decent chunk of money for if you want to have MB20s on your drum set.
Ultimately it all comes down to how far you are willing to go to get the sound you need. It is hard to put a price tag on excellence.