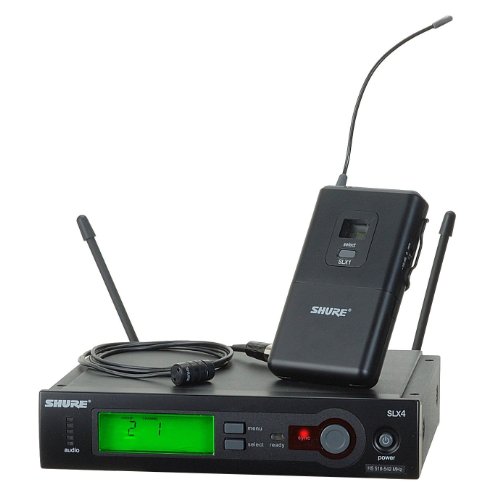 Audio wireless systems for stage use have become a pretty big piece of technology in a relatively short amount of time.
Their benefits became apparent the moment someone thought of such a technology, and has since only continued to grow. It used to be that only the professionals would have access to this type of equipment, or have enough money to get the good ones.
However, situation today has changed drastically. At this moment, you can purchase a very decent wireless system at an affordable price.
>> Check Out Current Price & Customer Reviews On Amazon <<
One of the leading models in the past several years is the Shure SLX14/85. This wireless system brings you all the features you would want from such a device, and much more at a price that is still within reach for the most of the potential user base.
Our goal today is to figure out whether or not this Shure wireless is worth your money, and does it actually do what Shure claims it can?
An Overview
Like most other wireless systems, Shure SLX14/85 is based on two main components. There is a transmitter and receiver unit. Depending on the quality of each, these can make or break a wireless combo.
The quality of a wireless system depends on its ability to provide you with a shielded signal that retains all of its quality. Shure SLX14/85 is definitely capable of that.

Features
Like we have said earlier, every wireless system depends on its two main components. In this case, we have the SLX 1 transmitter, and SLX 4 receiver. These two use UHF band to communicate, and Shure actually offers several different 24 MHz bands for you to choose from depending on where you live. The SLX 4 is capable of automatic frequency scanning and selection.
In order to provide you with the best signal possible, Shure SLX14/85 uses two 1/4 wave antennas, and selects the one which offers the most stable signal.
The front of the receiver sports a simple but effective LCD screen you can use to navigate the menus and setup the receiver. On the transmitter end of the business, we are looking at a very versatile and capable unit.
SLX 14 is powered by 2 AA batteries and has an average battery life of 8 hours. There is a nice big battery level indicator that will let you know how much juice you have left. The range on this unit is some 300 ft, which is more than enough for even larger stages. It's worth mentioning that the transmitter is automatically set up from the receiver end of the system.

Performance
Using the Shure SLX14/85 is simple and easy. There is little you have to do on your own, but once you setup everything how you want it, the receiver will take over and make any necessary adjustments.
Depending on where you are in the world, some UHF frequencies might be more saturated than others. That is why you have a choice of four different 24 MHz bands to choose from.
If you are buying the Shure SLX14/85 piece by piece, you need to remember to match the frequency bands of the receiver and the transmitter.

What we like
Very simple in nature, and very efficient in practice. That is one way to explain the Shure SLX14/85. When it comes to wireless systems, this is one of the better ones on the market. It's a great model for those who need reliable operation on a budget.

What we don't like
There isn't really much to criticize about this wireless setup. In most conditions it works flawlessly, and in other cases it will solve whatever issues it has with the UHF traffic in the area.
Conclusion
If you are interested in getting Shure SLX14/85, make sure to research whether or not using UHF band is even legal in your country, and if so, which frequencies are open for public use.
>> Check Out Current Price & Customer Reviews On Amazon <<
Once you have that information, choose the version of this wireless system which uses the UHF band you prefer. If you do everything right, you will end up with a great wireless setup you will fall in love with.