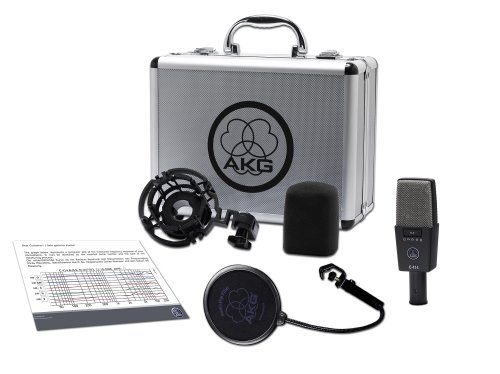 Along with few others, AKG is among the best brands in the microphone industry.
Their products range from great entry level condensers to full on professional models. Speaking of which, AKG C414 XLS is what we are here to talk about.
This microphone is has been the staple of professional voice and instrument recording for a long time. With that said, a lot of big name studios still have these in their recording booths. The reason for such trust comes from the quality it brings to the table.
Condenser microphones have always been the go to options when you needed best possible recording quality. Over time, AKG got to a point where they became an authority within the industry, which also meant that they could create some of the best microphones of this type on the market.
[su_highlight background="#fcfa8a"]AKG C414 XLS on Amazon[/su_highlight]
The legendary C414 XLS is just one of many fruits of that labor. Today we are going to talk about this microphone, and show you just what kind of performance you can expect.
An Overview
In order to make a good condenser microphone, a lot of factors need to come together. This is partially why this type of microphone is generally a lot more expensive than your regular dynamic kind. On the other hand, condenser microphones have a unique set of abilities which are a direct result of their nature and the way they work.
While you wouldn't want to use on stage, a condenser microphone is a must have piece of gear in any recording studio.

Features
First thing you'll notice about this microphone is the build quality that is just impressive. AKG C414 XLS comes in a very nice and durable enclosure with fine widely woven mesh that covers the diaphragm. The front is where you will find your pattern select switch. Aside from this control, you also have the option of choosing three different bass cut filters. These come in handy when you want to record up close without sacrificing output.
The frequency bandwidth of this mic goes from 20 Hz to 20 kHz. The electrical impedance is set at 200 ohm while the recommended load impedance maxes out at 2200 ohms. Additionally, the sensitivity is 23 mV/Pa.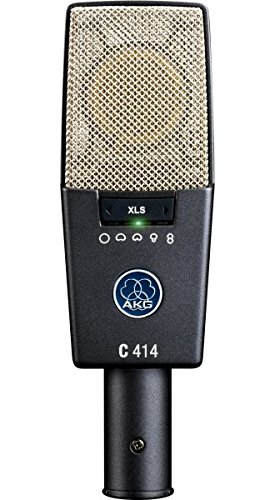 When it comes to specific features, the nine pickup patterns add a new dimension of versatility to the whole package. You can select the one that best suits your application, allowing you to get that legendary C414 performance in the best possible way. Bass cut filters are pretty flexible as well.
You can choose between three settings which include 160, 80 and 40 Hz. On top of that, there are also three attenuation pads that allow you to cut down the output by -6, -12 and -18 dB.

Performance
The core performance of AKG C414 XLS is all about transparency and pretty wide frequency response range. When you record vocals, the sound you get will be pretty neutral which allows you to hear the subtle details of a persons voice, their unique color. This is important when you later on need to master the recording and level everything out in the mix.
Its nature also makes the AKG C414 XLS a great microphone for recording acoustic instruments, even from a distance.

What we like
In all honesty, this is one of the greatest condenser microphones ever made. Its balanced performance combined with great transparency and equally great build quality make it an obvious choice for a working professional. Recording acoustic guitars has never been easier than with this microphone.

What we don't like
Its neutral nature might prove to be difficult to deal with if you are working on a more saturated mix. In other words, you will have a hard time pulling the vocals through the rest of the instruments, and giving them a character.
Conclusion
Even thought it is one of the flagship AKG models, AKG C414 XLS is a somewhat niche condenser microphone. With that said, the type of performance it was designed to deliver is exactly what made it so popular in the first place.
[su_highlight background="#fcfa8a"]AKG C414 XLS on Amazon[/su_highlight]
Having one of these in a studio is a great way to ensure stellar sound quality.