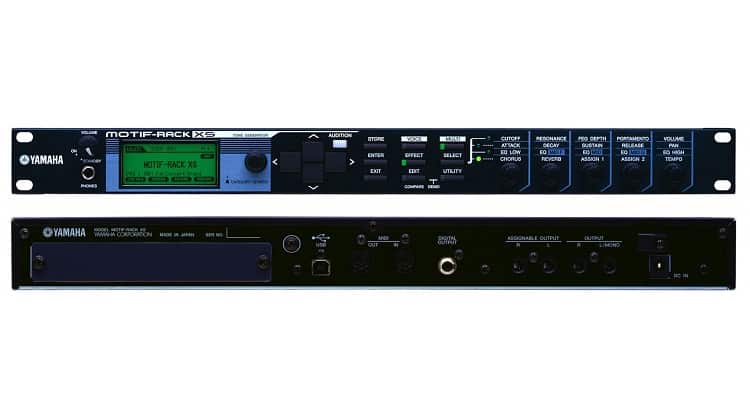 Every keyboard player, or anyone working with sound synthesis will tell you that Yamaha's foothold in the market of electronic instruments is very strong. They have been present for pretty much the whole time, going against the other leading brands in the industry.
One thing that Yamaha is still known for is affordable quality. They release a product every now and then, which combines great versatility, decent quality and reasonable price. That is how you become people's champion rather quickly.
>> Yamaha Motif XS Rack on Amazon <<
When they unleashed their XS line keyboards, this was interesting for several reasons. The keyboards were great on their own, but the new sound engine made them that much more interesting. Yamaha's Motif sound generator was more complex, and much more capable than their previous offering.
So much so that they started making a sound module just because of it. That device is called Yamaha Motif XS Rack, and today we are going to take a closer look at what it has to offer.
Overview
The point of having a module such as the Motif XS Rack is that you can access any of its features from a number of different platforms. When the only thing you have is a sound engine packed in a keyboard, you options are somewhat limited.
On the other hand, in a rack form, you can access it from any digital instrument or controller you have available, and more importantly, your computer.
This type of flexibility makes Yamaha Motif XS Rack a very useful tool to have in a studio or on stage.

  Features
Motif XS Rack comes in a very rugged case that is formed to be installed on a rack, hence the name. The front panel is where you will find all of your controls To the far left there is simple LCD screen which you use to navigate the functions of the module, while the whole section to the right of it is covered with a variety of buttons.
When you first look at it, you might be a bit overwhelmed, however it is ultimately quite intuitive to use.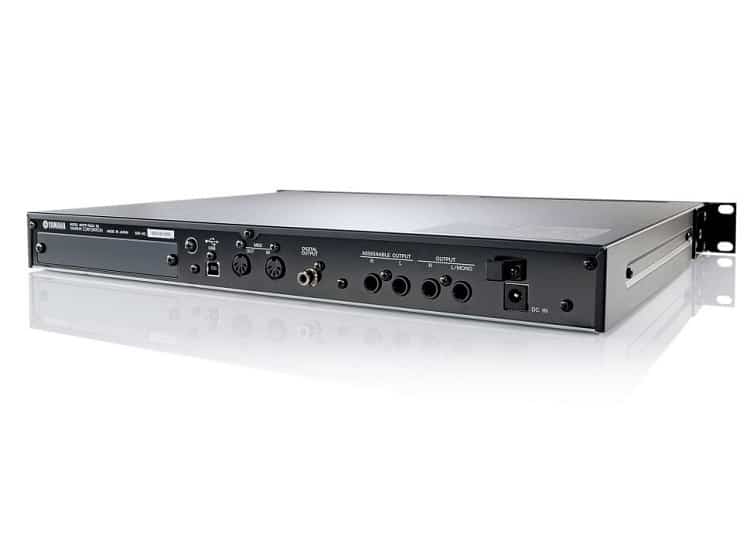 Yamaha Motif XS Rack comes with a total of 1152 voices and some 65 drum kits. This is pretty impressive on its own, but the way all of these voices were created is even more awesome. Each preset consists of several elements layered on top of each other.
This is not a new idea, but instead of having the standard devices of this kind. However, XS series offers eight layers instead of four, which gives you a lot more definition and tone complexity.
On top of that, you have many different effects, including reverb, chorus, EQ and other, which all come in a variety of forms.

  Performance
In terms of performance, Motif XS Rack is very user friendly. Compared to previous Yamaha products of this type, XS rack comes with a much more simplified user interface.
One thing that some will find missing is the ability to sample and sequence audio on the go. To do that you need to use the Rack XS editor. This means that you must have all of your material prepared before you start using the XS Rack. For the majority of users, this is fine but there are those who need a more flexible system.

  What we like
The quality and variety of voices offered by Yamaha Motif XS Rack is impressive. No matter which scale you are using to grade this module, it's going to get great marks.

  What we don't like
The only thing that we wish was done differently is the lack of sequencing and sampling options on the rack itself. Sure, you can do that in the editor, but that means you must have a computer at hand at all times.
To summarize
Yamaha Motif XS Rack is a great sound module for anyone who needs a large library of complex voices.
>> Yamaha Motif XS Rack on Amazon <<
Quality of sound is great, and this module can easily find its place in just about any studio or stage. As a matter of fact, it already did. Whether or not this is something you would be interested in depends on how much hands on control you need.
Overall, it's a great tool to have.