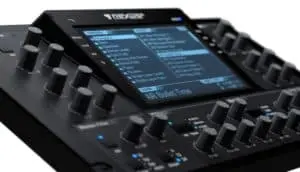 Ever since DAWs became a thing, and Steinberg invented VST plug ins, we have seen a great number of these specialized programs hit the market.
These days you can find just about any kind of plug in you can think of. Do you need a good analog synth emulator? There are dozens of those to choose from.
How about an incredibly versatile drum machine? You can find that too. In all essence VSTs changed the world of music production completely. They made it possible to record, mix master music using only your computer.
In the sea of plug ins, it was just the matter of time before some started to stand out. There are simply plug ins that have gained a legendary status among those who use them the most, and are now the go-to options that are being recommended both to new and experienced users.
One such VST is made by ReFX, a name that became synonymous with quality. The name of the VST in question is VST plugin Nexus. Once we get into features and details this piece of software has to offer, you will quickly understand what makes this plug in so great.
A Great Plugin
Nexus has been around for a while now, and can probably be found in almost any producer's plug in library. It's a very versatile product that brings tons of versatility to the table.
[su_youtube url="https://www.youtube.com/watch?v=ilvwSn0HLCc"]
Some will say it's a synth, but that is not the best way to describe Nexus. It's more of a preset library that allows you to shape the sound to a certain extent.
Features
When we say preset library, we mean that you get an abundance of high quality voices that range anywhere from gated pads to choir emulators and instrument emulators. If you are into electronic music or hip hop, Nexus is one of those tools that you just have to have.
The interface of this plug in is pretty simple and intuitive for use. The middle of the control panel is dominated by a virtual display which you use to navigate the preset library. Presets are divided into numerous folders, and each folder has a list of available presets.

On the left side of the interface you will find your Filter Modifier cluster while the right side features Amp Modifiers. Bottom row reveals Master Filter section, Delay section, Reverb section and finally Output control panel. While there are many knobs and options for sound shaping, the amount of access and freedom you are given as a user is limited.
All of these parameters allow you change and shape the basic properties of the presets you choose. If you want to go deeper than that, and play with the core samples for each preset, you are out of luck. With that said, you can still adjust the presets to fit your need with the controls that are available. For the majority of users this will be more than enough.
This lack of control is why Nexus is often times labeled as an extensive preset library rather than a synth. Speaking of which, the presets that come with your version of Nexus are not the only ones there are. ReFX, the creator of Nexus has several additional libraries that you can download and use with Nexus. There are also some third party libraries as well.
Performance
Everything about Nexus is pretty intuitive and simple. If you don't want to mess with the controls, you can just load up the preset of choice and use it with your mix. Chances of you not finding something you like are close to non existent. The library that comes with the software has more than 700 presets alone.
The delay and reverb are pretty decent, and you have certain amount of control over them which is definitely nice considering that you will want to use both of these effects. One of the best things about Nexus is its compatibility with just about any DAW.
It's easy on the resources, meaning that it won't use much of your CPU power and RAM. For such a versatile plug in, this low resource consumption impressive.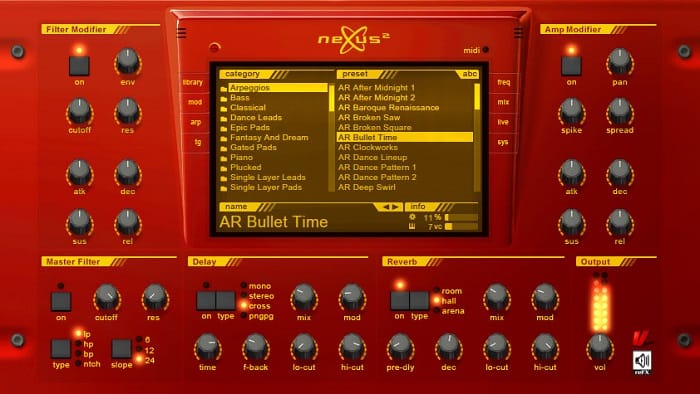 It's hard to compare Nexus to other plug ins on the market. Its presets are some of the best out there, and hardly any other plug in that emulates instruments can even come close. On the other hand, the lack of controls really limits the potential of this plug in.
The word is that ReFX chose this road because they wanted to make a great sounding plug in that is bug-free and reliable in daily use. The implementation of controls on a level we would like to see would probably complicate things to a higher extent.
In all honesty, there's more than enough plug ins out there who are riddled with bugs and problems because their creators got too ambitious. Having one that works flawlessly is a breath of fresh air.
Should you get Nexus?
If you are producing any kind of electronic music, or hip hop for that matter, we strongly recommend getting Nexus. It is a powerful tool for any producer to have. The number of presets and their quality is just impressive. You simply won't find anything as good. On the other hand, if you want full synth controls, Nexus won't be able to give you that. So in the end, it's up to you and your requirements.
By and large
ReFX Nexus is one of the most popular plug ins on the market. It's loved by both professionals and enthusiasts alike. With such an extensive preset library, it's one of the most versatile plug ins as well.
If you feel like you need more presets than Nexus has to offer, there are many aftermarket libraries that you can purchase. Some of these offer general presets, while others are more specialized for certain genres.
What really separates VST plugin Nexus from the rest of the plug ins of this type is the quality of presets it offers. That is why it's among the most recommended VSTs in the music production community.