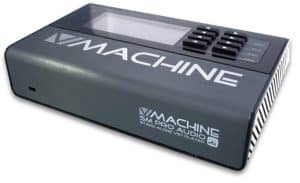 When VST/VSTi first appeared, they completely revolutionized the way we can create music. Before them you had to do a lot of work just to get the right effects for your mix.
When Steinberg announced Virtual Studio Technology, and Virtual Studio Technology Instruments back in the late '90s, they gave artists and producers a powerful tool that would allow them to emulate just about any kind of instrument they wanted. We got so used to using this software that you can hardly imagine creating music on a computer without them.
However, what about using VST and VSTi software on the road? For most people this is only possible if they have a laptop they can carry around. As you can probably imagine, this can be a pain in the rear most of the times.
>> Check Out Current Price On Amazon <<
Fortunately there is another way. Company called SM Pro Audio has designed a standalone hardware host for VST and VSTi plug ins that features a compact form factor and ease of use.
Is this device all the manufacturer claims it is?
The idea of creating a standalone VST solution is definitely nothing new. The main problem everyone who tried to pull this off encountered were the hardware requirements necessary to use VST plug ins in the first place. Let's be real, you can't run some VSTs unless you have a powerful CPU and boat loads of RAM. It's just not enough. This means that in order to create a viable standalone VST unit, you would have to take care of this very important issue.

VMachine has a 1 GHz CPU and 512 Mb of RAM. This probably doesn't sound as much to anyone who knows a thing or two about computers, but you have to keep in mind that this hardware, although limited, is tasked only with running the software from this device.
There's no OS, no DAW, or a ton of other programs that a desktop/laptop CPU needs to deal with while also running your VSTs. These specs are more than enough, both on paper and in practice. VMachine loads VSTs with little to no loading time, and you can access everything instantly.
 Build Quality
One thing every single artist or producer will appreciate is the size of this device. It's no bigger than your average book. This makes it incredibly easy to carry around on your trips. Load it up with plug ins and toss it in your carry bag, that's about as complicated as it gets with VMachine.
The case is made pretty well and features quality materials. The whole thing feels rugged, which is an attribute you would definitely want to have if you are performing on stage regularly.

  Features
Since VMachine is a device that is designed to be used in conjuncture with other devices, let's take a look at the rear I/O panel before we get into anything else. A quick glance reveals several input/output options, but also leaves a lot to be desired. On the far lest side you will find the power button along with a power port.
Next is a USB section that features a single type B and two type A ports. The former is used to connect the VMachine with your computer, while the latter two can be used to plug in your storage device or a MIDI controller has USB support.
There's a dedicated MIDI input that comes in form of a 5-pin female DIN. The next part is the biggest flaw we could find on this device. The only way you can connect instruments is using an unbalanced 1/8-inch input jack.
This kinda makes sense from a stand point of someone who wants to use this device during a live performance. But this makes it so much more complicated to use in a studio setting. Why exactly they opted for this configuration is not known. Speaking of unbalanced, the whole I/O panel is unbalanced as well.
Moving on we find left and right output ports for your speakers or recording equipment, and finally a headphones out port with a volume knob right next to it. In all honesty, if they offered 1/4-inch input for instruments, VMachine would be so much more versatile. It would make it seamlessly compatible with what you can find in just about any recording studio.
The main control panel is located on the top of the device and it features a LCD screen along with four rows of two buttons each. Buttons are used to navigate the VST library and select different options. Surprisingly, there's no select or cancel button. In order to actually load a VST, you just scroll until you highlight the one you want, and then wait for a second or so.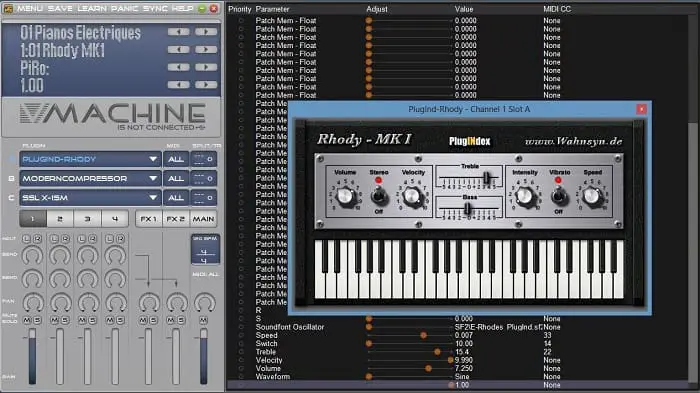 VMachine comes with VFX software that allows you to set up different VST plug ins and configure the device. The software itself is pretty intuitive, and easy to use. Once you're all done, you can use your selected plug ins by loading them to any one of four available channels.
Every channel supports a maximum of three plug ins, which means that you can run 21 plug ins at the same time.

  What we like
While it's not there quite yet, VMachine is about as good as it gets if you want a standalone VST device to carry with you on the go. It's fast, comes with great software and allows you to layer different VST plug ins.

  What we don't like
The unbalanced I/O along with a 1/8-inch audio input are probably the biggest drawbacks we can find on this device. It would also be nice to have more tactile controls, such as some faders or knobs for fine tuning the effects.
In its present form, you will probably need an additional MIDI controller if you want that kind of fidelity from this device.
Conclusion
VMachine offers a decent standalone VST experience. However this little device has a personality disorder. If the I/O panel is any indicator of purpose, this thing is designed mainly for live performance.
>> Check Out Current Price On Amazon <<
Then you take a look at main controls and you find no faders or knobs that will allow you to quickly tweak the parameters of your VSTs, which you would want to have if you perform live. Either way there's a lot of room for improvement.