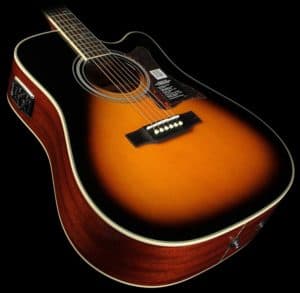 Only a decade or so ago Epiphone was still regarded as Gibson's subsidiary that was tasked with producing instruments that were more affordable than what Gibson had to offer.
The plan was to have a company that would deliver everything characteristic of Gibson guitars, except the sound, to those who wanted to have a Gibson guitar but couldn't afford one.
This way you could actually purchase a Les Paul copy that was directly licensed by Gibson, and wasn't some no name knockoff.
These days the things have changed drastically. Epiphone is slowly shedding their reputation, and building their own. Their instruments are improving in both quality and sound, which is attracting a much broader audience.
>> Check Out Price & Customer Reviews <<
This can be attributed to the fierce competition in the segment of the market for which Epiphone was made to compete. But it can also be attributed to Epiphone's own stride to become closer in quality to their parent company.
Today we'll be talking about Epiphone Masterbilt DR500MCE, a very impressive acoustic guitar that reflects this change in company policy.
An Overview
In their long history of making instruments, rarely has Epiphone struck pure gold as they did with Masterbilt DR500MCE. We are seeing a very unforgiving trend in the acoustic guitar market these days, with manufacturers offering hand crafted guitars made in North America under $700 which was unheard of until recently.
Sound Demo
Even in such a harsh climate, Epiphone's Masterbilt DR 500 MCE is holding its ground with great success.

  Features
While it's definitely not a Martin or a Taylor, Masterbilt is the guitar you would want to have when you just can't be bothered to take your vintage Martin to the gig. You can be assured that you will have almost the same fidelity of sound and quality of performance to which your Martin got you used to.
The guitar features a solid Sitka spruce top which isn't that uncommon in this price range. However, having solid mahogany body and back is quite refreshing. Even though we are looking at mid range guitars here, you will still see a lot of laminate designs that just can't match the sound of a solid wood built guitar.
The neck is a one piece mahogany design which features their Slim Taper 'D' profile. It's reasonably fast and very playable out of the box. Fretboard is standard rosewood with pearloid split diamond inlays, and is beveled along with the whole top of the guitar.
MCE designation signifies that this model has a cutaway which definitely allows you to reach those higher notes.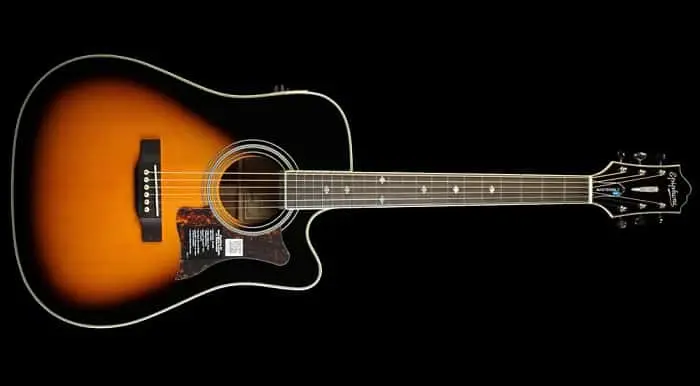 Saddle and nut are made of bone, unlike many competitors who offer synthetic materials. How much better does bone perform compared to these is up for discussion. However purists will appreciate the traditional choice of materials, that is for certain. Since this is an amplified guitar, let's take a brief look at the hardware you can expect to see on one of these.
Epiphone Masterbilt DR500MCE comes with eSonic 2 stereo pre amp that is combined with Shadow NanoMag and NanoFlex pickups. When you look at the control panel for this system, you will see an integrated tuner, dedicated EQ control for each pickup, volume knob and phase switch.
The phase switch serves as an output mute option that allows you to kill the guitar signal when you are tuning the guitar, or if you have to unplug the instrument for whatever reason. It prevents popping and other noises that may occur.
  Sound
What you can expect to hear from this Epiphone is a sound that punches way above its weight class. We were surprised by the warmth of tone that came from this guitar. There was enough definition in the whole spectrum, but not enough to make it sound clinical and sterile.
The combination of mahogany body, spruce top and cutaway dreadnought shape allows this guitar to have a respectable amount of projection and volume. We strummed a little, and it responded well while keeping up with everything we threw at it.
Finger picking is natural for DR 500 MCE, as it just delivers pure and defined tones both in high and mid range. Bass is strong with a lot of presence, and maybe is a bit muddy for our taste. However this is so subtle that you would really have to look for it to notice it.
Once plugged in, we found that eSonic Stereo preamp with its NanoMag and NanoFlex piuckups is more than capable of reproducing what this guitar is capable of doing.
The selector switch that allows you to change pickups does wonders for the shape of the sound, while the EQ controls enable to fine tune it to perfection. Epiphone took a fine acoustic guitar and made it stage-ready to a point where we wouldn't mind taking this thing on a more serious tour.

  What we like
The quality, attention to detail, and most importantly sound this guitar offers is outstanding for this price range. We were truly impressed by this Epiphone. You get top of the line electronics in a guitar that doesn't have a single laminate element in it. Sure it's not hand made, but quality is quality.

  What we don't like
There is absolutely nothing we can consider a flaw on this guitar. The only thing that could come close to a flaw is the lack of more EQ controls on the preamp panel. However the ones you do get do a perfectly fine job.
>> Check Out Price & Customer Reviews <<
Conclusion
Epiphone Masterbilt DR500MCE is one of those instruments that carries the best bang for the buck value. If you are looking for a versatile amplified acoustic guitar that you can take on a gig or just play at home, this is it.
For this amount of money you will hardly find this many features, and this kind of flexibility in one instrument.
Do not make the mistake of thinking that because it is Epiphone, that this guitar isn't a quality made instrument. Those days are officially over, and Masterbilt DR 500 MCE is the proof of that.