In the world of drums, stave design is regarded as the best possible option you can get. These drums are not cheap, but the sound they offer makes up for the higher price tag.
Just like neck-through body guitars are held at a higher standard, the stave drums are seen as the most refined version of wood available. There are many reasons why stave drums are better than regular multi-ply design. First and foremost, a lot less glue is used during manufacturing, and stave drums are made of solid pieces of wood.
Stave drums also react to stress much better, and retain their form for much longer periods of time. This design is simply superior in all aspects to the multi-ply shells.
If you're looking for a good stave snare drum,
we've selected some that we think are among the best on the market at this time.
EDITOR'S CHOICE
– Outlaw Drums Douglas Fir 14″ x 6.5″ –
Outlaw Drums is a small American based company which makes some of the finest stave drums you can find. The company was founded by Michael Outlaw, a drummer/furniture maker who stumbled across an old civil war house one day.
He asked the owner if he could get the aged wood from the house, and later used it to make the first series of Outlaw drums.
This small company offers a literal piece of Americana along with great performance and quality workmanship. The 14″x6.5″ weathered Douglas Fir snare we chose for this list is one of their most refined models.

  Features
This snare drum comes with quality chrome hardware and heavy duty appointments. The shell is stave made out of fine weathered Douglas Fir which has great acoustic properties along with incredible aesthetics.
The drum looks vintage, and has a unique texture as you drag your hand around the shell. The whole thing is very well made, with fine fitting and finish.
  Sound
Outlaw Drums stave snares are generally very responsive and have incredible projection. The highlight is on mid and lower tones, however you can definitely use this drum in any style of music.
Quality hardware allows you to dial in just about any tone you want, and Evans head and Puresound wires offer the professional experience. In all essence, Outlaw Drums are definitely unique and one of the best custom made drums you can find on the market.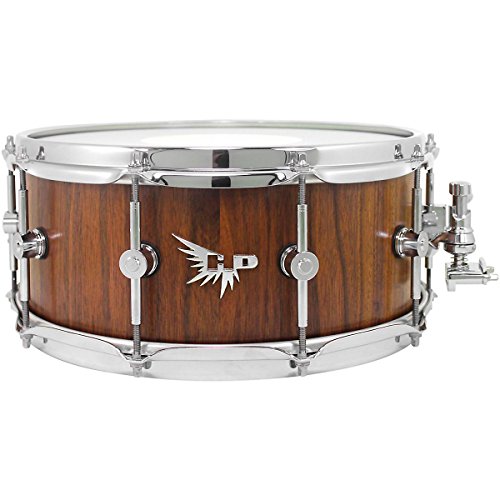 Hendrix makes some of the most versatile and resonant drums at the moment. They have a whole series of Hendrix drums that feature stave design with a unique twist.
Quality of these kits is exceptional. If you are looking to get into stave drums, Hendrix offers whole sets that are just great to play, and sound professional.

  Features
One of the more unique features of Hendrix snare drums is the profile of the wood they use. In this case its the American Black walnut stave shell that is only a quarter of an inch thick. This is thinner than most ply shells you can find.
The reason for thin stave shell comes down to lighter weight, and the fact that unstressed wood is strong enough to withstand the stress while also having a much better free resonance and lower fundamental note. This allows for a much wider tuning range.
The lugs are made of solid aluminum which doesn't impede the resonance of the wood. You get Tight Screw rods and washers which are top notch, and Hendrix even guarantees that your snare will never slip out of tune.
These also come with R7 three position throw made by Dunnett, which allows you to achieve three different snare sounds by just turning the lever. FatCat dual adjustable wires are very versatile and give you a lot of room to play with.
  Sound
Hendrix Archetype snare have a very wide tuning range. You can go pretty wild in the low, mid and high register. Sensitivity of the stave shell is impressive, especially considering it's a 1/4" thick shell.
There's a lot of projection and responsiveness, while the tone is just a joy to listen to. Really, these are about as good as it gets, and between them and the Outlaw snare we mentioned, it's hard to pick a definitive winner.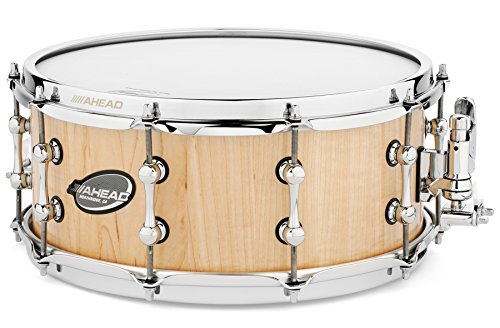 Ahead is one of those companies that manufactures a whole array of products related to drumming and drum kits. They currently offer only one model of stave snare drums which is the 14″ x 6″ Maple stave.
For a brand that isn't necessarily specialized in building drums themselves, they did a more than a decent job with this snare.

  Features
Ahead's Maple snare drum sports a very light almost unaltered maple finish. The hardware is all chrome with Dunnett R4 throw of, S-Hoop counter hoops for those beefy rim shots, and Tight Screw tension rods that are excellent as expected.
The wires are the same Fat Cat dual adjustable series that come with the Hendrix snare we mentioned earlier, and do a great job at expanding the tone range of this snare.
  Sound
For an "affordable" stave snare drum, this snare from Ahead is very snappy while delivering that super sensitive performance that any professional drummer will appreciate.
There's clarity and projection when you go at it hard, and Remo heads sound pretty good in this setup. If you don't mind the lack of a more exotic finish, this stave drum could be a good middle-of-the-road solution for you.
Taking everything into account..
Stave snares just have a completely different sound and dynamic that no ply shell could ever give you. They are not cheap, but the any stave snare drum, no matter how obscure the manufacturer, should deliver an experience no commercial ply shell can offer.
These three are just some of the ones we found to be great, especially the Outlaw Drums model. If you're looking for some cheaper snare drum options, check out this guide.