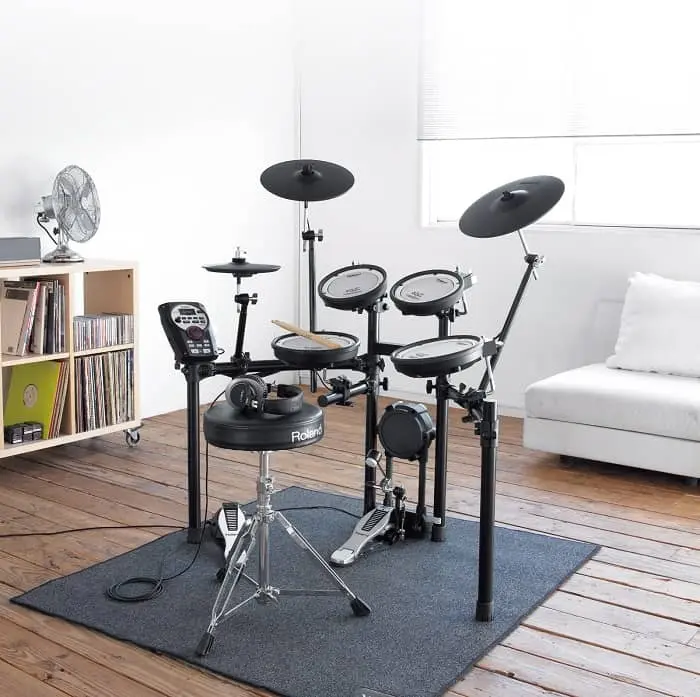 Electronic drum kits have come a long way since they were first introduced. What was once considered to be a gimmick, is a very real and reliable substitute for acoustic drums.
Nowadays, you can do just about anything with an electric drum kit, achieving almost any kind of sound you want.
>> Roland TD11KV on Amazon.com <<
Roland is one of the first companies to get on the electronic drum kit train back in the day. Since then they've become one of the industry leaders, and are currently producing a very competitive line of electronic drum kits.
Many drummers will agree that TD11KV is definitely one of the best entry level to intermediate models on the market at the moment.
Let's take a closer look and see what Roland has in store for us.
 Build Quality
Roland TD11KV electronic drum set comes with a very versatile MDS-4V framework which provides enough stability and durability. It was designed to save space, with every stand being setup in a way that leaves the smallest footprint in your room or a studio. Those of us who don't live in a mansion can really appreciate the small form factor.
[su_youtube url="https://www.youtube.com/watch?v=2RpvwXrpYIs"]
Build quality of the stands is great. They are not made of titanium, but they certainly do their job. They are somewhat modular, and built to withstand frequent assembly and take down. This is probably the most important attribute about the stands, seeing how electronic drum kits were invented to be mobile practice rigs.
Joints of the framework don't come lose even after a longer session, so you can count on your pads staying the way you set them up. Counterweight is located in the bottom part of the whole construction, and offers sufficient stability even for more aggressive playing. Don't worry if you lose yourself during practice, this Roland can take it.
Tom and snare pads come in form of very resilient mesh-head V-pads , which can take more abuse, and are made to last longer than regular pads.

  Features
As you probably noticed by now, Roland TD11KV shares the same TD-11 module with the rest of the models in this family. The module for the TD-11 KV comes with SuperNATURAL technology which aims to bring a more, you guessed it, natural sound.
The main difference between the TD-11 K and TD11KV is in all new mesh-head pads. Aside from being more resistant to wear, these pads provide a more natural feeling, like the one you would experience while playing an acoustic set.
PDX-8 and PDX-6 mesh V-pads are feature dual triggering technology, while cymbals take it a step further. both crash and ride cymbals have three triggering zones, along with choke control.
You can adjust the response of the edge, bow and bell areas to your liking. Hi-hat comes with only two triggering zones, but that is probably due to its compact size. It is also worth mentioning that all of the cymbals are balanced great, and act very naturally when hit.
The KD-9 kick pad that comes with the kit offers a very dynamic response, and accurate triggering. Along with the rest of the pads on this kit, KD-9 offers a more natural feel during playing.
The TD 11 module itself is quite easy to use, and sports a very clear layout. Using the LCD display and the signed buttons, you can navigate a very extensive and diverse sound library.
Presets that come with the kit cover most music genres well, and deliver high quality sound thanks to the SuperNATURAL sound engine. This module also offers a tonne of practice features such as on board backing songs, quick record/quick play and its own coaching feature which can help you get your basics down.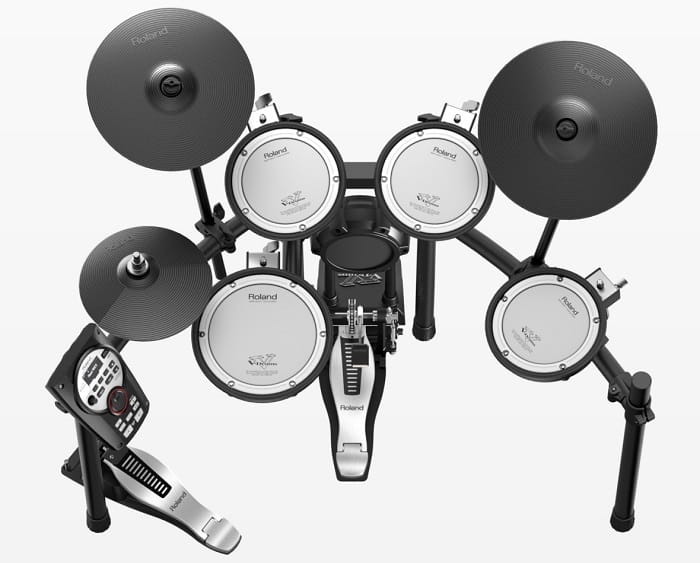 Connectivity comes in form of a USB input which you can use to connect the Roland TD-11 KV to your computer, or backup any of data should you choose to.
  Sound
This is where things get impressive for most of those who try this drum kit. Roland's combination of mesh-head V pads and cymbals with several triggering zones, the quality of their samples, and the beastly SuperNATURAL sound engine really push this drum kit to a whole new level. The fact that PDX pads allow you to play a rim shot brings the versatility of both the drum kit and its presets up a notch.
For an entry level kit, Roland TD-11 KV sounds incredible, and can go head to head with some more expensive models with ease.

  What we like
Absolute best thing about this drum kit is the quality of sound and the presence of SuperNATURAL sound engine. For the money, you just can't find a better sound while also having all the other goodies. Versatility is top notch, with multi-zoned pads and cymbals, which really add up to the whole experience.
Combined with all the other features that the TD-11 module has to offer, this Roland drum kit is a perfect choice both for the beginners and more experienced drummers who need a reliable practice rig.

  What we don't like
Just to be clear, the sensation of playing the new mesh-head pads is great, and feels more natural. However, the price you pay for this feature is a bit too high in our opinion.
When compared to Roland TD-11 K, which comes with regular pads, you have to think long and hard to justify a pretty significant price difference. For those who are on a budget, this can mean a lot.
Even with that said, we think that the biggest competition to this kit are other kits from the same family.
On the whole..
At the end of the day, Roland TD11KV is a relatively affordable electronic drum kit that is hard to beat. This set is packed with features and offers great sound.
>> Roland TD11KV on Amazon.com <<
Whether you care about natural feeling mesh-head pads is completely up to you, but we generally like the concept. For a practice set, we can only recommend the TD11KV.