Most guitar players know Peavey for their amps and supporting equipment. With that said, Peavey also made an effort to get into electric guitar market by producing several models in various categories.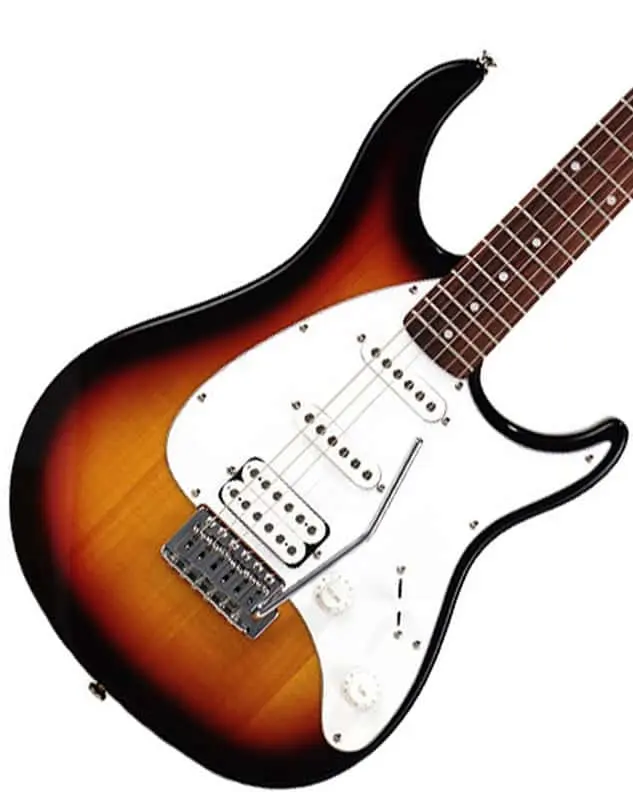 How successful they have been in this enterprise is up for discussion. However, the consensus is that some of their models are actually pretty decent guitars that are often overlooked (Especially for beginners).
Truth be told, even the beginners rarely venture out of the established brands range when they go shopping for their first guitar. Someone in that situation is going to ask their more experienced friends for advice, and more often than not, they will hear all the usual names like Squier or Epiphone.
However it's no secret that the big brands like Fender and Gibson can charge a bit more just because they're so well known. If you're willing to look into a lesser known brand like Peavey you can end up getting a better deal.
Today we're going to review one model which we feel deserves to be mentioned. That is the Peavey Raptor Plus EXP.
Last update on 2023-12-11 / Affiliate links / Images from Amazon Product Advertising API
>> Check Out Current Price & Customer Reviews On Amazon <<
Design – a very attractive choice for a first electric guitar
When you first look at the Peavey Raptor Plus EXP, you get that immediate feeling that you're looking at a Strat wannabe guitar. And sure as daylight, Peavey did choose to take advantage of the ever popular Strat design, altering it slightly to avoid any legal trouble.
[su_youtube url="https://www.youtube.com/watch?v=mfsUKBDUf6k"][su_youtube][/su_youtube]
The Peavey has the same general body shape and overall aesthetic, the only minor differences are the location of the whammy bar, location of the pickup selector and volume/tone controls, a slight difference in the pick guard shape, and a slight difference in the contouring at the bottom of the body. If you're a fan of the Stratocaster look, the Peavey is a great alternative. Additionally, the Peavey Raptor Plus EXP has a lot to offer beyond its sleek design.

Features
Neck
The body typically comes in basswood. The neck is standard maple, and comes with either a rosewood or lacquered maple fretboard. The rosewood is decent, not too smooth but very playable. The lacquered maple version is quite comfortable to play. The scale is 25.5 inches, with medium jumbo frets. So far, it's the same deal as any Squire in terms of features. The overall quality is ok, it's made to be a beginner guitar and serves that purpose very well. There are certainly better made guitars out there but they are also going to cost more. Overall, I'd probably use this over a squire.
Hardware & Electronics
The Raptor Plus EXP hardware includes a tremolo bridge and a set of average tuners. It also features a dual action torsion rod. The electronics in the raptor are actually (in our opinion) a step above what you'd typically find in budget guitars. Instead of having three single coil pickups, the Peavey Raptor Plus EXP comes with two single coils in the neck and middle position, while the bridge pickup is a humbucker. This change is actually more practical for beginners as it gives them a broader range of tonal quality they can use. The pickups are controlled by one tone knob and one volume knob, along with a 5-way pickup selector.

Performance
The performance of this guitar is something where a lot of people disagree. It's important to understand the logic of beginner guitars to really get an accurate idea of where this one falls in terms of overall value. The idea is that beginner players won't benefit from the minor differences in sound and customization that higher end materials and manufacturing can offer. Additionally, you don't need a guitar that sounds pristine if all you're doing is practicing in your room. If you compare starter guitars to high end models of course the high end models will sound better, but that's not really the point. As a beginner you can get everything you need and not spend nearly as much by using a beginner guitar. I'd rank the Peavey as a higher end beginner guitar, I think the sound and overall quality is a notch above the squire and other typical entry level guitars.
A few issues we noticed…
Let's start from the hardware. The tremolo bridge on this guitar can be an issue. That is usually the case with all budget tremolo designs. As long as you don't work the whammy bar too much, the guitar will stay in tune. However, as soon as you try to do more extensive tremolo effects, things start going out of tune.
On the headstock side of the business, the tuners are capable of holding the tune in normal conditions. Those including limited use of tremolo, and checking the tuning from time to time. Anything outside that type of use brings a lot of uncertainty. All of this may sound bad, but keep in mind that most guitars in this price range have the same issue.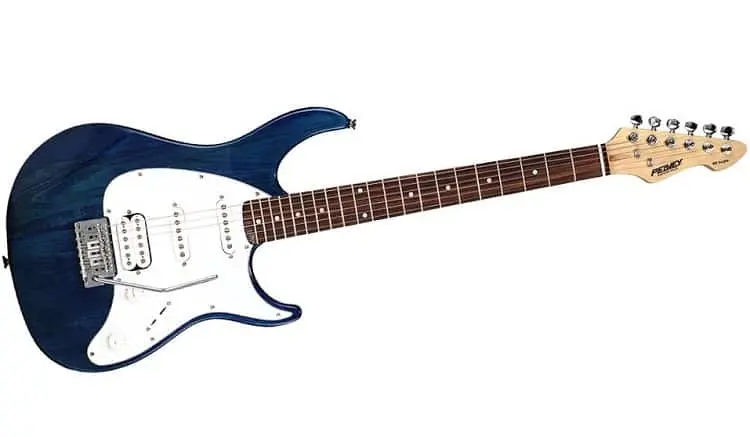 Sound
Sound is a whole different ball game. Compared to Squires in the same category, there is a relatively noticeable significant difference. That humbucker in the bridge position allows you to use heavier distortions than you otherwise would if it was a single coil pickup. With that said, this humbucker still has its limits. The tone is pretty warm, and reacts well to medium overdrive.
However, there is still a lot of hum being created by those single coils. Using this Peavey for metal or similar genres where heavy gain distortion is often used will bring limited results.
Even with all of the critiques we have given this guitar, it's still a great starter model. Would you want to use it for gigging? Definitely not, but it's more than adequate for home practice and studio practice with your band. One of the best things about Peavey Raptor Plus EXP is its price.
Compared to other Strat copies out there, it is significantly cheaper. For most beginners out there who are not willing to invest in a mid range guitar, this is a huge benefit.

What we like
When you talk about entry level guitars, you definitely need to apply a different set of standards which you will use to judge its performance and worth. On a grand scale of things, this Peavey definitely has some flaws, but it also brings offers a great value for the money you're asked to pay. At the end of the day, it's a model everyone should consider if they are limited to entry level electric guitars.

What we don't like
Like we have said before, it's hard to blast an entry level guitar for lacking performance. With that said, there is one aspect of this Peavey which we think could have been done differently. That humbucker in the bridge position doesn't add enough to the tone.
The whole point of having a humbucker in the first place is to allow the guitar to handle more saturated distortion. The one on Peavey Raptor Plus EXP doesn't seem to be capable of that. If they included a decent humbucker instead of the one found on the existing model, this guitar would have been a lot more attractive.
>> Check Out Current Price & Customer Reviews On Amazon <<
Finally, it may be concluded
Peavey Raptor Plus EXP has its benefits and its flaws. Whether or not it's a model you should consider depends largely on what genre of music you're going to play, and your willingness to trust a brand which has limited experience in making guitars.
From our point of view, this Peavey is a great guitar choice for beginners as it offers a different experience compared to the rest of Strat copies available in this price range.