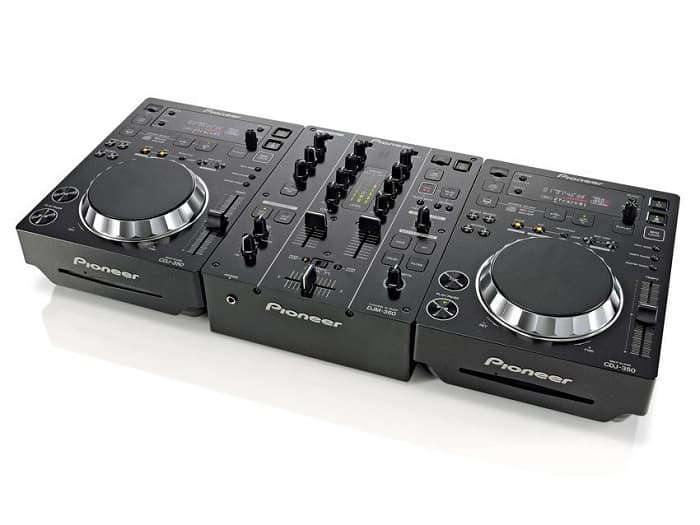 Pioneer really upped their game when it comes to DJ equipment and accessories. Their line of mixers is up there in the top with the rest of the big names.
They have also began to produce a line of more affordable devices that get the job done on the cheap. While they certainly won't bring the same level of control and quality as their flagship models, these units are definitely pushing the envelope of what is considered to be basic.
>> Pioneer CDJ350 On Amazon <<
CDJ350 is one such product from Pioneer's lineup. It's a digital DJ deck that brings a lot of flexibility to the table, especially for those who have a computer as an anchor of their setup.
Today we are going to take a closer look at this deck, and see what the deal is. Did Pioneer deliver a product of the quality they claim?
Does CDJ350 even have a place in today's market? 
Let's find out.
DJ world is slowly but surely pushing away from analogue, and turning completely to digital. Whether this is a good or a bad thing depends on who you ask. Most will tell you that analogue signal quality simply cannot be replaced, while others will swear that digital is simply superior.
[su_youtube url="https://www.youtube.com/watch?v=rrsqAfPgLZo"]
That's a topic we won't go into right now. What matters is that you now have a decent, yet cheap access to a deck that has all the core features and components one could need.

  Features
Right off the bat, we notice a relatively large jog wheel. Just like it is the case with most digital decks, you can use the jog wheel for scratching and other applications that are standard for this component.
Where really refined decks differ from products like this CDJ350 is the quality of the said jog wheel. One on this Pioneer deck didn't really instill too much confidence. It is not weighted, nor does it respond all that well to fast and precise adjustments. However, it is usable to a point where you can get used how it behaves.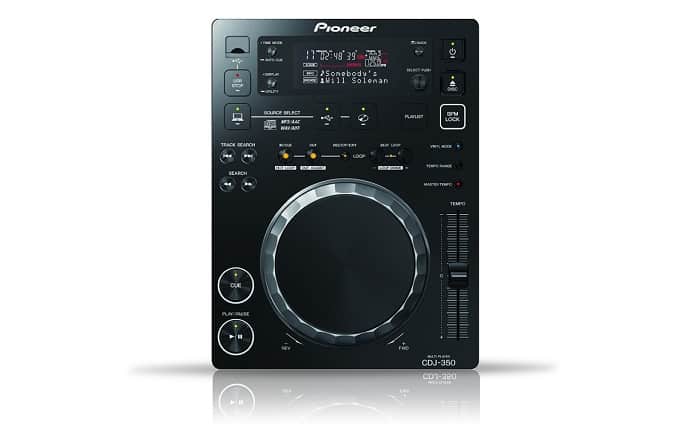 In terms of controls, you get a standard yet simplified layout. The right side of the top panel is dominated by a tempo fader that is pretty decent all things considered.
The LCD screen is intuitive and rather simple to use. With some exposure you can navigate the option almost flawlessly. The build quality is pretty decent as well. The overall theme of the case is a version of subtle brushed aluminum that we definitely like it.
Aside from the really mediocre jog wheel, the rest of the components seem to be decent.

  Performance
This is where the CDJ350 comes to life. It is packed with a multitude of features that will make any DJs life so much easier. The USB connection allows you to carry your music on a flash drive, and use it when and where ever. Things like a special stop feature have the ability to increase your efficiency.
The said feature allows you to insert and remove CD's without worrying about finding the exact time you need. Once you remove a disk from the CDJ350, it will remember where you left, and will sync up with that moment once you putt the disc in again.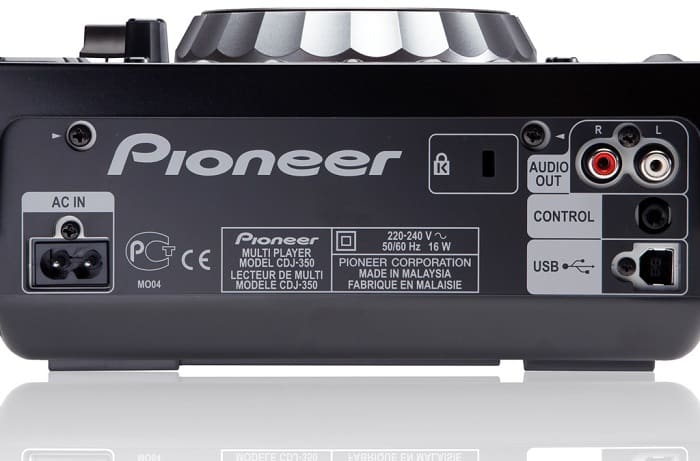 The display and the lack of advanced controls allow you to get where you need to go fast. We do have to notice that stuff like BPM matching are very useful to new users.
You can match the BPM of any two songs with a press of a button. Pretty neat in all honesty.

  What we like
One thing that makes Pioneer CDJ350 a decent deck is the fact that its versatile and comes with a great number of features, even though they can be considered basic by industry professionals.

  What we don't like
Material quality and the design of the jog wheel are the main concerned about CDJ350. Pioneer could have definitely improved the overall quality, with an emphasis on that jog wheel. It feels cheap and it gives you such a jagged feedback.
It's simply not something that be used with accuracy unless you have spend days and days working with this deck.
By and large
With everything said, Pioneer CDJ-350 is a decent deck to say the least. It's priced rather reasonably, and brings core features to the table. Get two of these, a good mixer, and you are pretty much ready to go right away.
>> Pioneer CDJ350 On Amazon <<
If you are looking for a good digital deck, this one might prove to be a good choice. Just keep in mind that this is the type of deck that you can easily over grow.
If you are not afraid of commuting to this kind of deal, with that information in hand, we wholeheartedly suggest you go for one of these.