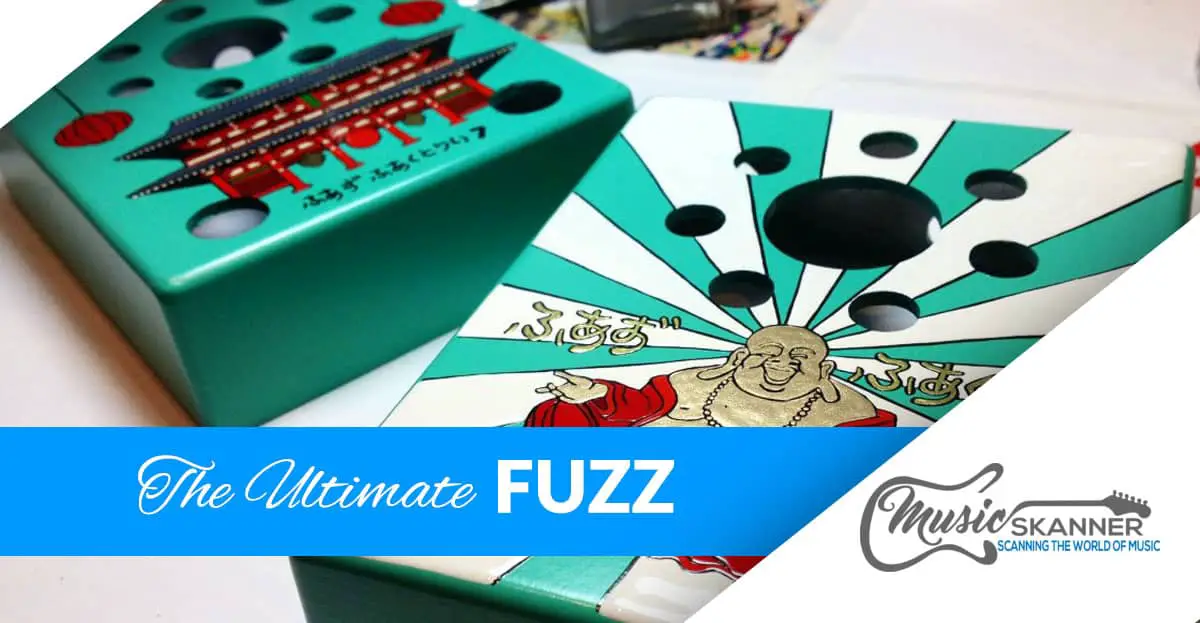 Fuzz is generally one of the most unique guitar effects you can get. They are not always cheap, but they definitely have a distinct nature that is appreciated by many around the world.
If you look deeper into these stomp boxes, you will find the age old discussion of whether to get a Germanium based one or Silicone based one. The truth is that both of these are great, but Germanium just has some properties that makes it dirty and so much more attractive.
At the end of the day, this discussion depends largely on your own taste. Some will prefer Germanium transistors, while others will gladly skip them and embrace the Silicone. If you are in the market for a good fuzz stomp box, and you prefer Germanium ones, we have combed over the market so you don't have to.
What we found three models that we feel are the best Germanium fuzz stomp boxes on the market at the moment.
Check out these bad boys and see for yourself !
EDITOR'S CHOICE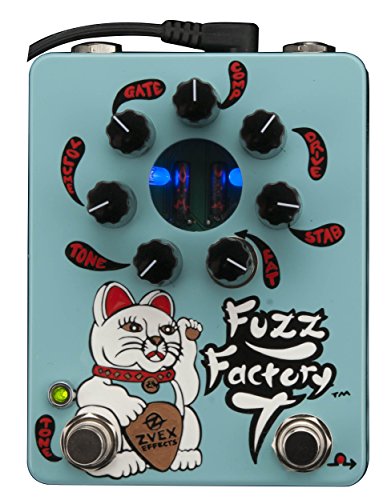 ZVex is definitely one of the biggest names in the game. They make what many consider to be the best fuzz stomp boxes on the market. The one we are going to talk about today is a limited edition Fuzz Factory 7.
Not only does this thing sound amazing, but it also looks just as good. It's not cheap by any means, but the kind of tone you get with Fuzz Factory 7 is not something you run into every day.

Features
This pretty unique stomp box comes with seven knobs that allow you to shape the sound in just about any way you want to. The level of control is impressive to say the least. You can use this pedal with guitars and bass guitars alike, in both cases you will get great results. There is also a tone stomp switch and the bypass switch as well.
  Sound
It is hard to describe exactly what this pedal sounds like due to the amount of control you have over the sound. ZVex Fuzz Factory 7 Fuzz Pedal has a huge low end that will get you some pretty dirty fuzz tones, but you can also go as thin as you want.
It is safe to say that this
fuzz box is one of the more versatile ones
you can find on the market, although this experience definitely comes with a steep price.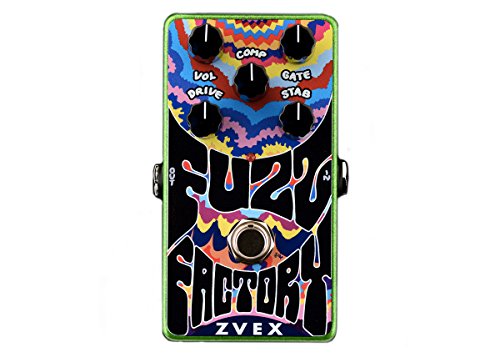 We have another ZVex model for you today. This company simply makes some pretty great fuzz effects pedals, and it would be wrong not to acknowledge that quality by including only one of their models in this list.
The ZVex Effects Vexter Fuzz Factory is a more toned down fuzz pedal compared to the Factory 7 we just showed you, however it still has a pretty decent punch.

  Features
The build quality and components used in this pedal are all of great quality. The transistors are straight from the '60s, and give you that unique warmth all of us appreciate so much.
There are five controls on this pedal plus the stomps switch. You get volume, gate, compress, drive and stab to play with and shape your tone. This pedal is probably the best value for the money.
  Sound
What the ZVex Effects Vexter Fuzz Factory allows you to do to your tone can only be described as mind blowing. You can go anywhere from a standard old school fuzz to something that is borderline experimental and anything in between.
If you want to get that sweet Jimmy Hendrix tone, you definitely can with this pedal, but you can also go into the darkest corners of fuzz there are.
Electro-Harmonix is no stranger to quality effects pedals. After all, they make some of the best in the business. Their fuzz box, the Electro-Harmonix Germanium 4 Big Muff Pi, is somewhat of a legend in its own right.
The build quality and performance are not as extreme, but they are consistent. This is something everyone can appreciate.

  Features
Germanium Big Muff Pi is basically two pedals packed into one case. The layout is divided in a way that embodies this idea as well. Left side is your overdrive effect while the right side is distortion.
Each of these comes with dedicated gain, bias, tone and volume controls while both also feature true bypass. It's intuitive to use and built like a tank. What else could you need?
  Sound
Like we mentioned earlier, Electro-Harmonix Germanium 4 Big Muff Pi is not the kind of pedal that will allow you to experiment a lot with your tone. What it does offer is quality fuzz sound that you can control within reason.
The overdrive and distortion clusters work together like a charm, and you can dial in that vintage tone with little to no effort. If you need a basic proven pedal that won't break your bank account, this Electro-Harmonix is exactly what you are looking for.
To summarize
Finding the best Germanium fuzz stomp box is not that easy. Everyone has their own taste, so not everyone's choice will be the same. The pedals we showed you give you a good cross section of what is available on the market.
The ZVex ones are pretty wild and give you a lot of room to experiment with your tone while the Electro-Harmonix gets you that reliable and iconic fuzz sound.
If price is a big factor for you, we definitely recommend this pedal. If it is not, the ZVex ones could give you that edge you are looking for.