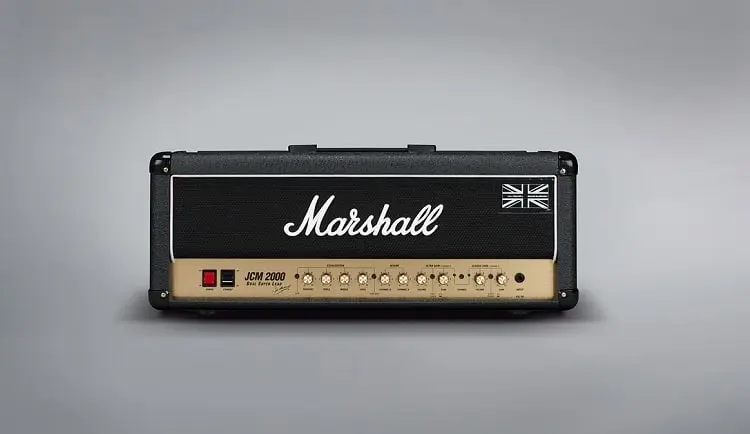 Just what kind of amps you can expect to see from Marshall is something that needs no special explanation in this Marshall JCM 2000 Review.
This company has been making some of the best amps on the market for better half of a century.
When you have that kind of experience, you are pretty much the entity others in the industry look up to.
With that said, you have probably heard about the 'Marshall sound' at least once in your life.
Anyone who plays electric guitar has. Almost every Marshall amp will have that specific sound, some more than others.One model which really shows you what Marshall sound is all about has got to be the JCM 2000 DSL.
This is one of the latest members of a very old family of legendary amplifiers which took the world like wild fire when they first appeared. If you are looking for power, definition and godly overdrive, this is the amp you are looking for.
>> Check Out Current Price & Customer Reviews On Amazon <<
The topic of our article today is going to be a quick rundown of what the Marshall JCM 2000 DSL has to offer, and which music genres it fits the best.
Quick rundown
Marshall's JCM series of amplifiers is probably among the most versatile and popular groups of amps this British based manufacturer has ever made. The scope of the JCM line was wide. Everything started with the JCM 800, a model which literally turned the amp industry upside down.
[su_youtube url="https://www.youtube.com/watch?v=aXfb9PHxqHw"][/su_youtube]
The now legendary 800 series were the first amps to introduce a separate overdrive channel, which was unheard of at the time. Marshall JCM 2000 DSL is among the latest in this family, and it brings the spirit of its predecessors almost untouched.

Features
The design of this head is exactly what you'd expect a conservative Marshall amp to look like. Black panels with bronze details and a huge Marshall logo over the front mesh have become a proven way to recognize one of these in the wild. With that said, the build quality is great. There were some reports of loose solders here and there, but those mistakes were quickly ironed out.

The core of this head are four ECC83 tubes and four EL34s. Combined they deliver 100 Watts of standard Marshall madness. This amp comes with two separate channels, both of which have additional modes. To put it into more simple terms, you have a Classic channel with a Crunch mode, and the Ultra channel with Lead 1 and Lead 2.
Each channel has their own gain and volume controls while they both share the same three-band EQ and presence controls. It's also worth mentioning that Marshall JCM 2000 DSL comes with built in reverb.
On the back side you will find your fixed impedance cab line outs, and a pentode/triode switch that allows you to attenuate the power from 100 Watts to some 50 Watts.

Although this is by no means a practice amp you want to use in a bedroom, power attenuation is makes it much easier to get those tubes working without suffering hearing loss. Paired with a good 4×12 cab, this amp is more than enough to be used in medium or even large venues. As a matter of fact, this is the type of amp you want to stack on a huge stage. Not only can it take that kind of work, it needs it.

Performance
The versatility this amp offers is impressive. Clean channel comes across as incredibly well defined, with a bit of punch and a lot of clarity. There's an abundance of trebles to work with, while the mids are accented as usual. Press the Crunch button and you are introduced to the world of balanced overdrive which only gives your cleans that slight edge.
It's perfect for blues and rock as it gives you a more vintage tone. Plug in a nice vintage Strat and you will be surprise how rich those single coils can sound.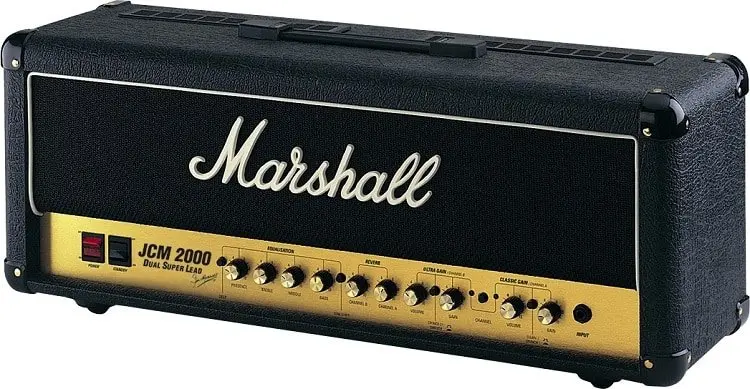 Ultra channel is a whole different story. This is where all of your saturated distortion is. Lead 1 is somewhat tame, but still offers a decent amount of gain. However, Lead 2 is where things go wild. Add a bit of gain, scoop those mids and you have a killer metal sound coming from a legit tube amp. No amount of distortion pedals can beat that kind of thunder.
The Reverb that comes with the amp is decent to say the least. It sounds organic enough to be useful in a variety of applications, but there are better aftermarket solutions available. Then again it all comes down to personal taste.
At the end of the day, the performance of the Marshall JCM 2000 DSL is exactly what this company is all about. It brings a massive tone that can be easily shaped into whatever you need it to be. With its impressive range, you have everything from crispy cleans to face melting distortion available.
The key of this amp's success hides in those options in between these opposite ends of the spectrum. Crunch and Lead 1 add so much versatility that it's not even funny anymore.

What we like
Short answer? We like every single thing about this majestic amp. The aesthetics is spot on, the build quality is incredible and the performance will have you covered no matter what genre of music you are playing.
This is the quintessential Marshall if there ever was one. Even the price is great. It's not cheap, but it's not ridiculously expensive either. Marshall simply knows how to make great amp, how to market them and finally, how to price them.

What we don't like
If we could find a flaw worth writing about, this is where you would see it. Those initial quality control mishaps with weak solders are not an issue anymore. Even back then, that problem was easily solved. Marshall JCM 2000 DSL is completely ironed out at this point in time, and it represents one of the best tube amps on the market, period.
The only people who dislike this amp are those who don't like the overall sound of any Marshall. It's hard to imagine that such individuals exist, but to each their own. With that said, if you are on the fence about this Marshall, you really shouldn't be.
This is the type of tube amp that you want to have by your side if you are performing frequently. It's built for that kind of use.
>> Check Out Current Price & Customer Reviews On Amazon <<
By and large
The story of Marshall JCM series is a great one. From an amp that completely changed the course of modern guitar amplification, to the model we were reviewing today, the history if this particular amp family is filled with pure success. To think that all of that could have easily been delayed might seem unthinkable today, but it was a real risk back then.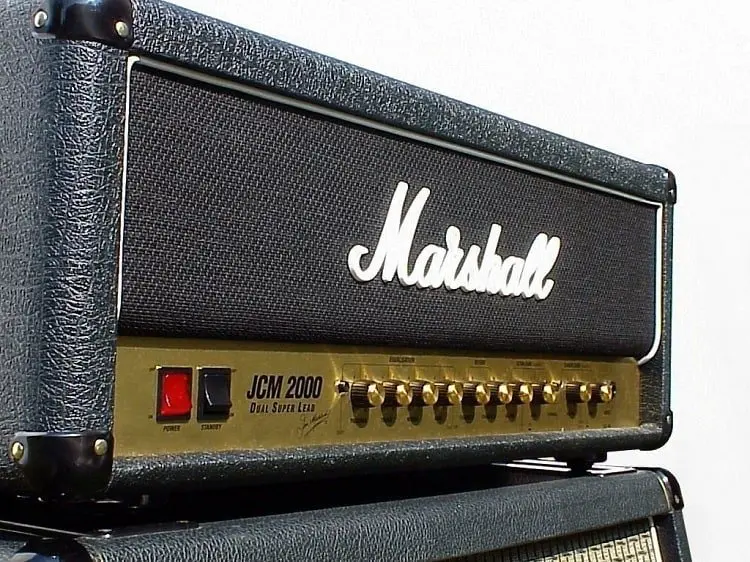 When JCM 800 Model 2210 came out with two separate channels, the purists in the community started preparing the pitchforks. Truth be told, Marshall hardly managed to keep those two channels separated. There was occasional bleed through, but the whole point was to showcase the new technology. There was an active campaign led by some critics to force Marshall to go back to single channel configuration, but thankfully Marshall persisted.
All of that history came together and we have the Marshall JCM 2000 DSL as a result. This amp is simply great. There is no other way to put it. The performance is so good yet so versatile, and all of it comes from a proper tube setup. What else can anyone ask for?
If you need a solid general purpose tube power house, this is the model that should be on top of your list. The price is perfect, and everything is more or less on point.