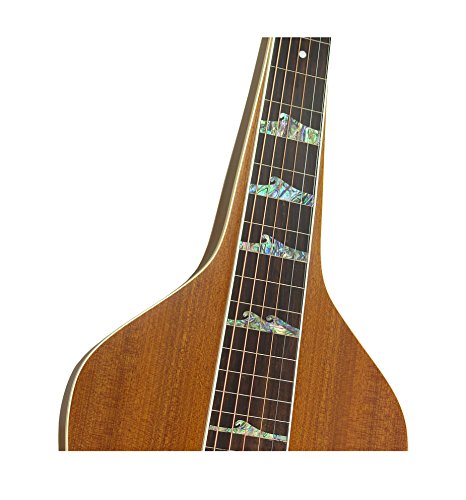 Weissenborn was one of those obscure brands which were present very shortly, but have made a serious impact on the industry.
Hermann Weissenborn owned a shop in L.A from 1920s to 1930s, where he designed a very specific type of stringed instrument. This was basically a non resonator guitar which you play on your lap.
Ever since he went out of business, his designs were adopted by other manufacturers and there is a specific type of lap steel guitar which carries his name.
>> Check out Luna Guitars Weissenborn Lap Steel <<
Luna Guitars Weissenborn Lap Steel is one model that belongs to this group of instruments. It's a mid range acoustic model that offers a great balance of performance and price. Today we are going to take a closer look at this lap steel guitar, and talk about some of its specifics.
Have a close look to this Guitar
Luna is a brand which produces a wide range of instruments. These include both regular and not so regular guitars. Their Weissenborn lap steel guitars bring the same type of decent quality this manufacturer is known for. They are not the best there is, but they offer a great mid range solution for an instrument that is not that abundant in the first place.

  Features
Luna Guitars Weissenborn Lap Steel is an acoustic instrument with a the body that resembles a standard acoustic guitar in many ways. The top is made of solid mahogany, and features white binding which follows the entire contour of the guitar. The neck is also mahogany and is a set design.
Fretboard is made of rosewood and features a 24.5″ inch scale. It is also sports the same white binding as the body. There are 19 frets on this model, and the they come with High Tide abalone inlays.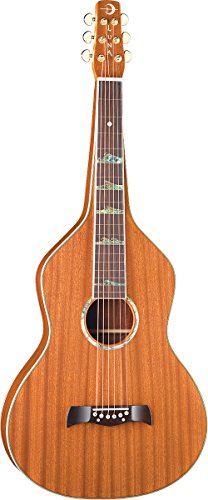 The hardware you will see on Luna Guitars Weissenborn Lap Steel guitar comes in form of an ox bone nut on one end, followed by a rosewood bridge on the other, with a nice bone saddle. Tuners are pretty standard, and do a great job of keeping the instrument in tune.

  Performance
The sound you can expect from the Luna Guitars Weissenborn Lap Steel is decent to say the least. The solid mahogany top really adds some width to the tone, and gives it a rather warm color.
Trebles are very crisp and clean, while there is enough bass to work with despite it's limited sound box. Mids are balanced, and add just the right amount of saturation. Given a decent slide, you can really get a great performance from this thing.

  What we like
Weissenborn Lap Steel style guitars are niche instruments that not many brands offer. What this translates to is a very small selection, especially in the affordable range. Luna Guitars built a very solid instrument that comes at a reasonable price.

  What we don't like
If there is anything wrong with Luna Guitars Weissenborn Lap Steel guitar, it's the overall finish. Sometimes you will get a sloppy one which wouldn't pass any reasonable quality control. This rarely has an impact on the performance, but it's still unprofessional on Luna's part.
By and large
Overall, Luna Guitars Weissenborn Lap Steel is a great mid range instrument that brings a fine balance of price and performance. It's a bit rough around the edges, but there is only so much you can expect at this price range.
What matters the most is the performance. If you are careful and install an adequate set of strings, this lap steel guitar can really sound great. Even though we definitely want to see better quality control, the core elements of this instrument are on point.
>> Check out Luna Guitars Weissenborn Lap Steel <<
In terms of practical use, Luna Guitars Weissenborn Lap Steel sits somewhere between the top of the entry level range, and the start of mid range models. There are many better guitars of this type on the market, but they also cost more. If you are looking to buy your first Weissenborn lap steel guitar, this one is a great choice.
Later on, when you develop a taste for these type of guitars, you can move on to something a bit more refined. For beginners, Luna Guitars Weissenborn Lap Steel is probably as good of a choice as you can make.