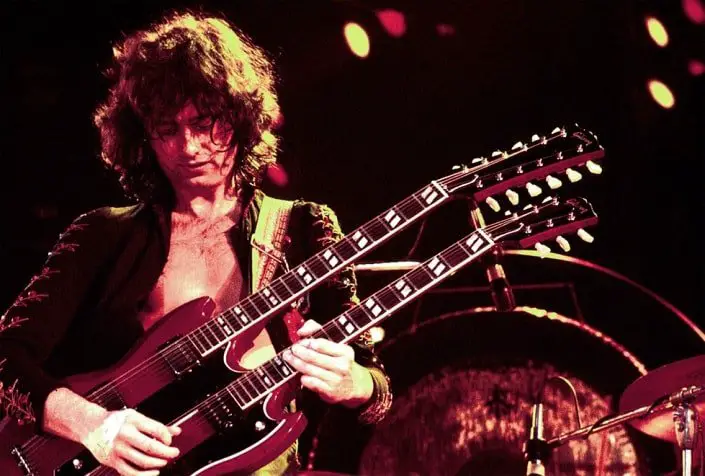 Led Zeppelin is by far one of the most influential bands in the history of rock music. They have introduced a number of new things that spawned completely new music genres.
Jimmy Page, the lead guitarist of Led Zeppelin, is still considered to be one of the most talented guitar players that ever lived.
His skill and creative potential is impressive to say the least. From the listener's point of view, this is a great thing. However, if you're trying to learn his guitar lines, things can get tricky.
One of the best tools you can use for this task is the Led Zeppelin Guitar Book. Unlike other sources that are available online, this edition is actually licensed by Led Zeppelin, and is an official publication. So if you want to get some Zepp down, this is the way to go. Let's talk about what this package brings to the table.
Book Highlight
One of the more dominant growing trends among guitar players is working on their skill alone. Music theory, and along with that reading notes comes in a distant second place. The result of this practice is a huge number of guitar players who can play even the more complex compositions, yet they can't read music.
The publishers of Led Zeppelin guitar book realized this, and made a special edition that doesn't come with music written in the standard format. Rather, you get tabs just like you would on any tab web site. The only difference here is that the tabs found in this package are 100% true to the original.
Having this feature allows even those who can't read music to learn legendary Zeppelin songs and enjoy their favorite riffs. These guitar books usually come with some sort of CD or DVD that has all the tracks singled out so you can play along with them.
Overall it's a very user friendly format to work with. New guitar players who are just starting out will find this tool amazing. When you're working with tabs backed up by play along tracks, you have everything you need to learn these songs the right way. Since tabs are much easier to figure out than sheets of music, even the newcomers will be able to start learning.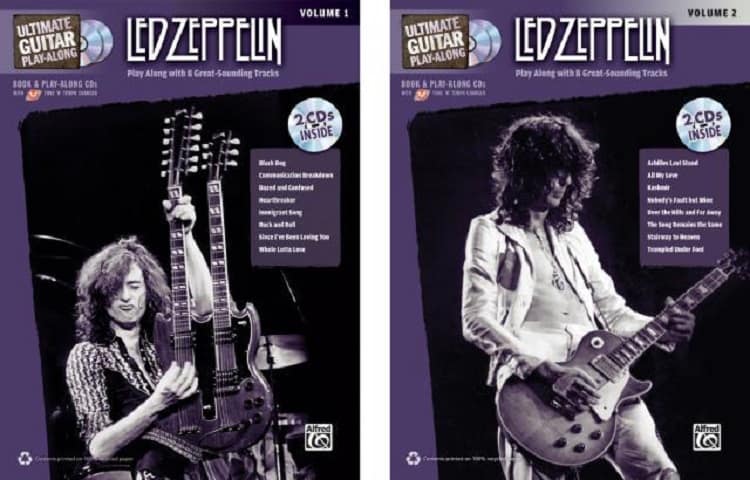 Aside from these two features, the package also contains a whole bunch of additional goodies. For example, you will a library of Led Zeppelin footage which includes various interviews and other stuff. Some of these will even come with a tempo changer.
This is a small piece of software that allows you to control the tempo of the song in a way that is most comfortable for your skill level. If you can't keep up with the backing track, just slow it down and take it from there. All things considered, it's definitely a great deal especially considering the price which is a bargain for this kind of products.
When it comes to the number of these guitar books that are available, you are looking at several volumes. Each volume will cover approximately 8 songs, and provide all the material we mentioned before. You can choose which one you like the most based on the songs that come with it, and later get another one if you wish to.
In all honesty, there is no better way to learn what Page does on each track, his every lick and improv. Of course, this applies unless you have pitch perfect hearing, and are able to do the work on your own. However, Led Zeppelin guitar book is not aimed at such advanced players. If you are a Led Zeppelin fan and you play guitar, this guitar book is definitely something you will want to check out.
Overall, it may be said..
When it comes to guitar books, this is definitely one of the more user friendly ones you can find on the market. What really sets it aside is its official status.
This guarantees that every tab is as accurate as possible, and that you're getting the real deal. Aside from Led Zeppelin, there are products of this type offered by the same publisher for different bands. You can easily learn the majority of greatest rock songs just using this tool.