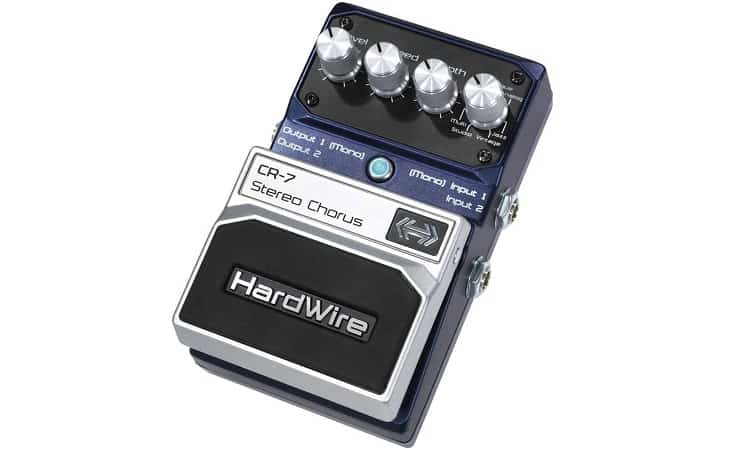 DigiTech is one of the most influential companies to ever produce guitar effects pedals. They have created some of the most legendary models that have been used by hundreds of well known guitar players around the world. 
Just think of DigiTech Whammy, and how wide spread it became. So when this brand releases a great product, it's not really all that surprising. Most of us expect nothing less. Hardwire Chorus is one of the more interesting effects pedals to come out of DigiTech recently.
>> Check Out Current Price <<
A good chorus effect can really change the nature of your music, and add a whole new dimension to your tone. However, making a chorus pedal that sounds organic is very difficult. Just look at all the models we have on the market right now, which can't deliver that quality.
Is Hardwire Chorus one of them?
Or
is it an example of how it's done correctly?
Today we are going to take a closer look at this effects pedal, and see where it stands in the grand scheme of things.
Suitable for serious use
Chorus pedals are generally one of the most complex pedals you can use in your signal chain. However, complex doesn't always mean good. Hardwire Chorus brings the type of versatility that is not only good, but suitable for serious use.
We are talking live performance and studio recording type of chorus effect that can keep up even with the purists. As you are about to find out, this particular pedal has a lot to offer to those in need of a flexible quality made chorus effect.

  Features
First thing that stands out on this pedal is the mono and stereo input found on the side of the pedal. There are four knobs on the upper portion of the top panel, including Level, Speed, Depth and Mode knob. First three are pretty self explanatory, however the fourth one is where the whole value of this pedal comes from.
DigiTech squeezed in seven different modes for you to choose from. There is Modern, Boutique, Analog, Jazz, Vintage, Studio and Multi. The level of versatility these models alone are offering is incredible.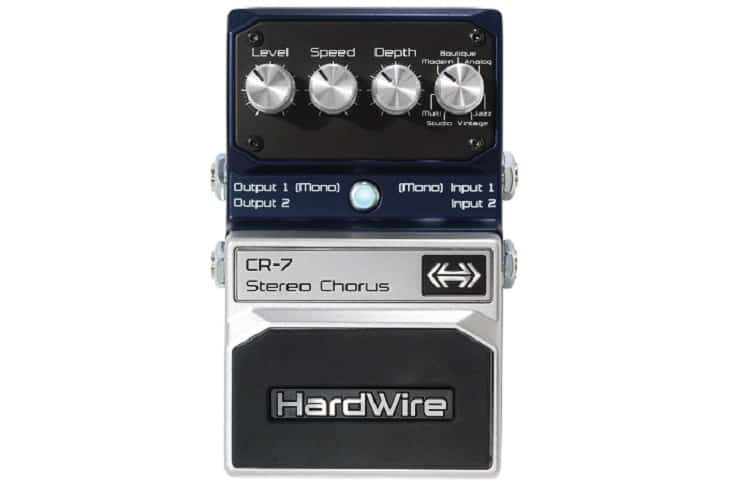 Hardwire Chorus comes with true stereo I/O and true bypass, which gives the best signal quality while the pedal is in use, and while it's not.
Quality of tone is guaranteed by the constant high voltage operation, meaning that you will have no fluctuations or any sudden changes in your sound.

  Performance
Let's talk a little about the various chorus modes that are available. Studio mode is brings the kind of quality you would need in a professional setting. Next is the Multi mode, which is basically eight layers of voices packed into one. Modern mode is a bit tighter and offers two pretty defined voices.
Boutique is has that old school vibe and a bit more warmth. Analog mode does a great job at giving you a taste of some analog goodness, which is pretty great considering analog tone is always hard to emulate.
Finally, there is Jazz mode, which is a single voice chorus with a subtle nature, and Vintage carries a bit of a heavier pitch, but it has a lot of saturation.
Overall, every single mode on this pedal is impressive to say the least. The type of tone you get only fortifies the claim that Hardwire Chorus is a professional grade chorus pedal.

  What we like
Lot's of versatility packed into a user friendly pedal that offers true bypass and true stereo input/output. How much better than that can it get?

  What we don't like
There is nothing we found that can be placed in this section of your review. Hardwire Chorus is a well rounded quality chorus effect that has enough flexibility to be used in just about any setting.
To summarize
Hardwire Chorus is by far one of the best DigiTech pedals in recent years. The type of quality this effects pedal brings is hardly matched. It belongs to the top tier chorus pedals.
>> Check Out Current Price & Customer Reviews On Amazon <<
One thing that prevents most of us from taking one of these bad boys home is the price. This thing is by no means cheap, but you definitely get what you paid for, and then some.