Yamaha is one of the few manufacturers of drums that has shown a great deal of consistency in their products.
They have a very well defined entry level, mid level and professional grade drums, and you can always know what to expect from their products.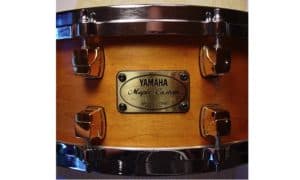 Yamaha Maple Custom Snare stands out from this order we are used to seeing in Yamaha's offer. Whether intentionally or not, Yamaha gave this snare a type of performance that punches a bit above its weight class.
What is really interesting is the nature of this snare. It is not as easily put into a defined category, which is usually the case with Yamaha's snares. This is a pretty interesting trait that many drummers actually appreciate. A bit of uncertainty is sometimes a good thing.
What we are going to do today is look deeper into the details of Yamaha Maple Custom Snare, and give you the rundown of its features and the type of performance you can expect to get from it.
Overview
Making a great snare drum requires a certain level of craftsmanship and knowledge to determine what kind of sound you want to get. When a company designs a snare that is not easily categorized, it makes a lot of heads turn its way.
What Yamaha did with this Maple Custom Snare is build a mid tier drum that has some features of a professional level snare. The best thing about the whole thing is that the price of this model is much closer to the mid range segment of the market.

  Features
The first thing we wanted to know about Yamaha Maple Custom Snare is what kind of wood was used for the shell, and which design Yamaha went with. To our surprise, this thing is made of pure maple, and it's not thin either.
This particular snare features a seven ply construction that utilizes Yamaha's Air Seal system. This is something they advertised constantly not so long ago. The whole point of this system is its ability to trap air within the drum, thus giving you more controlled sound to work with.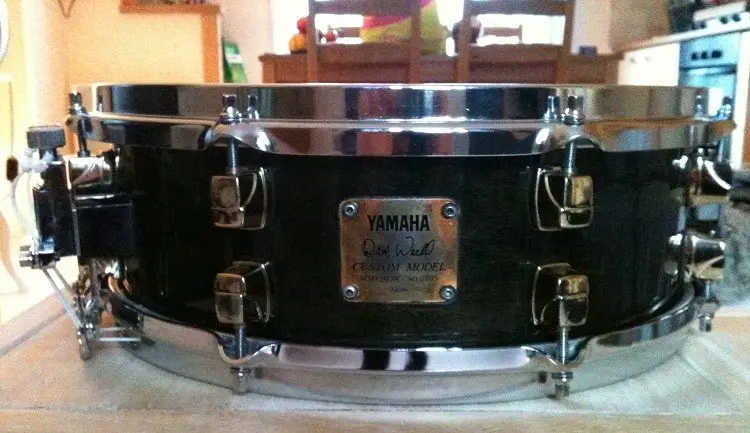 The hardware comes in form of Die Cast hoops that are your usual stuff. Lug casings are a bit specific. They belong to the Nouveau series, and are great because of their non slip nature. This means that you can easily tune the drum with less effort than you would usually have to apply.
Finally, there is a number of finishes available, which includes a variety of solid colors and a standard lacquered maple finish.

  Performance
Since no one buys snare drums to look at them, lets see what kind of performance you can expect from Yamaha Maple Custom Snare. Even with factory heads, this snare has a very refreshing tone. Everything is tight and you can get some pretty clear sounds from it.
Taking this snare through a variety of tunings yields positive results across the range. Whether you like it tight or a bit relaxed, the overall quality of sound doesn't suffer, it just changes. If you decide to change heads, you can only get better results. A proper set of heads can do wonders on this snare.

  What we like
High quality full maple design makes this one very competitive snare drum. Considering the price and the performance it offers, it's really a great choice for any drummer.

  What we don't like
The only thing that is a bit annoying about Yamaha Maple Custom Snare is the fact that you have to take the whole casing off the drum when you change heads. This is because of the unique lug design. However, it's just an annoyance and nothing more.
By and large
At the end of the day, Yamaha Maple Custom Snare is a very capable model that brings some pretty advanced features for its class. Full maple construction gives it a very nice color, and Yamaha's Air Seal technology definitely only improves that experience.
If you are looking for a great snare that is a bit different from what is generally available in this category, Yamaha Maple Custom Snare is definitely something you might want to check out. If you're looking for snares on a budget, check out this guide.