As soon as effects pedals became a thing, they completely changed the world of guitars forever.
What was once a pretty linear instrument has now become a multidimensional artifact that can create a whole range of new tones and fuse others in a way that was not possible. No, not imaginable.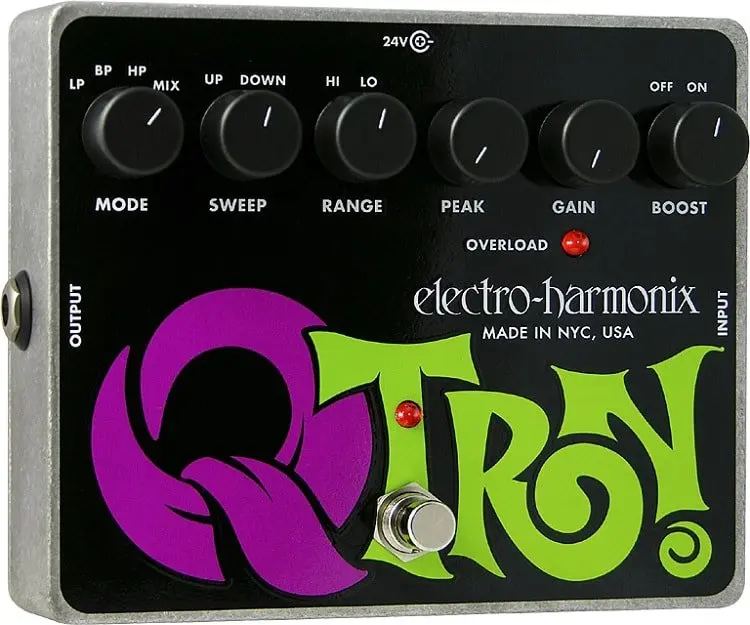 Can you imagine what Robert Johnson would have to say to an average guitarist's setup?
Anyways, one company that has been there since the beginning is none other than Electro-Harmonix. They have proven to us more than once that they are simply masters of guitar tone.
>> Electro-Harmonix Q Tron – Check it on Amazon <<
Their range of effects pedals is pretty wide, but there are some models which are more interesting than others. The one that caught our eye is Electro-Harmonix Q Tron envelope filter. This thing is amazing.
The way it can impact your signal can create some of the funkiest vibes you can imagine. Whether you play bass or electric guitar, Q Tron is one of the rare pedals which can give you hours upon hours of fun.
Naturally, if you play funk or pop, having this in your pedalboard is pretty much a requirement at this point.
Let's see what this bad boy has to offer
A lot of people may think they are not familiar with the nature of a an envelope filter, but chances are that is not true. If you ever heard a Wah pedal, you pretty much have an idea of what this effect does. In theory, an envelope filter cuts of certain portions of the signal's frequency range, thus accentuating either trebles or bass frequencies in a wave pattern.
[su_youtube url="https://www.youtube.com/watch?v=bfk_fPmuFdY"][su_youtube][/su_youtube]
The only major difference between an envelope filter pedal and a Wah pedal is that the former is automatic while the latter needs manual input. With that said, envelope filters come with additional features as well. Speaking of which.

  Features
Just like most other Electro-Harmonix pedals, Q Tron comes in that standard metal case which is by all means almost indestructible. The graphic on the top panel is also typical wacky design we are used to seeing from this company. One of the best things about Electro-Harmonix products is their simple and intuitive layout.
If you've used one of their effects pedals, you will know your way around just about any other pedal from their offer. For a auto-wah pedal, Electro-Harmonix Q Tron comes with a lot of controls. In other words, you have a lot of maneuvering space to work with.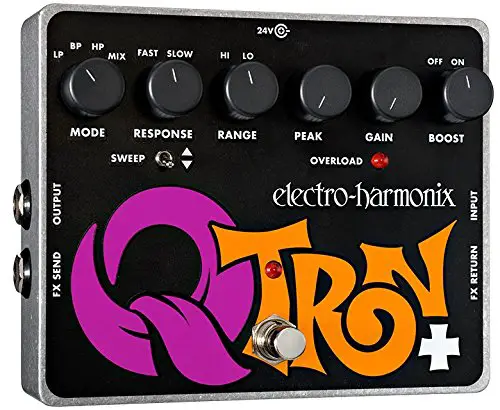 Starting from the most basic, but very important features, Q Tron comes with true bypass. For an effect pedal that seriously impacts the signal, true bypass is a must. In terms of frequency manipulation, you have high pass, band pass, and low pass filters. On top of that you can control the sweep by choosing its direction.
Following the same pattern, Electro-Harmonix also designed two frequency response modes – Hi and Lo. Aside from these three controls, you have your standard peak and gain. Finally, there's a boost knob.

  Performance
There is a reason why huge number of artists like to use Electro-Harmonix Q Tron as a part of their everyday setup. Auto wahs can sometimes be too artificial. Even though that is partially the nature of this effect, some dose of organic sound is still necessary.
Electro-Harmonix Q Tron is a champion of delivering natural sounding wah sweeps. Once you tune in the right frequency, you can play for hours without feeling fatigue from this pedal.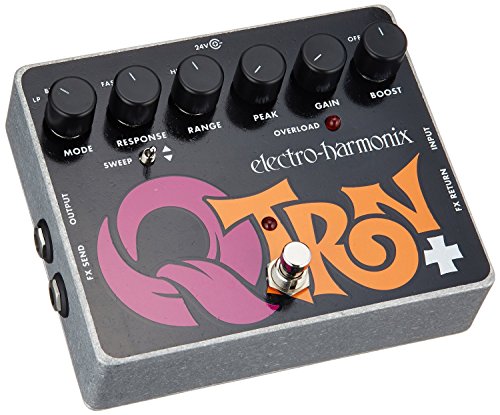 For some reason, Electro-Harmonix Q Tron works really well with bass guitars. Even though the range of a bass guitar is much deeper than your usual electric guitar, Q Tron has no issues going that low.
The result is a nice funky effect that adds a whole new layer of complexity to an otherwise average bass line.

  What we like
Electro-Harmonix keeps delivering some of the best effects pedals on the market. That is simply a fact. Their Q Tron envelope filter spread like wildfire in a very short period of time. The type of sound it delivers, and how natural it is can be compared to a very few pedals of this type.
It's not the cheapest envelope filter on the market, but it's definitely worth every single penny you are asked to pay for it. This is the type of pedal you are not sure you need, but won't be able to drop once you try it for the first time.

  What we don't like
Electro-Harmonix Q Tron entered the market with very few flaws to start with. Main things people had issues with mostly came down to lack of some valuable features. However, that was later solved with the updated versions of this pedal.
The one we are reviewing today is the original, and even in that format the pedal is still one of the best in its category. Successors which came afterward only improved this already great image by delivering more features and overall better performance.
All things considered..
There are generally two types of guitar players out there – those who prefer manual wah, and those who like the auto version. The main argument the skeptics are rallying behind is the lack of control when using auto wahs.
Electro-Harmonix Q Tron somewhat dispels that concern, even thought there's no expression pedal to work with. Building a good wah is difficult, but building an auto wah that can be used in just about any situation is even harder.
>> Electro-Harmonix Q Tron – Check it on Amazon <<
This is the type of effects pedal that will get the job done no matter what type of music you are playing, or what type of guitar you plugged into it. Electric or bass, Q Tron will deliver on point. If you play a lot of funk or pop music, this pedal alone can completely elevate the quality of your music.
Not only that, but you will have much more creative freedom to create various cool sections which wouldn't be possible otherwise.
If you are on the fence about Electro-Harmonix Q Tron, you shouldn't be. It's a great pedal.