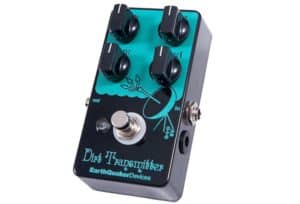 Ever since guitar effects pedals first appeared, guitar players around the world were presented with more and more choices as years went by.
It all started with several rather crude effects, only to blow up into a fully saturated market we have today. Fuzz is one of the oldest effects you can get.
Many compare it to overdrive, but it's just not in the same category at all. There are way more OD and distortion pedals out there, than there are fuzz boxes, however this old effect is coming back slowly.
>> Check Current price on Amazon <<
Today we want to take a look at one of the most underrated fuzz pedals that not many people know about. Earthquaker Devices Dirt Transmitter took fuzz effect and changed it a bit. This change is not bad, on the contrary.
This fuzz box has a lot of character, which can't be said about most of its cookie cutter competition that is flooding the market these days. Let's take a closer look and see what this pedal has to offer.
Hand crafted Pedals
Earthquaker Devices is a small company that designs various guitar effects pedals. They are mostly focused on modulation pedals and similar effects, but they have a pretty solid line of overdrives, and of course fuzz pedals.
[su_youtube url="https://www.youtube.com/watch?v=oGmtNYJxe6g"][su_youtube][/su_youtube]
The best thing about this shop from Akron, Ohio, is that they make most of their pedals by hand. The same goes for the Earthquaker Devices Dirt Transmitter. This thing is hand crafted in small batches. Right off the bat this should tell you what kind of quality you are dealing with here.

Features
The overall design of the pedal is very simple. The case is compact, and is made of high quality steel. It's a stomp box first and foremost, so it needs to be able to take whatever abuse you can dish out.
Earthquaker Devices knows this, and are creating rugged pedal cases to meet these standards. Color theme is black with dark green graphic that also marks the control cluster. Speaking of which, you have four knobs at your disposal.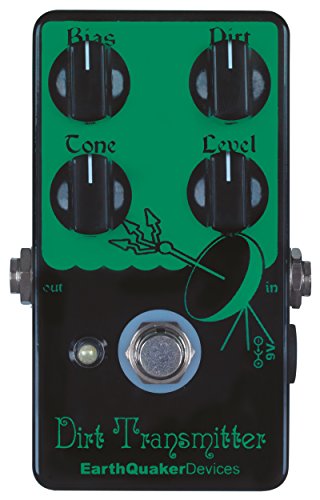 Fuzz knob allows you to control the amount of distortion you want in your signal, clockwise for more, counter clockwise for less fuzz. Tone knob is an EQ of sorts, giving you more crispier trebles on one and, and warmer tones on the other. Level is your standard level control.
The last knob, the Bias, is where things get interesting. Bias directly controls the voltage being fed to the silicon-based transistor. More Bias gives you a traditional fuzz effect, while reducing the Bias levels goes into a more modern fuzz territory. Additionally, Earthquaker Devices Dirt Transmitter has true bypass.

Performance
That Bias feature we just talked about gives this pedal a lot of range. If you prefer the regular proven fuzz tone, adjusting the Bias will get you that. Quality of tone is remarkable, however that is to be expected from a hand crafted effects pedal that has decent circuitry.
Once you want to switch things up a bit, just turn the Bias knob counterclockwise and you will get a more modern fuzz that saturated and sounds gated.

What we like
Great build quality and a lot of range in one pedal. Earthquaker Devices Dirt Transmitter is really an underrated fuzz box that has a lot to offer, even to more conservative guitar players.

What we don't like
Everything about this pedal is rather great. It's clean, works great and the quality of tone is exactly what you would want from a custom shop fuzz box.
To sum up
All things considered, Earthquaker Devices Dirt Transmitter is definitely among the more interesting fuzz pedals on the market. It offers that standard fuzz experience, but it is also capable of producing a more modern sound. That kind of versatility packed into a high quality pedal is something you rarely see these days.
>> Check out Prices & Reviews on Amazon <<
If you need a fuzz pedal that is different, but also want to have a more conservative sound when ever you feel like using it, Earthquaker Devices Dirt Transmitter is probably something you will want to check out.
There are many fuzz pedals on the market, but this one is a bit different, and different in this case is just what we need.