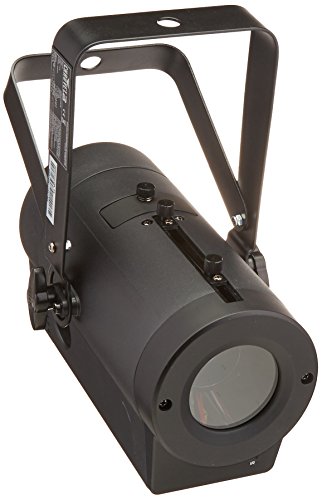 Chauvet is one of those companies that deliver a lot of great mid range products for those who need a reliable lighting system on a budget.
They also have some professional grade light effects in offer, but most of their customers are budget users who need to get the job done in a efficient and reliable way.
[su_highlight background="#fcfa8a"]Chauvet Gobo Zoom[/su_highlight] is a very lightweight gobo unit that can spice up the venue with its impressive gobos. The best thing about this device is that you can use your own gobo designs.
Gobos are generally not that versatile by nature, however Chauvet definitely went a step further with this model and delivered a great performer for a reasonable price. Our mission today is to scratch the surface and see just how capable this thing is. Did Chauvet really produce another great budget system, or is this Gobo Zoom just your average unit?
An Overview
Gobos are generally among the simplest light effects you can get. This is partially why most hobby level enthusiasts love them, but pros tend to avoid them. In essence, a gobo is just a very strong projector that uses small strips of printed film to project various designs.
As you can probably guess, you can print just about anything you want on those film strips and use them with the projector. A good gobo effect will allow you to rotate, zoom in, and focus the graphic you are projecting. So how does Chauvet Gobo Zoom compare to all these requirements?

Features
The answer to the question we asked above is, great. What we see here is a very light weight gobo system that packs a 25 Watt LED capable of lasting for some 50,000 hours in total. The color of the LED is cool white, which is probably the optimal choice when you need to cut through other light effects in a venue.
You can link up to 13 of these units together for a complex show. Zoom angle available is from 17 to 28 degrees, which is enough for most spaces. Chauvet Gobo Zoom offers two separate DMX channels and comes with three-pin XLR connectors for expansion.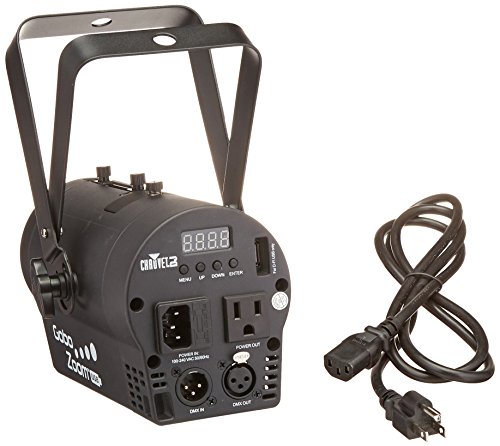 The LED provided with the unit is pretty powerful, We are talking some 3,000 lux at two meters and 17 degrees of angle. Chauvet Gobo Zoom allows you to control dimmer, direction and rotation. The zoom is manual, although you can access pretty much everything else using a IRC-6 remote. Finally, this unit comes with ten wedding themed designs.

Performance
Compared to your standard gobos, Chauvet Gobo Zoom brings a bit more versatility and flexibility to the table. The core performance is great and you can rely on this unit to get you through whatever event you are working in.
However, when you consider the remote control option, various features we already mentioned, and the ability to link multiple units together, Chauvet Gobo Zoom becomes a great tool for any light tech.

What we like
When it comes to gobos, keeping things simple is usually the best way to go. Although Chauvet Gobo Zoom comes with a bunch of great features, the core performance is still based on a projector and a strip of film. Not only is this configuration reliable, but it's also very easy to use.

What we don't like
With all the good things we found about this model, that manual zoom can sometimes be an issue. If you are building a serious setup, chances are the gobos will be mounted on the ceiling. Once you mount them up there, you will have a pretty hard time at adjusting the focus or any other manual parameters
Conclusion
All in all, Chauvet Gobo Zoom is one of the best light effects of this type on the market. Especially if we are talking about the affordable range. It brings the performance that meets most professional requirements, and definitely exceeds the those of lighting enthusiasts.
With some imagination, you can create a very dynamic atmospheres with one or more Chauvet Gobo Zoom units. Finally, the price is just perfect. It's not too cheap but it's not expensive either. Overall it's another well balanced product from Chauvet.