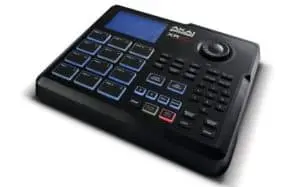 Drum machines are something that is generally regarded as antique by modern standards. The technology has advanced to a point where you can generate all kinds of drum beats on your computer, either by typing out the drum, or by using a controller of some kind to activate the samples in real time.
Akai decided to deliver a standalone drum machine even though the market for these type of devices is long gone. To everyone's surprise, they actually had a decent amount of success.
The reason for this is the fact that Akai catered their XR20 drum machine to a specific genre of music.
>> Check Out Current Price & Customer Reviews On Amazon <<
Hip hop almost completely depends on drum samples. They are a very large part of creating good beats. Hip hop producers are a rare group that still appreciates a capable drum machine. Let's take a look at what the XR20 has to offer.
An Overview
When it comes to its appearance and overall layout, Akai XR20 looks exactly how you would imagine a drum machine looks. The top panel is where all the controls are, and the layout is quite familiar.
[su_youtube url="https://www.youtube.com/watch?v=TrJcNkkEiQM"]
There are 12 pads located below a sizable display, and a whole array of specific controls to the right which include a data entry wheel.

  Features
The case is pretty rugged, and looks like it could stand hours upon hours of constant use. This kind of build quality applies to all the buttons and controls as well. The pads are pretty solid, featuring a decent combination of softness and stiffness that makes them comfortable to use.
Everything is pretty much intuitive and you won't have problems adjusting the tempo or navigating different options during a live performance.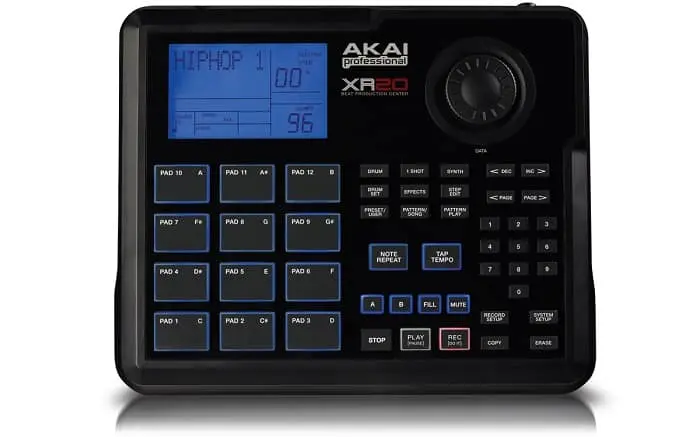 Interestingly enough, XR20 comes with a microphone input and a single speaker.
This apparently allows you to perform live using only this drum machine. However, considering how there are no dedicated microphone controls, we can't really see how that would be a practical solution to anything.
On the rear panel you will find your I/O cluster. First in line is the main volume knob, which we think is oddly placed but it doesn't impede the use of the device. The output section is next with AUX L/R, Main Left, Main Right and Headphones ports. Next is a microphone input followed by MIDI in and out. Finally, you have two ports for footswitches, a power supply port and an on/off button.
Akai XR20 offers over 700 different sound samples. The device comes with 99 factory presets, and 99 slots for your own patterns. The sample quality is actually pretty impressive. All of the sounds were designed and produced by Chronic Music.

  Performance
In terms of performance, the XR20 comes to light when you use it live. The pad grid allows you to activate certain sound samples, or factory patterns as a whole. Being illuminated, they are not hard to distinguish in dark environments. On the same note, the LCD display is well laid out, and considerably speeds up the navigation between different parameters.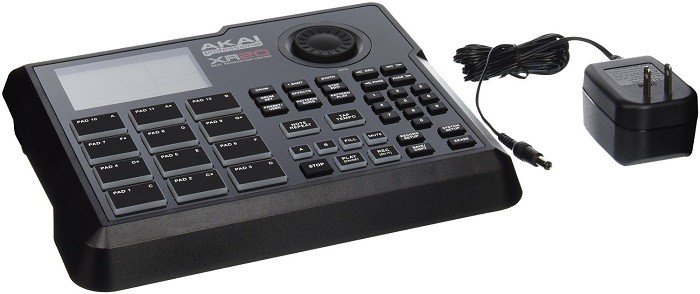 All in all it's really easy to lay down a beat using XR20. Much easier than it is to create one on a computer. It's fast and portable to a point where it's easier to just bring it with you and work on the spot than it is to prepare the whole beat and record on a medium of some sort.

  What we like
If you are a hip hop producer, this drum machine is an effective force multiplier. Akai XR20 is easy to use, and comes with all the features necessary to create beats on the fly. Even though you might think that drum machines are outdated by now, this one will prove to you that is not the case.

  What we don't like
It's really hard to judge a niche product such as this one. You can't even compare it to other drum machines since it was not created to work with many different genres of music. This is a hip hop drum machine, and as such we can't really find any significant flaws.
On the whole
Akai XR20 is a very interesting device. Drum machines are all but dead, but this one definitely proves that they can still be useful. Many were confused by Akai's decision to create such a device, but we definitely see where they are coming from.
>> Check Out Current Price & Customer Reviews On Amazon <<
XR20 is a great tool for those who need to make beats on the fly.