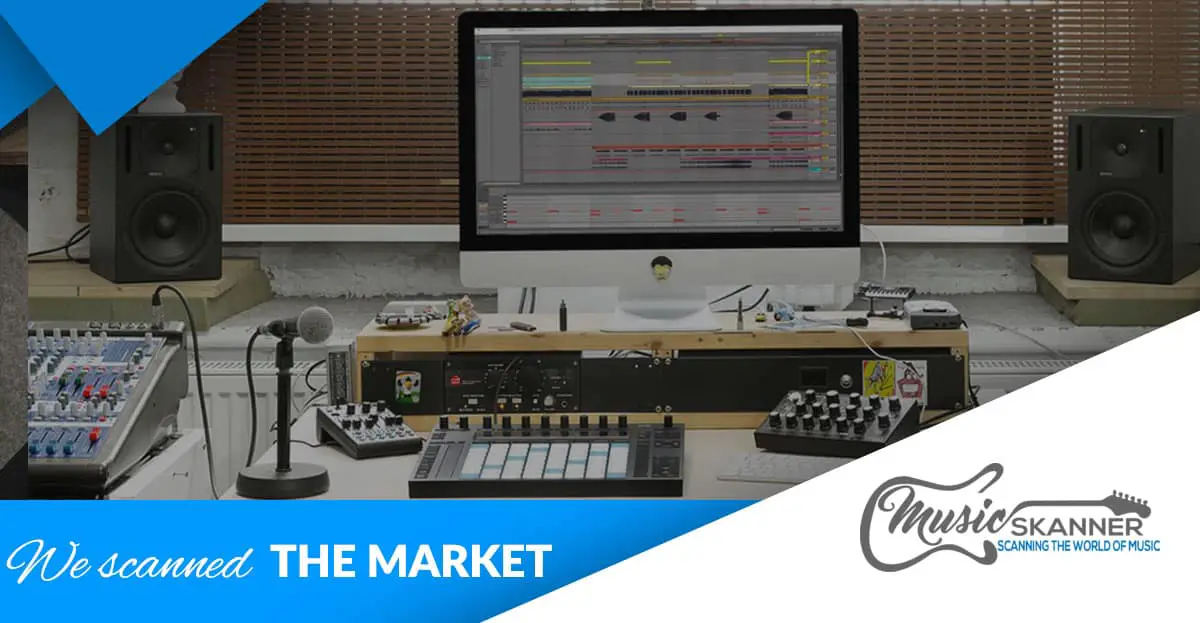 Ever since MIDI became a thing in the '80s, opening the possibility for all kinds of music software to be created, we've seen a lot of Digital Audio Workstations appear. Some of them never broke through, but others became legendary almost in an instant. When it comes to electronic music,
Ableton Live is probably one of the most popular DAWs on the market. It has plenty of unique features that producers simply love. However, Ableton Live is special for one more reason. It's probably the first DAW to have a line of dedicated hardware.
If you're looking for a MIDI controller for Ableton Live, you will see some of these devices. We scanned the market trying to find the best MIDI controller for Ableton, and we have found several that fit this description perfectly.
We scanned the market – Check out our picks
EDITOR'S CHOICE
We might as well start this list with a controller made in house by Ableton. Ableton Push 2 designed to offer best compatibility with Ableton Live, and give the user a custom tailored experience.
There is hardly a more practical MIDI controller on the market that is compatible with Ableton than the Push 2. Only issue is that this piece of hardware comes with a pretty high price tag. But, if you don't want to compromise, this is the controller to get.

  Features
If you are familiar with the original Push, than this new evolution of that model won't be strange. Everything is pretty much the same in terms of features, only this time it's packed in a much more refined package.
The case is pretty sleek and all of the buttons are low profile, and really well made. You can actually feel the quality of each button as you touch them. Definitely something to appreciate considering you will be using those very same buttons a lot.
Using the controller is very intuitive, thanks to the simple but effective layout. It allows you to work with all your samples and VSTs, and the touch sensitive rotary encoders with accompanying LCD make the task of browsing your libraries very easy.

  Performance
This thing just feels so natural when used with Ableton Live. You can look at it as a dedicated hardware extension that compliments the software in all aspects.
You can customize the 8×8 pad grid by assigning different colors, which makes working with this controller so much easier. They also have a much better response compared to those found on the original Push.
Playing live with this thing is a breeze. Everything is easily accessible, and the pads are designed in a way that allows you to be precise when actually playing live. If you want a flexible but efficient MIDI controller, Ableton Push 2 is a great choice.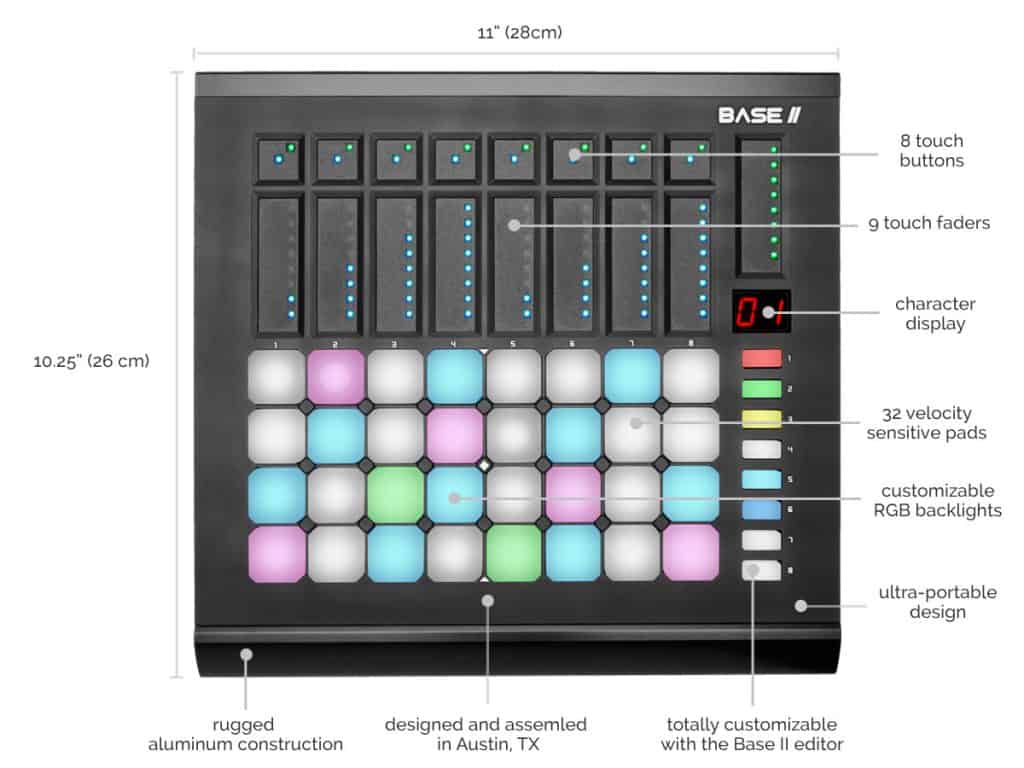 Base II is a compact and very simple MIDI controller that wasn't necessarily made for Ableton alone, but when you spend some time playing with it, you will see that Ableton was definitely something the designers had in mind when they built this device.
It's not as complex as the Push 2 we just reviewed but Base II is definitely up there when it comes to Ableton specific MIDI controllers.

  Features
Base II comes offering a very simple but effective layout. There are 32 back lit trigger pads available, along with nine touch strip controllers. Aside from these, you also have eight touch buttons. It may seem like you are not getting a whole lot, but this thing is made with function over form in mind.
It's a compact MIDI controller that features a robust and durable body that you can easily take with you no matter where you need to go. Every function it offers is fully programmable, so you can create any configuration you like.

  Performance
Compared to the previous model of Base controller, Base II is a lot more refined product. Unlike the previous version, this time you get great quality pads that are thicker than before, softer, and generally more sensitive.
This new setup makes it easier to play live, and know that your input will be recognized by the device. Base II takes some time to setup, but ultimately you get a very versatile and functional midi controller that just delivers every time.
In terms of price, it's cheaper than the Ableton Push 2, and offers a more basic experience.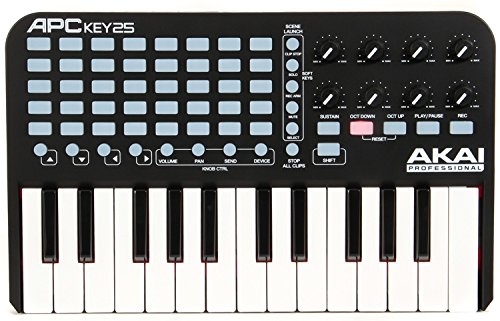 Akai is not the most popular brand out there when it comes to controllers and similar equipment. However, they are one of the rare brands that offers a great balance of price and performance.
Buying an Akai MIDI controller means that you are looking for a decent device that does all the basic things and more, for a price that is highly competitive. And this is exactly what you get with their more affordable products.

  Features
With their APC Key 25, Akai tried to stuff as many features in an affordable device as they possibly could. That's why you get 40 pads, a two octave 25-key keyboard, eight knobs and more. For a device of this size, there is a lot going on that's for sure.
Those who need a keyboard in their controller will find this Akai to be a great option in this price range. APC Key 25 is generally a very practical MIDI controller, although you can expect somewhat lower quality of keys, pads and other elements. As long as you take it slow with this controller, it will definitely serve you well.

  Performance
Akai APC Key 25 performs rather well for an affordable MIDI controller that offers so many features and controls.
We think that the keyboard needs some work in terms of quality control, but that is definitely not a deal breaker. For this price, you will hardly find anything that offers as many option as Akai APC Key 25.
In Summary..
Finding the best MIDI controller for Ableton is not easy. Believe it or not, there are many devices that fit this description.
The selection of controllers we chose to present you with are what we think some of the best devices on the market at this very moment.