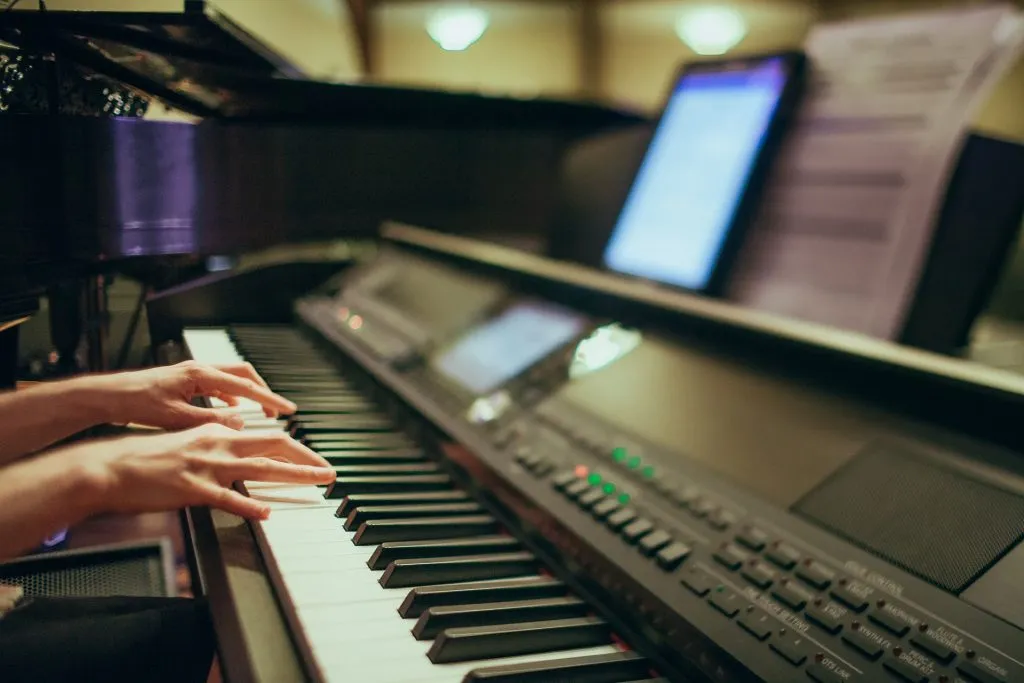 Gospel music incorporates a lot of classic acoustic piano and organ sounds. The tones are light and warm, with slightly boosted lower-mid frequencies. The best keyboards for worship will be the digital pianos that have everything needed to create this style and sound. We will begin this article with a list of what you should be looking for in a digital piano (as well as why each aspect is important), and then cover some keyboard options that perform quite well in a church setting.
Must haves for a worship keyboard
Good Sound Quality – This goes without saying, but a keyboard that has a decent sound engine and customizable frequency distribution will give you that warm, rich tone that really helps to build a powerful, full-sounding atmosphere when playing gospel music. Note that sound quality is just as dependent on the speakers you're using and instrument settings as it is on the keyboard's internal sound system.
Extra Included Sounds – Another one that's pretty self-explanatory, if you want to play a musical piece that calls for an organ or synth sound, you will need a digital piano that has whatever sound you're looking for in it's sound library.
Basic Controls and Effects – To be fair, I've never seen a digital piano that didn't have some kind of controls, even if it's just volume and gain. This ties into sound quality, but I think it's important that you get a keyboard with frequency controls. This way you can boost certain frequencies (low-mids, for warmer tone, or highs for more punch) to really customize the sound of your instrument. Effects like chorus or reverb are also great for creating a full, rich atmosphere when playing which (in my opinion) sounds great with gospel music.
Adequate number of keys – Some keyboards are full size, meaning they have 88 keys and span 7 octaves. There are also more compact version that can have as little as 49 keys. Having less keys doesn't really matter unless the piece you are playing requires the lower or higher octaves.
Polyphony – The higher a digital piano's polyphony, the more notes it can play at once. This is important if you're playing heavily layered music using sustain and/or effects that play multiple notes at once. I think some gospel pieces would fall into this category, so I'd recommend at least a 64 or even 128 polyphony piano unless you absolutely know you won't need it and can go lower.
Touch sensitivity – Touch sensitivity is a must-have if you want a dynamic sound when playing. Touch sensitivity means that the harder you strike the keys, the louder
Price – No real explanation needed here, if you find the perfect keyboard but it cost $100,000, then it doesn't matter. There are plenty of options that should meet your needs at a reasonable price.
Nice to haves for a worship keyboard
Built-in Speakers – A good build in speaker helps situationally, however the reason that this is more of a "nice to have" is you probably have a decent sound system and set of speakers set up in your church. If this is the case, you wouldn't even use the built in speakers so they aren't terribly important.
Key weight – Weighted keys won't affect the sound of a digital keyboard, but it will affect how it feels to play. Weighted keys are designed to simulate the feeling of a real acoustic piano, and most people (myself included) prefer the feel of playing keys that have some resistance to them.
Design – another self-explanatory aspect, obviously there are many different aesthetic designs across the different digital keyboard manufacturers. If you can find one that you really like the look of, that is an added bonus.
Overall Weight – Having a digital keyboard that doesn't weigh to much and can easily be transported is super helpful in certain situations. In this one, however, I don't think it's worth it to sacrifice some of the other characteristics above since it's likely you will set the keyboard up and leave it for extended periods of time.
Best keyboards for worship
Title
Best Overall
Donner DEP-20
Best Budget
Alesis Recital
Best Overall
Best Budget
High End
Last update on 2023-11-18 / Affiliate links / Images from Amazon Product Advertising API
The Donner DEP-20 offers amazing value for the price you pay. The instrument features professional grade sound, 88 fully weighted keys, 238 unique piano and synth sounds and 128 note polyphony. You can add chorus and reverb effects, and customize different frequency ranges to really bring out the best possible design.
The piano can be ordered with or without a stand. It also has a backlit LED display that shows being played and other useful information. All of the controls are located directly above the actual keys, and the keyboard overall has a minimalist, black design.
Key Features
Backlit LCD Screen
88 fully weighted hammer action keys with adjustable response
238 pre-programmed tones
Dual-tone mode allows for combining tones and voices
128-note polyphony
Recording mode-MIDI and MP3 player
Two 25W amplifiers
Pros & Cons
Full size, fully weighted keyboard

Highly customizable due to 238 programmed voices

Overall great value for it's price

The stand that it comes with isn't great

I personally don't love the aesthetic
If you're looking for a cheaper alternative to the DEP-20, the Alesis Recital has all of the basics you'll need at a much lower price than the DEP-20. It is a great instrument, which is why it also makes our list of top overall digital keyboards. The keyboard has 88 semi-weighted keys, 128 note polyphony, 5 different keyboard sounds and chorus/reverb effects, and even includes 60 beginner lessons. Not quite as versatile as the DEP-20, but still has decent sound quality and all the basics you need if you're looking for a cheap but still viable option.
The Alesis Recital is slim and sleek, it comes in black and doesn't have any sort of display. The controls are above the keys, and it includes a paper stand. Also, it is lightweight and easily transportable.
Key Features
60 Free virtual lessons included
88 semi-weighted keys with adjustable touch response
5 voices
USB MIDI Output
128-note polyphony
Two 20W speakers
Pros & Cons
60 free virtual lessons included

Great quality and customizability for it's price

Preset EQ modes (Rock, Jazz, Classic, Standard)

Great choice for beginners
The Casio PX-870 has the best specs (and aesthetics) of any of the electric pianos on this list, of course it also costs a lot more. This option is for those with a slightly larger budget who are looking to get a higher end digital piano for their church. The PX-870 offers 256 note polyphony, four 40-watt internal speakers, 88 tri-sensor scaled hammer action weighted keys, and a powerful frequency EQ and effects. The only place it lags behind the DEP-20 is it only offers 19 electric piano sounds as opposed to the Donner's 200+. Still, overall this is quite an impressive digital piano.
The PX-870 comes in all black or all white, and includes a full piano stand. If you want a more professional look for your worship band, the stand makes quite an aesthetic difference.
Key Features
AiR engine
256 note polyphony
Tri-sensor scaled hammer action II keyboard
Layer and split 19 included instrumental tones
40 watt 4 speaker output system
Weighs 75lbs
Pros & Cons
High quality sound and performance

Great overall feel and tonal range
Conclusion
Hopefully this list helped you find a great digital piano for your worship band. If not, we've also done reviews of some the Yamaha EW300 and P71, which are great alternatives to the keyboards we've reviewed here. Good luck, and hopefully you find the perfect instrument for your church!