In terms of DAWs and music production, Logic Pro X is the most popular software used on Apple's platforms. Since a lot of recording studios and enthusiasts alike use Macs, it's no wonder that Logic Pro X is so widespread today.
If you know anything about Apple computers, you know that their hardware and software are pretty tough on compatibility with other devices and programs. You need to watch what you install and connect to your Mac in order to avoid compatibility issues.
Finding the best interface for Logic Pro X is not too hard, but some devices work better than others. We have selected three audio interface models that we think are the best you can use with Logic Pro X.
You see some familiar names on this list, and some that are known much outside the Apple community. Let's dig in.
We have selected three audio interface models for you !
EDITOR'S CHOICE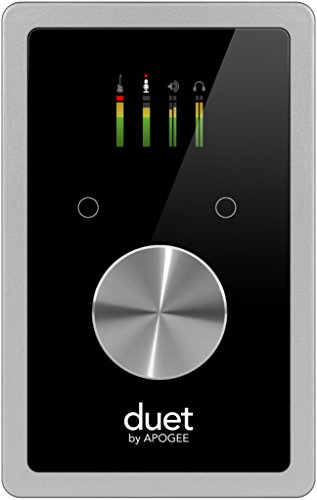 Apogee is a company which dedicated its efforts to making audio equipment specifically for Apple devices. They make a wide range of microphones, recording devices and audio interfaces for iPhones, iPads and Macs in general.
Their Duet is one of their best selling models, and it is by far the most compatible device to use with Logic Pro X.

  Features
Apogee Duet is not your standard audio interface. It doesn't follow the same format as the other manufacturers. One of the main drawbacks of Duet is the lack of XLR support. You do however get two analog inputs with phantom power enabled.
To balance out the lack of XLR inputs, Apogee decided to include A/D converters of impressive quality. It's a compact device that you can easily carry with you wherever you go, and use it with your iPhone or iPad.
There aren't many controls on this device. You have one master knob that controls all of the parameters, and two touch pads that you can customize. The OLED display shows you the levels and that is pretty much it. It's fair to say that Apogee followed Apples minimalist design policy.

  Performance
In terms of performance Apogee Duet is a very versatile audio interface. It is immediately recognized by Logic Pro X, and you get to enjoy complete compatibility between this device and your Mac, tablet or phone.
It comes packed with plug ins that are automatically added to your Logic Pro X library, which makes it a plug-n-lay device if you are using with Apple's products.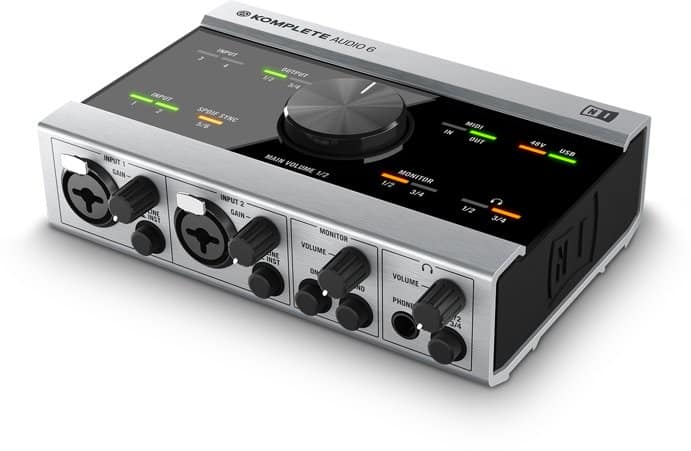 Native Instruments decided to create an audio interface that is not only designed like a high tier device, but they wanted to make it packed with features that you usually don't find on devices of this type.
It's by far more flexible than the Apogee Duet, and thankfully it is fully compatible with Logic Pro X. If you are doing more than just recording your microphone or a guitar, you might want to consider this audio interface.

  Features
The front panel of the Native Instruments Komplete Audio 6 is pretty much similar to that of other audio interface models. They followed the same layout, but they also added some features. Native Instruments Komplete Audio 6 comes with two balanced mic/instrument XLR inputs, and two balanced TRS inputs on the front panel.
Each have their dedicated gain control. Right next to these is a monitor section with a volume knob, on button, and mono button. Finally there's headphones output with independent level controls and source switch.
On the top panel you will find a sleek display unit with a large glossy surface with a master volume knob in the middle. On each side there are LED lights that indicate what is currently selected on the device. Back panel is where your main outputs are.
This is where Native Instruments Komplete Audio 6 differs from the rest. You get MIDI in/out for any kind of MIDI controller you decide to use. Next is the S/PDIF/RCA input/output section, and finally four balanced TRS analog outputs.

  Performance
Performance with Native Instruments Komplete Audio 6 is every bit as impressive as you would expect. The signal quality is great, and thanks to the numerous I/O options you can do pretty much any kind of signal chain you like. This device works well with Logic Pro X, and you will find it very comfortable to use.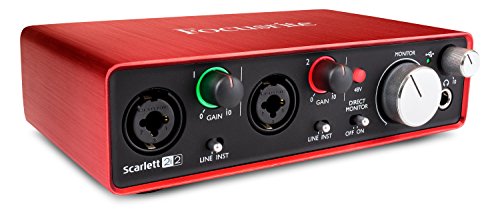 Focusrite's Scarlett series of audio interface devices has become a default choice for so many people over time. Their Scarlett 2i2 has proven to be a very flexible and affordable way of connecting your instruments or microphones to your computer that it gets recommended on almost every audio recording forum.
There's a good reason for this. This audio interface has a great track record, and it plans to uphold it for a long time.

  Features
Scarlett 2i2 features a pretty default layout. You have two dual purpose inputs for XLR or 1/4″ instrument jacks, each with a dedicated gain control and channel select switch. The gain knobs have an illuminated ring around that indicates when the gain levels are capping by turning from green to red.
On the right side of the front panel you will find your monitor volume control, direct monitor selector switch, headphones out and headphone level control. As you can see, it's fairly basic stuff. On the back you have two line outputs along with a USB jack.

  Performance
The performance of Focusrite Scarlett 2i2 is its main selling point. It has worked so well for many people that most refuse to upgrade. It's preamps are high quality units which allows for great microphone recording.
You get phantom power for those XLR condenser microphones, while recording a guitar is a complete joy. Focusrite Scarlett 2i2 was not specifically made for Logic Pro X, but it works extremely well with this software.
Conclusion
There you have it, three models that we thing are among the best interface for Logic Pro X. Each of these devices will give you great performance, and long hours of incredible sound.
The Apogee is by far the most expensive option, while the Focusrite represents a more affordable solution.